Ad Aware: Protection From Spyware Programs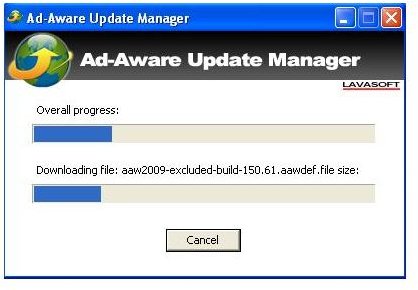 Overview
Ad-Aware is a great anti-spyware product but users new to anti-malware products may need some tips for making the most of Ad-Aware to ensure their computer is properly protected. If you haven't decided on whether or not to use Ad-Aware, check out Brighthub's review of Ad-Aware Free Anti-Virus and Anti-Spyware.
Before we dive into the details, we'll want to make sure Ad-Aware is properly installed and working correctly.
Go to the Ad-Aware site and download the latest version of Ad-Aware.
Start the installer you downloaded by double-clicking on it. If presented, select the option to "Run" the program.
After a few moments, you will get the Select Language box. Select your preferred language and click OK.
Progress through the installer keeping the defaults and clicking next. Note that the free edition of Ad-Aware will ask for you to install other free applications such as Google Chrome. It's up to you whether or not you want this.
After Ad-Aware has finished installing it will ask you to reboot. Go ahead and restart.
Once back in Windows, the Ad-Aware update manager will start checking for updates (Figure 1). Be sure to let the update manager run. Note the first time update manager runs, it may take a few minutes. Subsequent updates will be much quicker.
Getting Started Using Ad-Aware
After the update manager is done updating Ad-Aware, start Ad-Aware by double clicking on the desktop icon.
The first time running Ad-Aware, you will be presented with the Manage License window. Click Close.
Once in the main user interface, make sure Web Update and Ad-Watch state that they are either "OK" or "On".
Ad-Aware will start by default in "Basic" mode. Ad-Aware will perform basic actions on your behalf – performing updates, scans and removals according to Ad-Aware best practice. If you want some more control over your system, click the button next to "Switch to Advanced mode" (Figure 2). You can see in Figure 3 that Advanced mode adds in more details and a few extra options.
Click the System Scan button to initiate a system wide scan (Figure 4). This is recommended to do after installing Ad-Aware to ensure anything you may have previously been infected with can be found and removed.
If any spyware is found during the system scan (Figure 5), Ad-Aware will recommend an action such as quarantine, ignore or remove. Click on the "Perform Actions Now" button to proceed with the cleanup.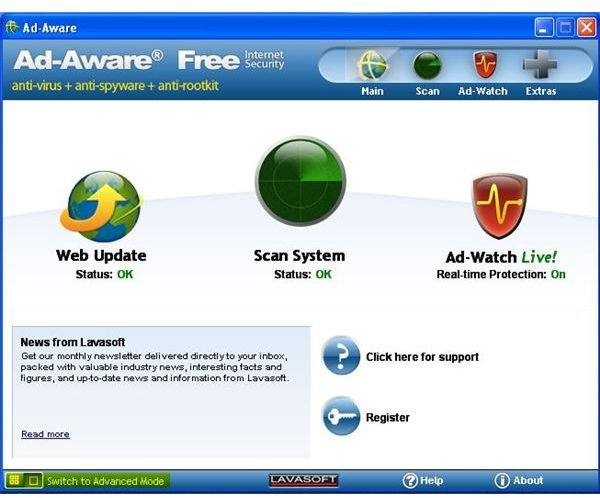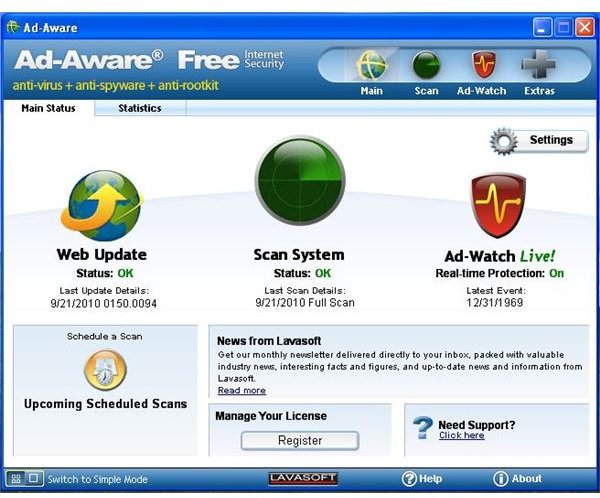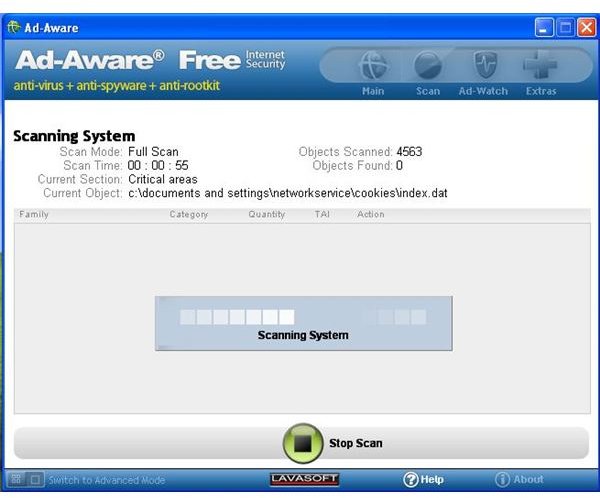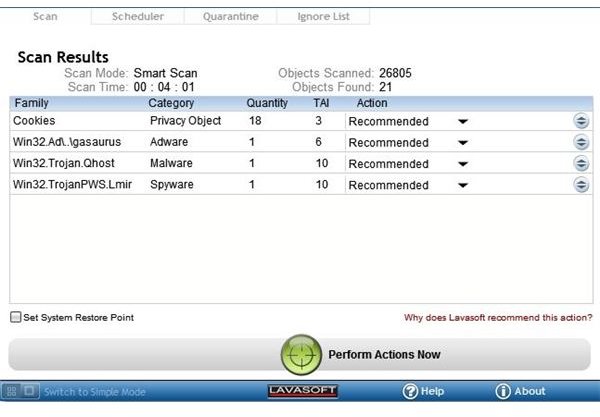 Scheduling Scans and Using the Quarantine
Next, we'll want to make sure we run scans on a set schedule. Although real-time protection is turned on, this may not catch all malware, so it's still a good idea to run periodic system scans. From the main menu, click on Schedule a Scan.
Under the Scheduler, click the '+' icon and give your scan a name. Click OK.
Select the type of scan (Full Scan is recommended), frequency (Daily recommended) and "How" – depending on whether or not you want Ad-Aware to display results or automatically take the recommended action (Figure 6)
The Quarantine tab will be used for threats Ad-Aware detects. If you find Ad-Aware moved something to quarantine, you can either permanently delete it or remove from quarantine.
The Ignore List tab can be used to tell Ad-Aware to ignore future detections of a specific threat (Figure 7). The Ignore List works in a similar way to the Quarantine and Scan Results list in that you can select your desired action.
With that, you should have a good set of defenses protecting your computer from harm.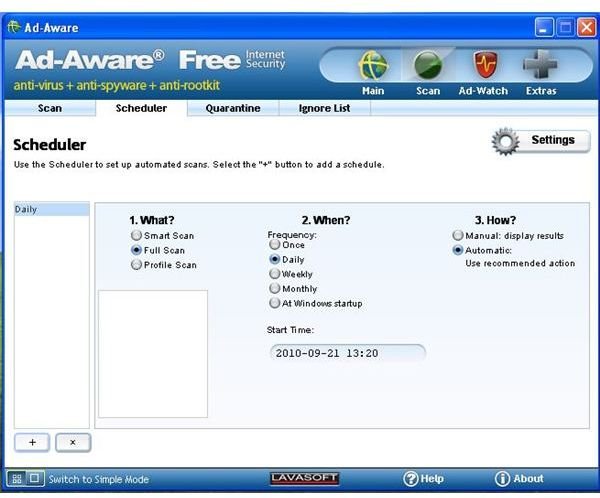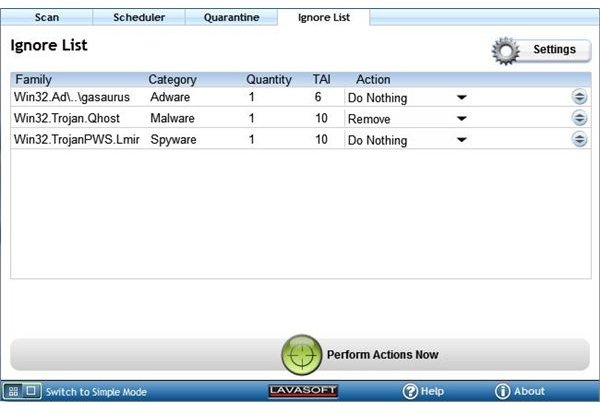 Image Credits: Screenshots taken by R. Tetzlaff