How Does Avira AntiVir Solutions Compare to Other Security Products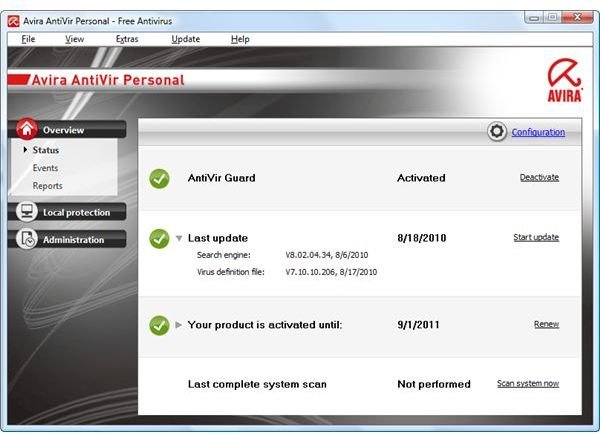 Avira AntiVir
Avira AntiVir is one of the top-rated antivirus programs on the market and is often praised by both antivirus testing laboratories and customers. Even technology reviewers found AntiVir solutions as good as any other antivirus program. Many people have seen comparison reviews of antivirus programs and often times AntiVir is a winner or at least included in the list of the top security software that was tested or compared.
Avira AntiVir Solutions
Avira AntiVir solutions can cater to the security solution needs at your home or business: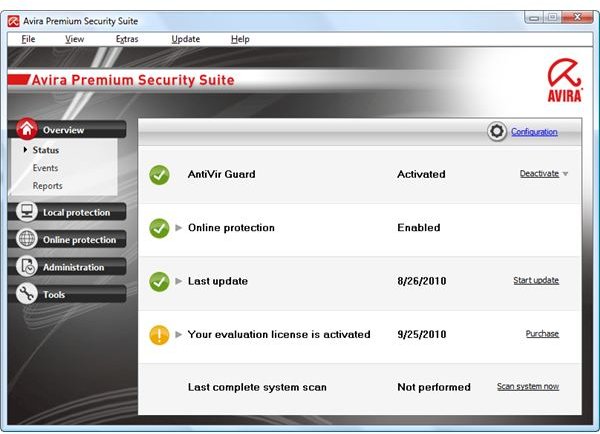 Avira AntiVir Personal - This free antivirus for personal or home use provides antivirus, anti-rootkit and anti-spyware protections. Secure start mode and the new Generic repair feature that was introduced in Version 10 of Avira solutions is the highlight, and that's in addition to a fast scanner, low memory usage and a neat user interface. Free and daily definitions updates are provided by Avira.
Avira AntiVir Premium - This is the commercial edition of Avira which offers the same program features found in Avira free edition, plus a WebGuard that blocks visiting of a malicious website, a new AntiVir ProActiv technology that prevents infection based on behavior, an anti-phishing MailGuard that monitors e-mails for malicious or infected messages (which is one of the widespread distribution methods of malware), AntiDrive-by solution that blocks exploits or malware injected on a hacked or infected website, and a RescueSystem which is an option to create a bootable rescue system CD. Customers may buy AntiVir Premium with a single, three or five license option.
Avira AntiVir Premium Security suite - This total protection software from Avira includes all of the features found in Avira AntiVir Premium plus a firewall, backup utility, antibot, anti-spam, a game mode feature and a parental control program.
Avira AntiVir Professional, Avira AntiVir NetWork Bundle and Avira Small Business Suite - These Antivir solutions are available for Small Business Server users. Enterprise users and people in an education environment can also use Avira solutions customized for their needs.
Avira AntiVir and Other Security Products
Antivirus testing labs such as AV Comparatives, Virus Bulletin and Anti-Malware Test Labs have given AntiVir stellar ratings - either gold or the highest rating, Advanced+. The proactive protection by AntiVir is consistent and that's what puts it to the top and often included in the winner's lists each time there are antivirus comparison tests. Avira has received the award, "Product of the Year" during 2008 by AV Comparatives and I have personally seen the program outperform other security solutions:
Virus Bulletin has awarded Antivir solutions with the VB100 award, which means the product has passed their rigorous testing. You can view the VB100 results for Avira at https://www.virusbtn.com/vb100/archive/results?vendor=VE37 and the most recent testing on several antivirus solutions last August 2010 at https://www.virusbtn.com/vb100/archive/2010/08. Note that you need to register a free account with the Virus Bulletin website to view the pages.
Is Avira AntiVir a Perfect Antivirus Solution?
You might wonder if Avira Antivir is a perfect antivirus program and I must say that AntiVir is not quite perfect. Like other security solutions, there are shortcomings with this software. Some of these are as follows:
AntiVir can't be installed on a highly-infected computer. You need to use Avira AntiVir Rescue System to clean a computer before installing the AntiVir program to start protecting Windows. If you are looking for an antivirus solution that can be installed in infected PC's, try Kaspersky 2011 security solutions such as Kaspersky PURE, Kaspersky Antivirus or the Kasperky Internet Security suite software.
Removal of malware using the AntiVir program isn't perfect - there is no single antivirus or anti-malware program that provides perfect removal of infections on a PC. AV Comparatives have tested several antivirus programs but none of the 16 they tested has received a perfect score in removing malware and its remnants. However, some antivirus programs have received a good rating for removing malware. They include Symantec, Microsoft, eScan, BitDefender, F-Secure and Kasperky. Check the results and testing methodology at https://www.av-comparatives.org/comparativesreviews/removal-tests.
Malware Protection is not perfect - even if we see AntiVir as one of the best, it is like any other security software that did not receive a 100% detection rating. However, AntiVir has proven to provide consistent advanced detection and prevention.
Rootkit removal is not included - AntiVir can detect hidden objects or rootkits but removing them requires you to use the standalone Antivir Rootkit removal tool or Avira Rescue system. Avast or other security programs include rootkit detection and removal.
Image credit: Screenshot taken by the author.