Anti-Virus Troubleshooting - SUPERAntiSpyware Scan Hangs on AVG File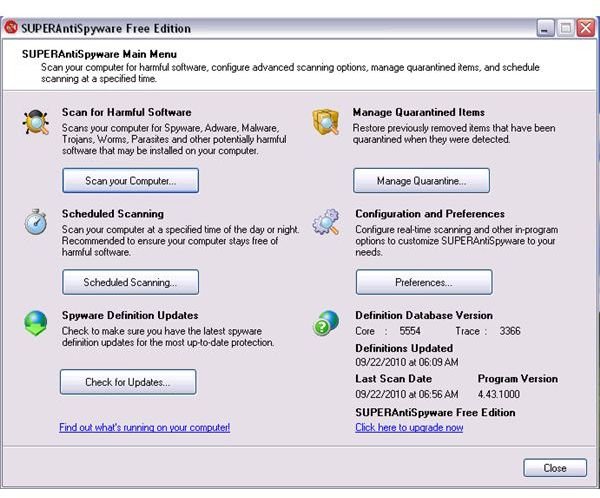 SUPERAntiSpyware and AVG Antivirus
AVG antivirus provides real-time protections against viruses, Trojans, worms, spyware, adware and other types of malware. The free antivirus program should run without issue with an on-demand scan from SUPERAntiSpyware. SUPERAntiSpyware free does not offer a real-time protection, which means it should not interfere or conflict with AVG. However, if you are using the commercial edition of SUPERAntiSpyware, you many need to tweak both programs to prevent interference in protecting the computer and avoid performance issues in using Windows or any of its components. Below are some guides for what to do if a SUPERAntiSpyware scan hangs on AVG files or processes.
SUPERAntiSpyware Excluded Folders Preferences
Both the free and paid edition of SUPERAntiSpyware provide an option to exclude folders from the scan. AVG Free also provides the same option in its real-time shield, allowing users to add files to be excluded from scanning or monitoring by AVG.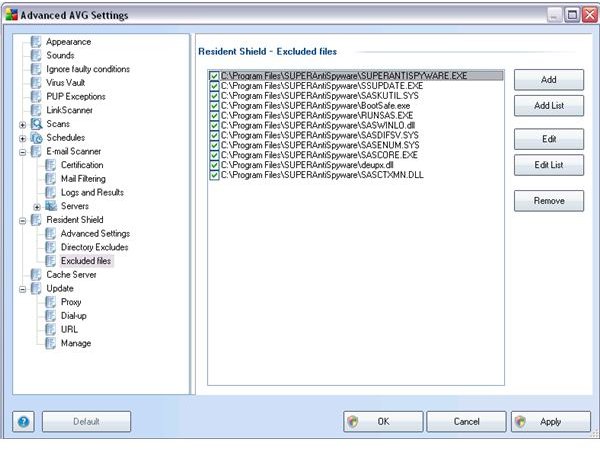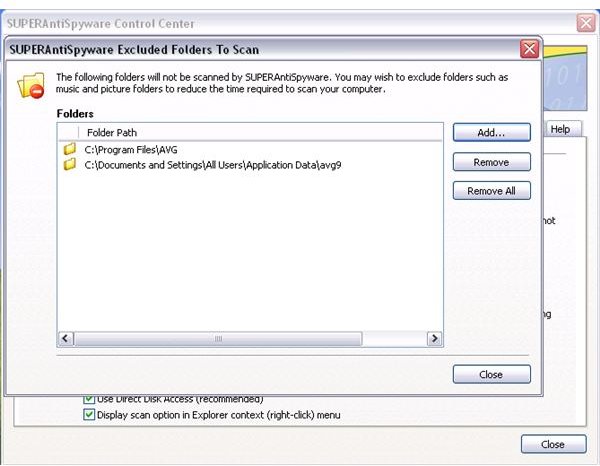 It's recommended to exclude all files and folders for AVG in the SUPERAntiSpyware Excluded Folder option that is located in the Scanning Control tab in SUPERAntiSpyware's settings.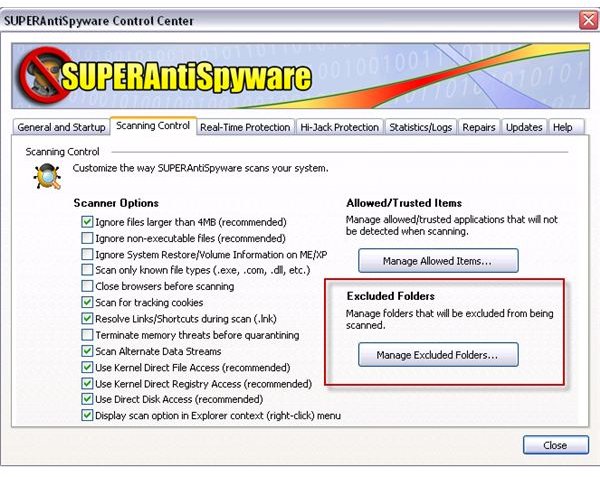 The following folders should be added to the Excluded Folder in SUPERAntiSpyware:
C:\Documents and Settings\All Users\Application Data\avg9 in XP or C:\Users\<YOURUSERACCOUNTNAMEHERE>\AppData\Roaming\AVG9 in Vista or Windows 7
C:\Program Files\AVG in 32-bit edition of Windows or C:\Program files(x86)\AVG, if you are using the 64-bit edition of Windows.
All files or sub-folders will be excluded, as well, by SUPERAntiSpyware during scanning or monitoring by its real-time protection module.
Excluding the files and folders of AVG in SUPERAntiSpyware, and vice-versa, prevents hanging during scans by both programs.
Tip: If you are using the Pro edition of SUPERAntiSpyware and its Scheduled scan feature, make sure that the scanning tasks are not on the same schedule as AVG's scheduled scan. This will prevent conflicts if either scanners find infections on the computer and takes action.
AVG Files to Trust by SUPERAntiSpyware
The SUPERAntiSpyware program also provides an option to add files and processes as trusted or allowed items. However, you cannot manually add any files or processes into said feature. You can only add trusted or allowed items if SUPERAntiSpyware has identified or triggered an alert on the file. This means you can only trust the necessary files if an AVG file or process triggers an alert during a scan or triggers the real-time monitor in SUPERAntiSpyware Pro.
If a SUPERAntiSpyware scan hangs on an AVG file, immediately report the problem to the SUPERAntiSpyware support forums and provide the information on which **AVG Files SUPERAntiSpyware scanning hangs. If you are a licensed user of SUPERAntiSpyware, immediately contact them by submitting a support ticket at https://www.superantispyware.com/csrcreateticket.html. They are fast in responding to reported issues and also provide fast fixes for their product.
**Files by AVG with which SUPERAntiSpyware scan should not find issue nor hang, but in the event SUPERAntiSpyware hangs on any of these files, report it to them.
avgam.exe
avgcmgr.exe
avgdiag.exe
avgemc.exe
avgfws8.exe
avgiproxy.exe
avgnsx.exe
avgtray.exe
avgui.exe
avgupd.exe
avgwdsvc.exe
If SUPERAntiSpyware scan hangs on AVG's virus vault folder, report the issue to SUPERAntiSpyware Support, as well, or note the path by adding it in the Excluded folder option in SUPERAntiSpyware Scanning Control preferences. The AVG virus vault folder is a hidden folder in Windows and its location is in the systems' root directory e.g. C:\$AVG\$VAULT or C:\$AVG8.VAULT$ or C:\$AVG9.VAULT$
Image credit: Screenshot taken by the author.