Performing A Malwarebytes Update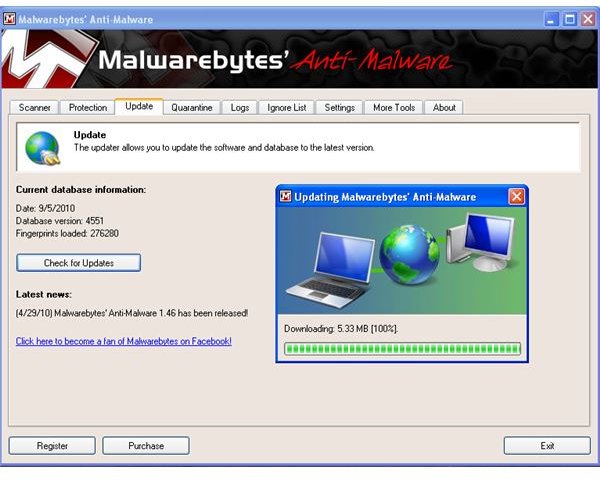 Checking Definition Updates and Performing a Malwarebytes Manual Update
Malwarebytes is a great anti-malware package that offers protection against the latest malware threats. See the full Brighthub review of Malwarebytes here. With any anti-malware software, the true power behind these programs is their frequent database definition updates. Malware is constantly being released to unsuspecting computer users, and because of this, anti-malware vendors, like Malwarebytes, release frequent definitions to detect and remove malware.
In some instances, you may have issues performing a definition update. This could be caused by corruption within the program itself, or could be caused by a malware infection. In either case, it's imperative to update your definitions to ensure you can properly secure your computer.
Before we dive in too deep, let's make sure your definition updates really aren't working.
Open Malwarebytes.
Click on the Update tab and click the Check for Updates button. If the updater fails, you can move on to the next step. If it works, try running it again and make sure the update date is close to the actual date. Malwarebytes is quite good with keeping their definition files up-to-date (Figure 1).
If you find that updates really aren't working, try removing the current Malwarebytes definition file and downloading the stand-alone definition file to perform a Malwarebytes manual update.
Browse to the location where the definition file is stored. On XP, this would be "C:\Documents and Settings\All Users\Application Data\Malwarebytes\Malwarebytes' Anti-Malware\rules.ref". On Windows 7, it'll be under "C:\ProgramData\ Malwarebytes\Malwarebytes' Anti-Malware\rules.ref" (Figure 2).
Delete the rules.ref file. Note that you may need to stop Malwarebytes from running or start Windows in Safe Mode to be able to remove this file.
Download the latest definition file available here: https://data.mbamupdates.com/tools/mbam-rules.exe.
Run MBam-rules.exe after it is downloaded.
Select your desired language and click next on the first setup page.
Click Install and then Finish when the installer is complete.
Note that the rules downloaded are not necessarily the latest available. After rebooting, try to do an automatic update again following the steps above. If this still doesn't work, we'll go through uninstalling and reinstalling Malwarebytes.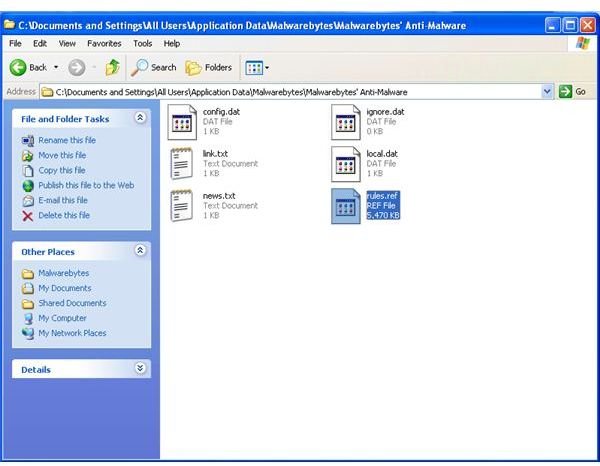 Uninstalling and Reinstalling Malwarebytes
If you find the above instructions didn't work for you, it may be best to remove Malwarebytes and then reinstall it.
Go to Control Panel, Add\Remove Programs (Windows XP) or Control Panel, Uninstall a Program (Windows 7).
Click on Malwarebytes and then Uninstall.
Reboot the computer after Malwarebytes has finished uninstalling.
Next, we'll reinstall Malwarebytes. Obtain the latest version of Malwarebytes from the Malwarebytes site.
Double click on the setup file.
Choose your preferred language and click OK.
Click Next on the startup page and then click "I accept the agreement" and click next after reviewing the licensing agreement.
Click Next on the Information and remaining page until Malwarebytes has been successfully installed.
Attempt to run a definition update – hopefully it'll work at this point.
If you continue to have issues, be sure to make a post in the official Malwarebytes forums or contact technical support if you have the pro edition of Malwarebytes.
Image Credits: Screenshots taken by R. Tetzlaff