How to Solve an Avast Virus Cleaner Warning - Insufficient Privileges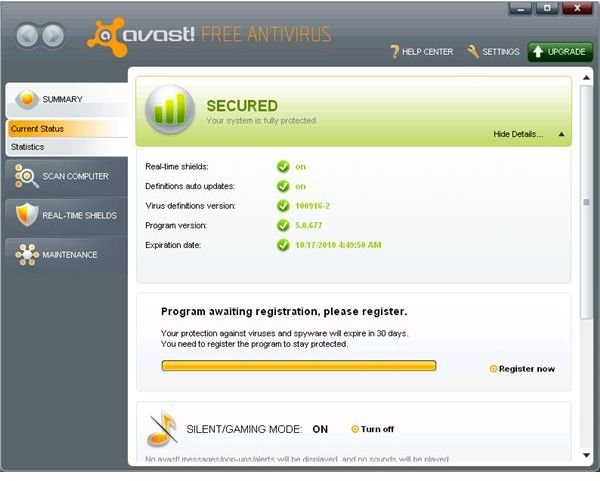 Limited User Account and Avast! Antivirus
The Alwil Avast! antivirus program runs in any type of user account on Windows, such as an administrator, standard or limited user account. However, you won't be able to install Avast 5 if you are using a limited user account. In some cases, you will receive an Avast virus cleaner warning for insufficient privileges when scanning a file that is protected, or only allowed to be accessed by an administrator.
Avast Warning: Not Enough User Rights to Continue

The image at the left shows the Avast warning for "not enough user rights to continue." This occurs if the user account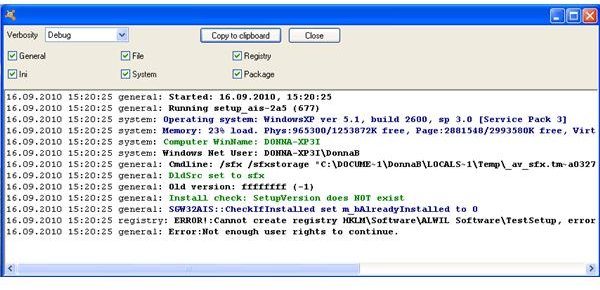 is configured to have a limited permission to install or update Avast antivirus program. The image at the left shows the log with the error code: Cannot create registry HKLM\Software\ALWIL Software\TestSetup, error code: 0x00000005.
These warnings by Avast are easily resolved by using an administrator user account in Windows to install, setup, configure or remove any programs that require an elevated user permission.
Avast Virus Cleaner Warning - Insufficient Privileges
Avast will display a warnings on scanned items, if there is no permission to access it. This is a normal warning message in many antivirus programs that run while a limited or standard user account is logged on. You can ignore this warning as long as the path or location is known to you as a file or directory that requires an administrator account to access.
Even the password protected files in Avast will display an error or warning message when scanned: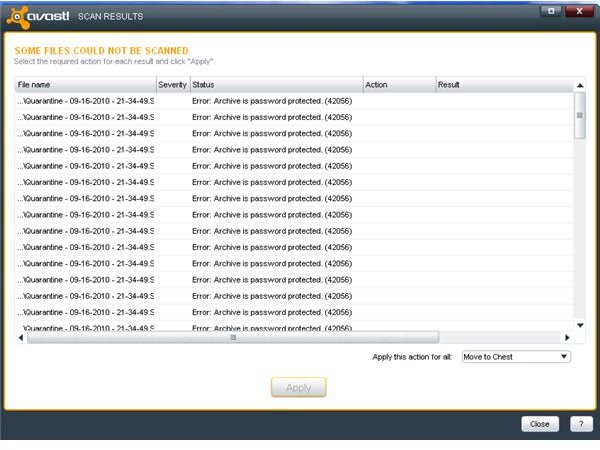 The above is a normal behavior in most antivirus programs. Protected files or programs that use tamper protection should not be accessed by any application, even if it's an antivirus program - whether you are logged on as an administrator or a standard user. Note that this issue or incident may also occur on a Mac OS with the Avast antivirus scanner: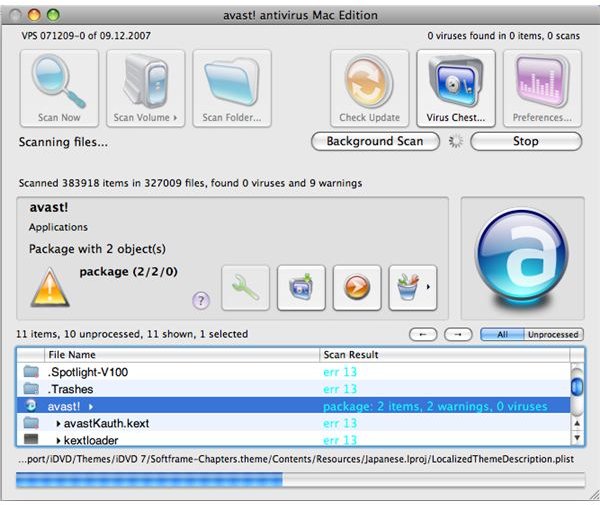 Removing the Avast program will also display a warning about user permission such as: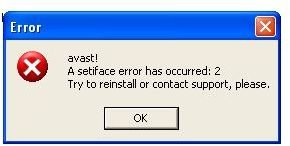 You don't have to follow that advice to re-install Avast antivirus if you see a warning that says "A setiface error has occurred: 2", if you are trying to remove the program with a limited user account. A limited user account cannot remove Avast because of the insufficient privileges of a standard user account in Windows or Mac OS.
If Avast virus cleaner displays a warning about insufficient privileges or user permission, investigate the path where it won't access. If it's a legitimate applications' path or a protected file and you are sure that it's restricted to an administrator user account, you can ignore the warning or add it into the exception or exclusion list. However, if the warning by Avast virus cleaner is on a suspicious file, you should report it to Alwil via its community support forums.
Avast Scanning Errors
In some cases, Avast scanner will display the following report in its log file, where [E] stands for Error:
C:\WINDOWS\Cursors\size2_il.cur [E] File was skipped because of scanner settings. (42016)
You can prevent the above by changing the scanner settings to scan all files instead of scanning only infectable files or files that are known to infect critical areas in Windows. You need an administrator account to change the settings, if you are trying to start a full system scan and on a limited user account in Windows or Mac OS.
C:\WINDOWS\system32\config\SECURITY [E] The process cannot access the file because it is being used by another process (32)
C:\Documents and Settings\DonnaB\NTUSER.DAT [E] The process cannot access the file because it is being used by another process (32)
If you will see similar warnings using Avast virus cleaner, it is normal since the file is a system file that is currently in use by Windows. Try scanning the system using an administrator account to prevent the above from happening. However, if you find a log entry such as:
C:\Documents and Settings\NetworkService\Local Settings\Temporary Internet Files\Content.IE5\LSTYYT\exemple[1].htm [L] JS:Downloader-TG [Trj] (0)While moving file to chest, error occurred: The process cannot access the file because it is being used by another process.
You need to know whether the files still exist or have been deleted. Some users run a disk clean-up or use CCleaner to clean the temporary files but forget to reboot the computer. Some temporary files are not automatically deleted unless the computer is rebooted. Example: If you are using CCleaner to clean the temporary files, view the summary of the cleaned files. If the summary shows "marked for deletion", you should reboot the computer before running a scan using Avast.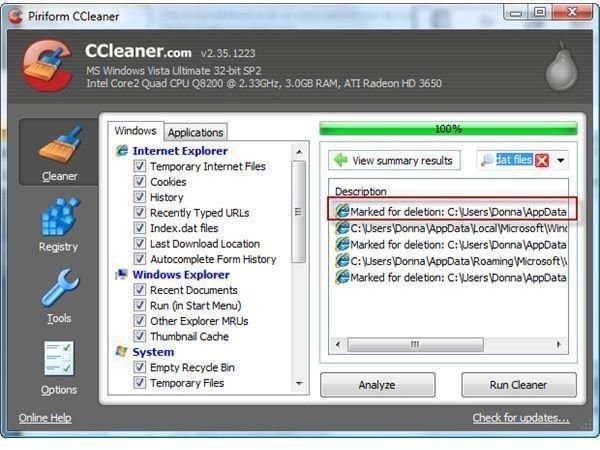 You can always view the scan reports or the log files by Avast to check for errors or warnings in the following locations:
For a computer running Windows 2000/XP - C:\Documents and Settings\All Users\Application Data\ALWIL Software\Avast5\report
For a computer running Windows Vista or Windows 7 - C:\ProgramData\ALWIL Software\Avast5\report
Or click the "show report file" in the Avast user interface after a scan is finished.
Image credits: Avast scan result in Mac OS https://forum.avast.com/index.php?topic=62906.0, screenshot taken by the author.