Using BitDefender QuickScan and BitDefender Online Virus Scan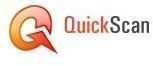 An online virus scan helps in checking a PC for viruses, spyware, adware, Trojans, worms, rootkits or malware infections. Some antivirus vendors offer free scanning only, while others offer scans and removal of detected threats. BitDefender is one of the antivirus vendors that provides free online virus scanner. There are two types of BitDefender online virus scan for end-users: BitDefender Online Scanner and the fast online scanner called QuickScan. You can use any of these free services by BitDefender as long as you are using Windows XP, Vista and Windows 7 with Internet Explorer (IE), Firefox or Chrome browsers.
BitDefender QuickScan Features and Usage
BitDefender QuickScan is an online scanner that runs in Firefox, Chrome, and Internet Explorer browsers. The online scan is done in less than 60 seconds as it only looks for active malware. It uses a cloud-based scanning technology that checks the running processes for malicious behavior. Critical areas where malware is known to hide are also scanned.
To succeed in using BitDefender QuickScan using Internet Explorer browser, you need to temporary turn-off the Protected Mode feature in IE or run the browser with elevated privileges by running as the administrator. To run IE with administrator control, right-click IE and then select "run as admin." The BitDefender website will download and install an ActiveX using the filename qsax.cab. Allowing the installation of the ActiveX will add the BitDefender QuickScan control, qsax.dll in IE add-on manager.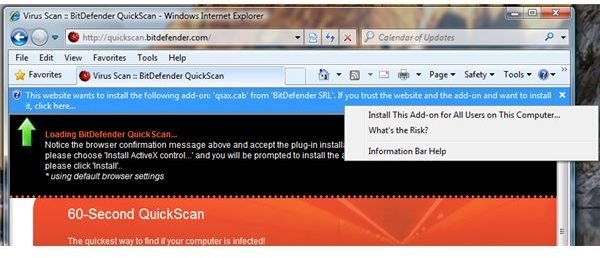 Once installed, the scanner will start checking the PC for active malware: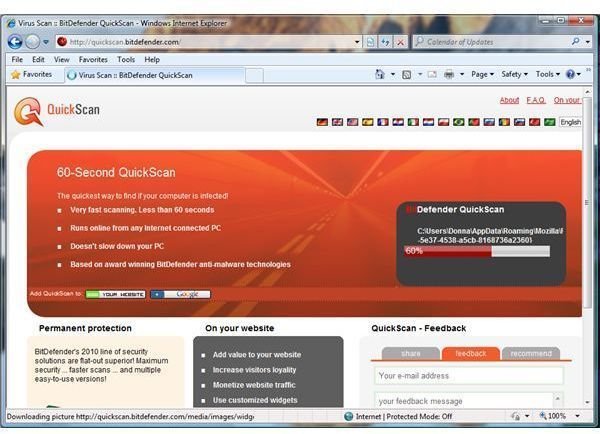 Firefox and Chrome users may also use QuickScan by visiting this website to download the scanner as an add-on.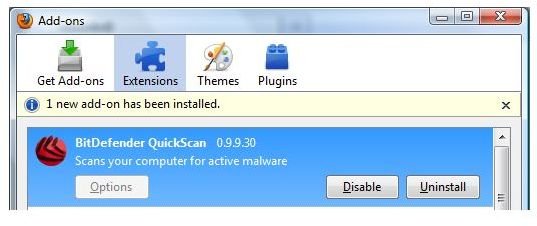 You can launch the scanner from the bottom-right of the Firefox status bar: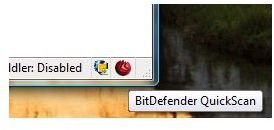 QuickScan does not provide malware removal but you can use BitDefender Online Scanner to remove infections on a PC. If the computer is clean, you should see the following scan results in IE or Firefox browsers: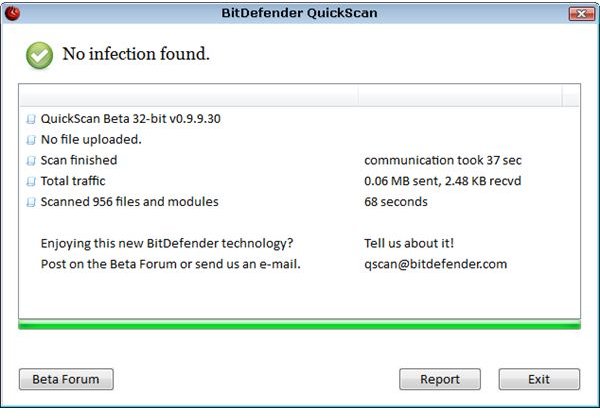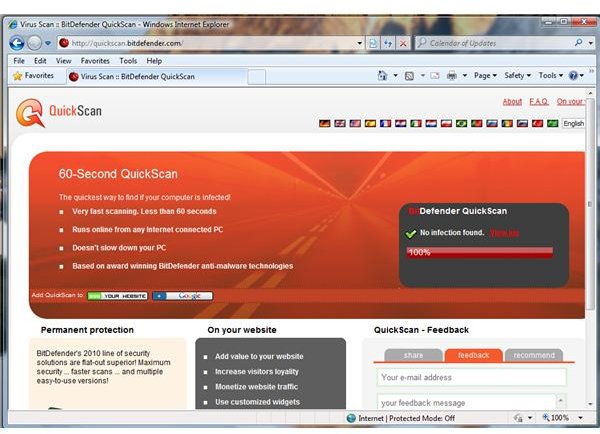 BitDefender Online Full Virus Scan: Features and Usage
If you want to remove the detected malware by BitDefender QuickScan or you would like to check a computer or network drives, you can use the other free online virus scan by BitDefender, called BitDefender Online Scanner. This service is only available for Internet Explorer users because it requires installation of ActiveX to scan all areas of the PC and networked drives. Like BitDefender QuickScan, you are required to run IE in administrator mode.
BitDefender Online Scanner features network drive and full system scanning. Your options are to choose what folder to scan and select what actions to use when a virus, spyware or malware is found. There's also an option to export the scan results to an HTML file format.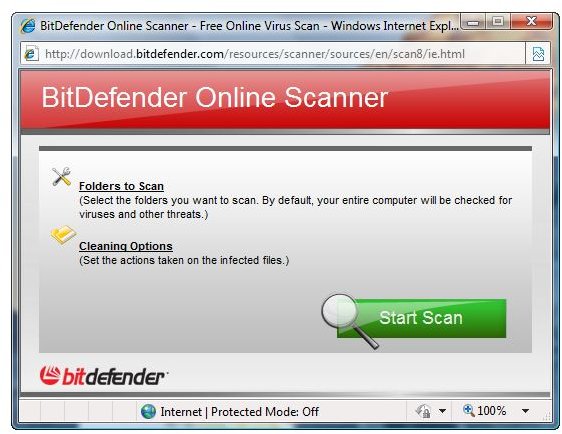 You have the option to scan all types of files, program files only or user-defined file extensions. The default setting is to scan the program files only but I highly recommend choosing to scan all types of files. Any malware that uses another file extension should be scanned if you choose to "scan all files."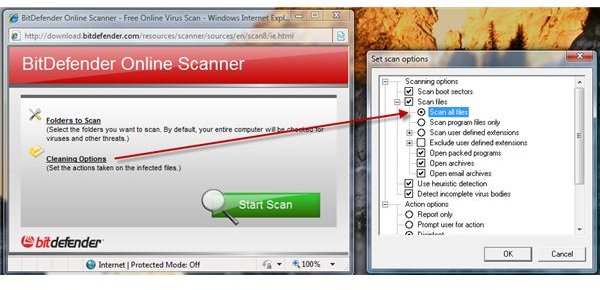 If the computer is malware and virus free, you should see these results: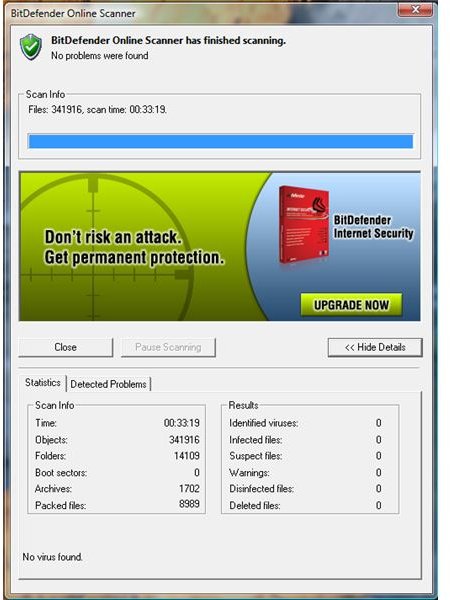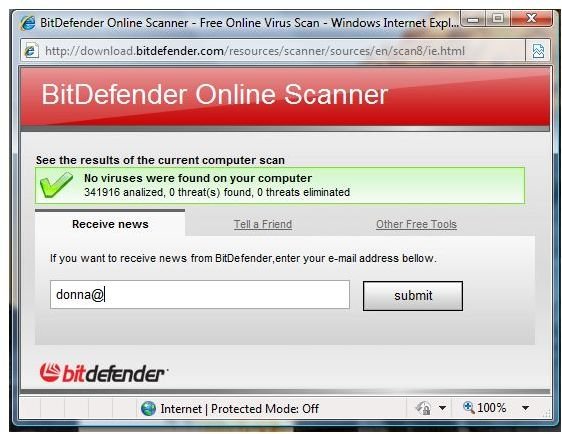 However, if the computer contains malware or is infected with malware, BitDefender online virus scan should find most of them. The example below shows BitDefender is able to detect most malware. The malware is deleted but some of it remains with a log that it failed to remove detected malware. This should allow the user to immediately delete the infected files or run an on-demand scanner using an antivirus program: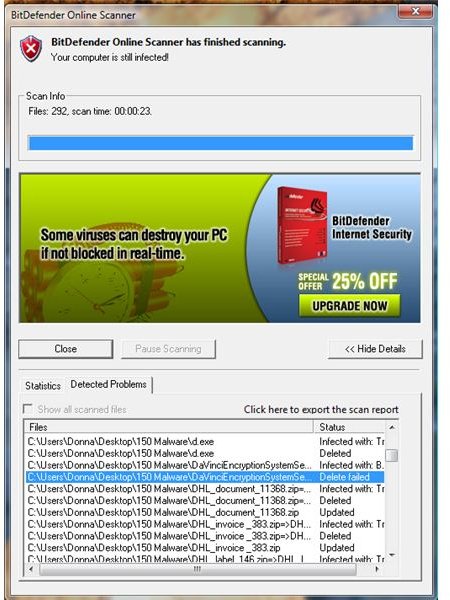 It's easy to uninstall BitDefender Online Scanner, if you are done using it. Keeping it should not be an issue as long as you regularly run the BitDefender Online Scanner to download the latest version of its scanning controls. To remove BitDefender online scanner, click the Tools menu in IE then select "Uninstall BitDefender Online Scanner."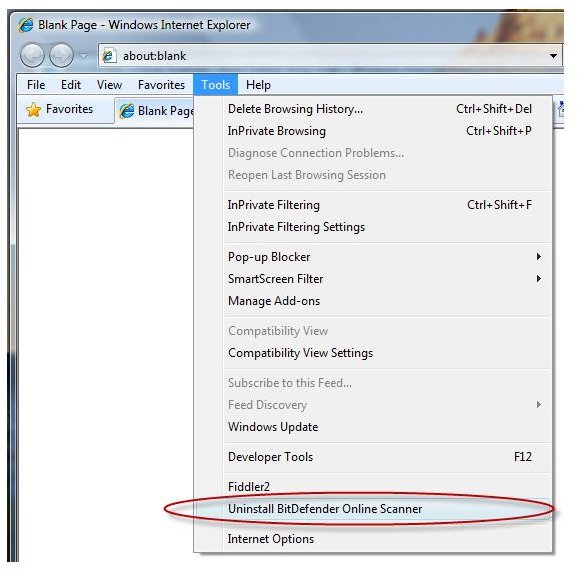 Image credits: BitDefender QuickScan logo - https://quickscan.bitdefender.com/, screenshots taken by the author.