How to Change Password to Hotmail Account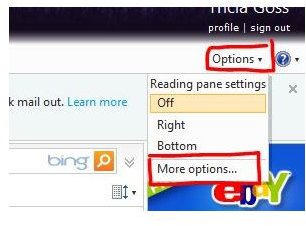 Overview
Creating secure passwords can help to protect you from many potential online dangers. Identity thieves who are able to hack into your email account could probably gleam quite a bit of information, such as details about your bank and credit card accounts, account numbers of bills you pay online and other data that you wish to keep private. It is advisable to change your email password periodically, and you should do so immediately if you are concerned that someone has gotten into your account. The following steps will show you precisely how to change password to Hotmail account for security purposes and also what to do if you have forgotten your Hotmail password. These steps are the same for Windows Live Mail accounts, as well.
Changing Your Password
To change your Hotmail or Windows Live Mail password, log into your account from your web browser rather than a mail client such as Outlook. Once you are in your account, select Options in the upper right corner of the window, just under your name. Click on More Options at the bottom of the menu.
Select View and Edit Your Personal Information under Manage Your Account. Re-enter your current password if prompted to do so. Click the Change link to the right of Password under Account Information.
Enter your current password into the Old Password box. Type a new password into the Type New Password box. Check the Password Strength bar to ensure that you are using a strong password. Reenter the new password in the Retype New Password box. Select the check box next to Make My Password Expire Every 72 Days for added protection. When your password needs to be changed, Hotmail will prompt you as you log in. Click Save to finish and change the password to your Hotmail account.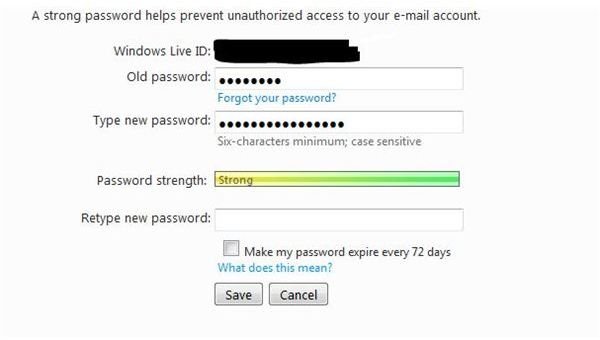 Reset a Forgotten Password
If you have forgotten your Hotmail account password, you obviously cannot log in and change it as listed in the previous section. Instead, go to the Hotmail sign in page and click the Forgot Your Password? link.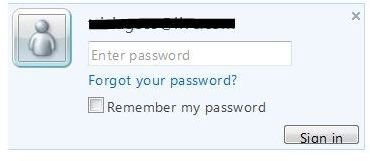 Enter your complete Windows Live ID, such as [email protected], into the Windows Live ID box. Enter the security characters displayed and click Continue. Select Use My Location Information and Secret Answer to Verify My Identity if you want to select your region and answer the question you selected when you established your Hotmail account. Select Send Password Reset Instructions to Me in E-Mail to have instructions sent to your alternate email account.

If you selected the first option, follow the prompts or instructions provided. You will then be able to select a new password for your Hotmail account. If you chose to have instructions emailed to you, log into your alternate email account and retrieve the email with the link and instructions to reset your password.