Top Parental Control Software for Windows and Mac OS X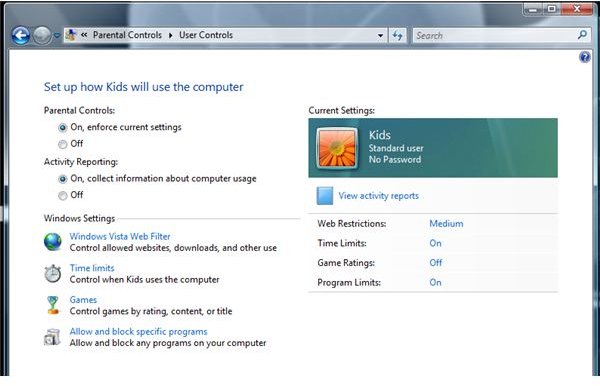 Protecting the Children Online
Everyone wants to protect their computer against viruses, Trojans, malware and hackers. Parents and guardians also want the same but they also need to protect the children or minors under their love and care. Using any type of operating system can be controlled using parental control software. There are plenty of such software to choose from and here we'll only mention the best to consider.
Built-in Parental Controls in Windows and Mac
The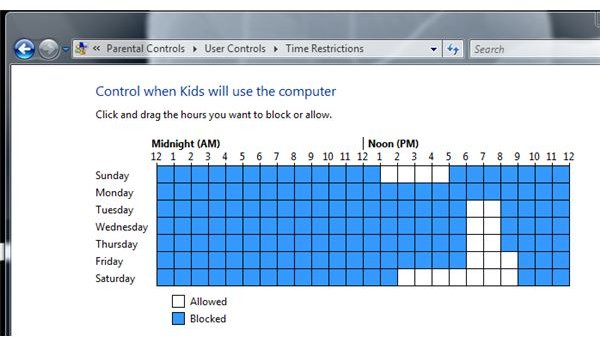 Windows operating system includes a parental controls application which you can use to restrict the children as to which programs, games and web contents they can use or view. In Windows 7 and Vista's parental controls, you can find these restriction features that you can use and also set a time limit when your kids are allowed to use the computer. Activity reports are logged so you can review the changes to settings in Windows, failed logon attempts and account changes. Internet Explorer web browser in XP also features parental controls but is limited to content filtering only. Windows parental controls may not meet all your needs but it's a good application to start monitoring the children for free.
Mac OS X users can also use the parental controls software in the system. Find out more about in this article called How to Set Up Parental Controls for Mac OS X.
Online Parental Control - Web Filtering
OpenDNS is probably the best web filtering that you should consider using if you only want to block young people from visiting unwanted websites on the internet. OpenDNS lets you filter what type of contents to block such as websites with adult themes, dating, P2P or file sharing, phishing, social networking and many more.
Parental Controls Software
Parents want the best for their children and here are the best parental controls software to consider if the built-in parental controls in Windows do not meet your needs or requirements:
K9 Web Protection - A free parental controls program for Windows and Mac OS X. You can restrict the children in using the internet connection and protect the kids from viewing unwanted contents online.
Kid Surf Safety Parental Controls - KSS parental controls software is much better than K9 Web Protection since it does not only block what you don't want the kids to be viewing online or schedule when the children will use the internet, but it can block the software that they should not be using. A remote review of logs in real-time is also included. However, KSS is not a free program – it costs $40 for up to 3 PC's.
Net Nanny - A web filtering and parental controls software that can prevent your kids to visiting unsafe or adult web contents. You can use keywords to disallow your kids from entering the information online such as your credit card number, postal address, telephone number and other valuable information. Social networking sites and instant messaging or PC games can be blocked, too. Mark Muller wrote in his review on the product "Net Nanny is a great product. It's easy-to-use, reasonably priced and will help keep your kids safe online. Highly recommended!"
Internet Security Suite Software and Parental Controls
If you are using an Internet Security Suite program, you are already familiar that most security suites includes parental control software. Below are some antivirus and firewall protection software for Windows that lets you control how your children use the internet and the computer:
Norton 360 - This Total Protection suite by Symantec that not only provides antivirus, firewall and backup features but a parental controls options by setting up a free Norton Online Family account.
Panda Global Protection - Complete protection software from Panda includes parental controls and malware protection. You only need to remember installing the program using the custom install because the default or recommended install method will not add a parental controls application.
BitDefender Internet Security Suite - Protecting the computer from viruses, spam and phishing is what you'll also get with BitDefender in addition to controlling how kids can use the computer and the internet. The new version of BitDefender Internet Security suite has improved parental controls allowing you to remotely review children's online activity and change the settings.
Kaspersky PURE - the maker of Kaspersky Antivirus that often receives awards and high ratings by testing laboratories also provides parental controls in Kaspersky PURE and Kaspersky Internet Security suite programs.
Trend Micro Internet Security - Antivirus, firewall, anti-phishing, vault and parental controls are the features of Trend Micro's security suite.
F-Secure Internet Security Suite - This security suite beats Trend Micro in most areas and it also includes a parental controls application, but only if you do a custom installation.
ZoneAlarm Internet Security Suite - ZoneAlarm is the most popular firewall program for Windows.With the growing number of available free firewalls, ZA needs to offer more and that is by providing virus protection and parental controls in its product line.
Image credit: Screenshot taken by the author.