Password Recovery for Yahoo Mail: A Step by Step Guide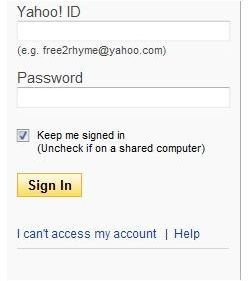 Where to Look
Password recovery for Yahoo mail can be a quick and easy process. Once you realize that you can no longer access your account, the first step should be to click the link titled "I can't access my account." This small link is located just below the yellow "Sign in" button.
Selecting the Right Option
After clicking, you will be taken to a screen and given four options:

While you have four options to choose from, three of them are essentially identical. Whether you choose "I forgot my password," "My password doesn't work," or "My account may have been compromised," the following steps are identical every case. Only "I forgot my Yahoo ID" leads to a different set of options.
The Recovery Process
Since this is an article on password recovery, we'll assume that you forgot your password, or that your account has been stolen. Either way the steps to follow are the same. Click one of the three options mentioned above and then click next. You'll be taken to a new page and asked to fill out your email address and a captcha code. Simply write your email address and copy the text from the picture (capitalization does not matter here!) to the box which says "enter the code shown," then click next.
If you originally gave Yahoo an alternate email address when you signed up, you may now tell them that address and have a password recovery email sent to it. This email will include a link which lets you change your password. The link will only work for 24 hours, so you should not put off changing your password.
If you did not give Yahoo an alternate email address, or if you have lost the password for that email address as well, you have another option. Click the button which says "I can't access any of the above" and then click next.
If you take this option, you will need to remember the answer to your security questions. Security questions are facts about yourself which only you (and those close to you) are likely to know. Most websites will ask you to write security questions when you sign up. Examples of security questions are the name of your first pet, where you went to school, or your mother's maiden name. You had to submit two security questions to sign up for Yahoo Mail. Now that are doing a password recovery for Yahoo mail, answering both of these questions correctly (including using your original spelling and punctuation!) will allow you to change your password.
Plan "B"
In the event that you do not have another email address for Yahoo to mail, and you absolutely can not remember the answers to your security questions, there is one final option. This option is more difficult, and may not work. Instead of clicking "I can't access my account" on the Yahoo login page, click "help."
After clicking help, you will now see a list of questions and answers on the left side of the page. Scroll down until you see the question "Question not answered here." Beneath this is a link titled "Try sign-in help." Click that link. This will take you to a new page, where you need to find a link titled "Contact us." Click that, and on that new page find the link titled "Yahoo! Sign in & Registration Help Form." You will be asked to fill out an extensive form with your personal information. This information needs to match the information you gave when you created your Yahoo account. After accurately answering all of their questions, you will be able to write an email to a member of Yahoo staff. Giving all the relevant details, explain what happened, and request that they reset your password for you. With luck, they will agree to your request.
If the Yahoo employee does not agree to change your password, there is not much else you can do. You may have to make a completely new email address and tell your friends and co-workers about the change. Do not forget to change your email address with other websites, too: if you forget your password to those places, you'll want a valid and current email to do a password recovery! Consider also making a second email address so that, if you need to do a password recovery for Yahoo mail again, you have a fallback account to recover your password with. A second account with another company, like Google, may be useful. Google mail (gmail) has different options for recovering passwords, so you can "double up" on options by having one account with each company.