How to Use the Malwarebytes Manual Update Installer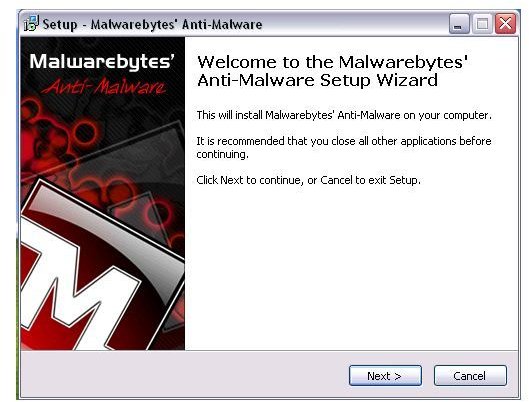 Malwarebytes Anti-Malware (MBAM) is a popular malware removal tool for Windows. Program and database updates are provided for free as well. It is important to keep the database of MBAM up-to-date to take advantage of new and fixed detection signatures. However, issues in updating MBAM may occur and the cause of the failure to update the anti-malware may vary.
Malware Preventing Malwarebytes Update
Malicious software such as worms, rogue software, spyware, and rootkits are known to prevent anti-spyware, antivirus or anti-malware programs to open, run a scan or update. In some cases, the default hosts file in Windows is hijacked to redirect the network communication to IP address that the malware creator have set-up. Other times, malware and rogue will block opening any applications including the protection tools so you cannot use or update it.
If the computer is infected which prevents you in updating MBAM, you should try using the Malwarebytes manual update process:
Using another PC, download the Malwarebytes database installer from https://data.mbamupdates.com/tools/mbam-rules.exe

Save mbam-rules.exe on a USB or flash drive and transfer it to the affected computer

Open mbam-rules.exe to start updating MBAM

If the rogue program or any malicious software in the PC is preventing you to open mbam-rules.exe, you need to try another method which is to install Malwarebytes program in clean computer. Update the database for Malwarebytes and then copy the database of MBAM (file name is rules.ref) to USB or flash drive. You can find rules.ref in C:\Documents and Settings\All Users\Application Data\Malwarebytes\Malwarebytes' Anti-Malware of Windows 2000 and XP; or C:\ProgramData\Malwarebytes\Malwarebytes' Anti-Malware for Windows 7 and Vista.
Note that the database version using Malwarebytes database installer is not current. It's a week or few days old because the vendor is not releasing a daily update for the said manual database update installer. If the copy of your MBAM have newer database version, you need not use the manual database installer. You should be fixing the computer instead by removing the infection.
Error Updating Malwarebytes Anti-Malware
In some cases, the computer is not infected by updating Malwarebytes will fail due to Error code 732. To fix this problem, the Malwarebytes manual update method is not needed but use any of the possible solutions below:
Check if the default browser or Internet Explorer is set to online mode. To verify that the browser is in online mode. Type or copy the line below in the run or search command in Windows (Start > Run in XP or Start > Search in Vista):
REG ADD "HKCU\Software\Microsoft\Windows\CurrentVersion\Internet Settings" /v GlobalUserOffline /t REG_DWORD /d 0 /f
If the browser is in online mode already but you continue to receive Error code 732 when updating MBAM, verify that the firewall protection is not blocking Malwarebytes in connecting to MBAM servers. Temporary disable the firewall protection and try updating the anti-malware program.

Some ISP's requires your connection settings for automatic detection of LAN. You should try also to configure internet options in Internet Explorer to automatically detect settings.

If you are using accelerator such as NetZero accelerator, turn off 3G accelerator. See the help page in NetZero website.

Some antivirus program prevent mbam.exe from running or updating the database. You need to add mbam.exe in the exclusion list option of the antivirus software.
Image credit: Screenshot taken by the author.