McAfee vs. Norton: What People are Saying in Customer Reviews of McAfee and Norton Antivirus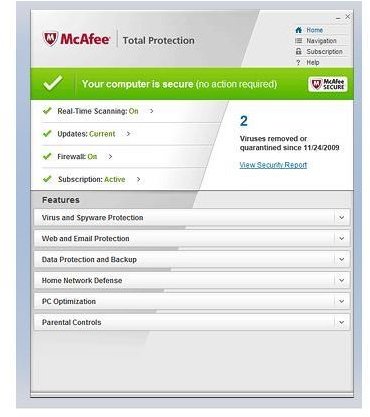 The Products
Grabbed from CNET experts, we wanted to compare apples to apples so we chose the McAfee Total Protection 2010 and Norton Antivirus 2010; both for 1 user and priced similarly with an average price of around $40, depending upon where purchased.
Not relying just upon the experts, we then sought out customer reviews for McAfee and Norton antivirus programs based on these two versions.
Because most customers are not the average expert or techie, we looked at reviews from various sources such as CNET, PC Antivirus Reviews, and Consumer Search. All of these review websites included reviews not just from the experts but real users as well.
McAfee Total Protection 2010
While most antivirus review experts averaged a 3.5 star for McAfee, most customers only gave the antivirus software 1.5 stars out of a possible 5.
The largest complaint bar none from most users was how the software froze the desktop upon install. One customer, who had several chats via telephone customer support, was actually asked if his PC had a virus; where he responded—"isn't this is what your software is supposed to prevent?" Other users experienced the "desktop freeze" as well.
Customer support was also an issue as many users said there was no "free" paid online chat. After 10 years of using the McAfee antivirus, another customer refers to it as "Crack-Afee," for the many times it had to be reinstalled (per customer support suggestions) and how over the 10 years, this version slows down the computer noticeably.
While the antivirus comes with a firewall, most users say it's useless and McAfee Total Protection only received 2 stars out of 5 for malware protection.
What users did like was the User Interface (UI); it offers only 4 items to choose from, Firewall, Subscription, Scan, and Update. Because McAfee constantly updates, some wonder why the update feature is there in the first place, however.
As far as true virus protection, users found no real virus definitions and many false positives were reported. Suspicious websites are only warned and not blocked. The program works on Windows 2000, XP, Vista and 7, but most users felt the customer service for problems was so poor, their desire was to stop using the product and either go to a more expensive antivirus protection or try some of the free antivirus programs.
Beyond the customer reviews of McAfee Total Protection 2010, you can find a Bright Hub expert review here.
Norton Antivirus 2010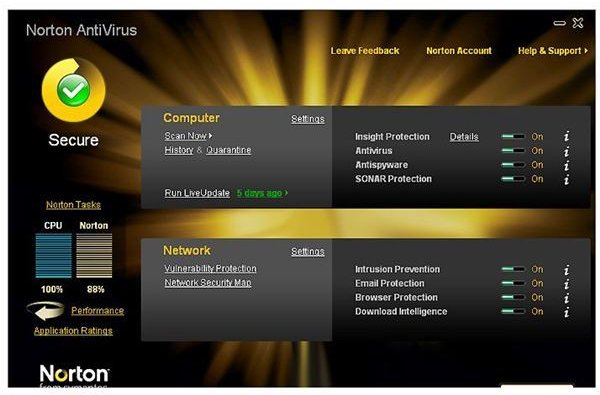 The next of our customer reviews of McAfee and Norton antivirus is Norton's Antivirus 2010. Experts gave it 4 out of 5 stars while actual customers only gave it 2 stars.
First off, users were happier that Norton 2010 did use fewer resources than past products; meaning slow running computer times were reduced. Users were not happy that there were no "levels" of security such as low, medium or high and just off or on. Those who chose to uninstall the program were left with no administrator access and were unable to perform a system restore.
Although it does use less resource space, Norton 2010 does seem to be constantly "doing something," complained another user, and "it won't leave me alone!"
Customer service; however, with Norton was liked much better than what was received at McAfee. Another user complained to watch out for the renewal notice when this antivirus software license runs off because there is no notice. On the other hand, as a past Norton user, I find this to be inaccurate.
Another customer of Norton 2010 says it's a set-it and use-it antivirus software and she experienced no problems and like the block feature of suspicious websites instead of just an "alert, like McAfee."
All users said the malware and email protection was great in Norton and offered almost no false positives. Plus, its 30-day free trial version is a "no-brainer," meaning if you don't like it after 30 days, don't buy it.
This writer really couldn't find many consumer complaints other than the non-renewal notice problems and wondered why Norton would do this—it would lead users to seek out the many free antivirus programs out there such as Anti-Malwarebytes or AVG.
For those who love the Symantec products, read an expert review on Norton 360 right here on Bright Hub.
The Winner
It appears as far as consumer reviews for McAfee and Norton antivirus, Norton wins hands down. Often, from reading numerous reviews, I believe what antivirus software you choose depends upon what level of protection you want and how often you utilize your PC, Mac or laptop.
If you're unsure which software protection provides the most (both free or paid) read The Best Antivirus Software for some ideas on which protection level is right for you.
If you're looking for totally free antivirus protection, read the Free Antivirus Shootout, which compares three of the best free programs out there today.