Solution to Malwarebytes Error 732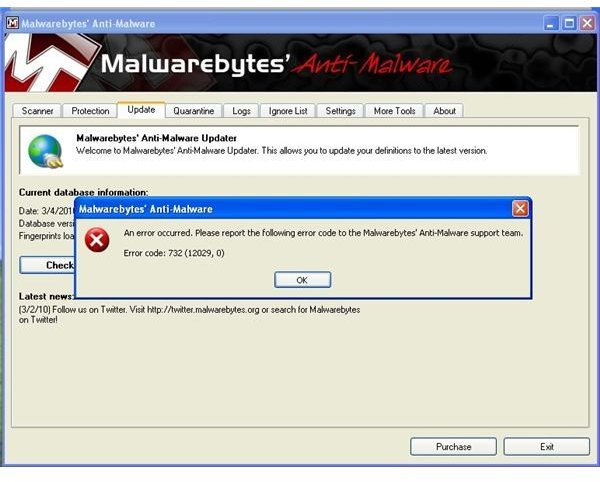 Malwarebytes Anti-Malware Error 732
There are reports from some Malwarebytes Anti-Malware users of receiving error code 732 when opening or updating the program. The Malwarebytes error code 732 means there is a problem with internet connectivity. If your internet connection settings have been changed by legitimate software such as accelerator or proxy software or security software that uses proxy settings, you need to ensure that the internet options settings are configured correctly.
Malware infection in PC can cause modification in internet options as well, so follow the steps in this article to try to solve 732 error code when opening or updating Malwarebytes.
Steps to Solve Error Code 732
The connection settings used by many applications for Windows is based on the Internet Options settings in Windows. If you are using alternative browser as default browser, you still need to ensure that the Internet Options settings are correct and current.
To access Internet Options connection settings, click Start, click Run, type inetcpl.cpl and hit OK. Proceed by clicking the Connections tab and then the LAN settings button.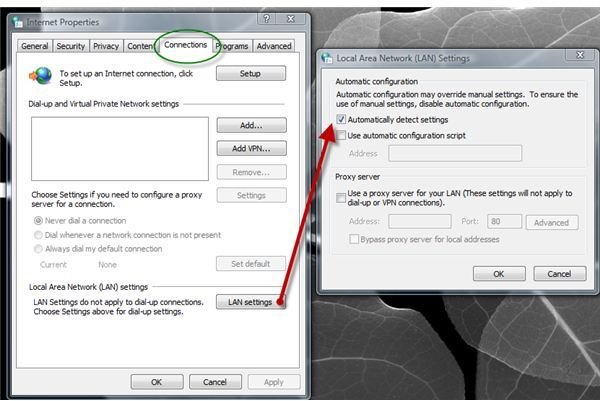 Check the box before Automatically detect settings and then click OK in the opened Internet Connection Properties to apply the changes. Note that you can also access Internet Settings by opening Internet Explorer, clicking the Tools menu and selecting Internet Options. Another method to access Internet Options without opening a browser window is by going to the Control Panel in Windows. Select Network and Internet Connection in XP or Network and Internet in Vista and Windows 7.
Proceed to updating Malwarebytes again to check if the above step has helped.
Other Method to Solve Malwarebytes Error Code 732
If the above step did not help solve Malwarebytes error 732, proceed to the next steps below:
Check if Internet Explorer is set to online mode. To verify that the browser is in online mode, type or copy the line below in the Run or Search command in Windows (Start>Run in XP or Start>Search in Vista):
REG ADD "HKCU\Software\Microsoft\Windows\CurrentVersion\Internet Settings" /v GlobalUserOffline /t REG_DWORD /d 0 /f
If you are using an accelerator such as NetZero accelerator, turn off 3G accelerator. See the help page in NetZero website.
Some antivirus and firewall programs prevent Malwarebytes in running or updating the database. Add the following files by MBAM in the exclusion list of your antivirus program and configure the firewall to allow the communication by mbam.exe:
mbam.exe, mbamgui.exe, mbamservice.exe, zlib.dll, mbam.dll and mbamext.dll - the location is C:\Program Files\Malwarebytes Anti-Malware folder. mbam.sys and mbamswissarmy.sys, which is located in C:\Windows\System32\drivers folder.
If you are using Windows XP, add rules.ref in the exclusion list of antivirus program. It is located in C:\Documents and Settings\All Users\Application Data\Malwarebytes\Malwarebytes Anti-Malware.
For Vista and Windows 7 users, rules.ref is in C:\ProgramData\Malwarebytes\Malwarebytes' Anti-Malware.
Disabled Internet Options in Windows
Some malware will disable Internet Options in Windows and this can prohibit programs, including Malwarebytes, from using the internet connection. You need to clean the malware or viruses from the computer to be able to update Malwarebytes again. Start Malwarebytes to scan the computer. If MBAM will not open due to error code 732 in its protection and update modules, reboot the computer to Safe Mode and try scanning the system. See if MBAM found any malware infection and let it remove the found threats.
If there is no malware infection in the computer but Internet Options is disabled, try enabling it using the registry editor in Windows:
Type regedit.exe in the Run box in XP or in Search box in Vista and Windows 7
Navigate to HKEY_CURRENT_USER/Software/Policies/Microsoft/Internet Explorer/Restrictions key. At the right pane, locate the NoBrowserOptions value data. Open it and change the value to 0 to enable Internet Options.
You can also enable Internet Options using the Local Group Policy Editor in Windows. Type gpedit.msc in Run or Search box after clicking the Start button. Note that users of Home editions of Windows do not have access to Local Group Policy Editor.
User Configuration > Administrative Templates > Windows Components > Internet Explorer > Internet Control Panel. At the right pane, make sure that below settings are set to Not configured.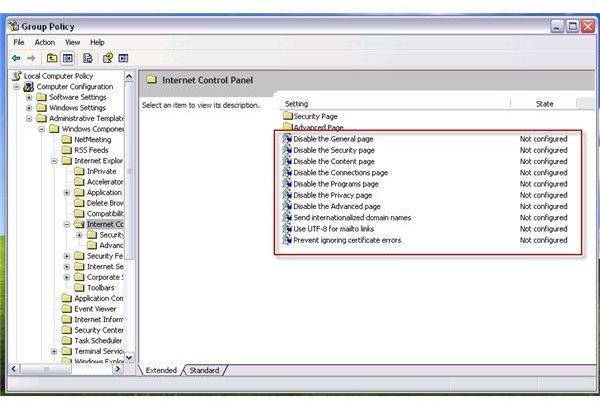 Proceed by opening Internet Options, which should now be enabled, and ensure the settings are correct. Start updating Malwarebytes Anti-Malware again.
Image credits: MBAM UI with error code 732 https://forums.malwarebytes.org, screenshot taken by the author.