How to Reinstall Norton 360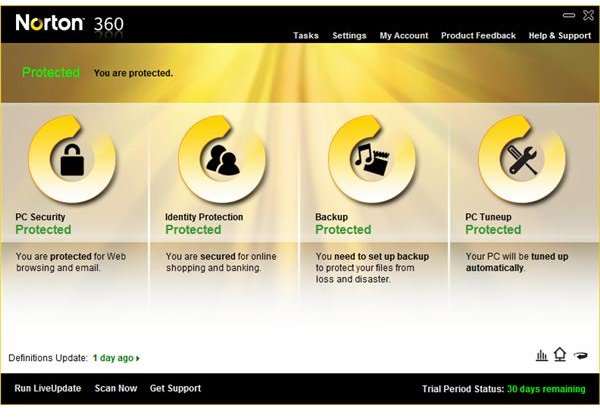 Symantec Norton 360 is a total security suite providing antivirus, anti-spyware, firewall, tune-up utilities, identity protection and a backup utility. It is popular with many security suite users who want all in one protection for Windows. In some events, reinstalling Norton 360 is necessary, such as when the program is corrupted or damaged, or you want to upgrade the operating system using a clean install method.
Getting Ready Before Reinstalling Norton 360
It is quite easy to reinstall Norton 360 in Windows. However, you need to be ready before reinstalling. Use the steps below before reinstalling the product:
Take note of your Norton 360 product key. If you have a Norton Account already, your product key should be in your account. Log in to your Norton Account to copy or note the active product key you want to use.
Download the new version of Norton 360 from Symantec website. If you are a Norton 360 Premier edition customer, get it here. However, if you are using the Norton 360 Netbook edition, you have to download it from this location. Save the file to your desktop and do not open the downloaded executable yet. You are downloading the download manager of Norton 360 that will download Norton 360 installer.
Download BUdump.exe. BUdump.exe backs up your Norton 360 Secure Online Storage backup settings, and restores them when you reinstall Norton 360. If you don't use Norton 360's online storage, skip this step. Save it to your desktop but do not open yet.
Proceed to downloading Norton Removal tool. Save this on your desktop as well.
Reinstalling Norton 360
Now that you are ready to reinstall Norton 360, follow the steps below:
Execute BUdump.exe to backup your Norton 360 online backup settings. Skip this step if you are not using the online backup by Norton.
If Norton 360 is still installed on the PC, open the Norton Removal Tool (filename is Norton_Removal_Tool.exe) that you downloaded earlier. Note that you must not use this tool if you have other Norton products besides Norton 360 and Norton Online Backup. Proceed to remove Norton 360 using the removal tool. Reboot the computer for the changes to take effect. If Norton 360 is not installed on the PC, skip this step.
Open the Norton download manager, which will download the edition of Norton 360. This is the file that you downloaded in step 2 of the previous section.
Install Norton 360 standard, premium or netbook edition. Enter the product key and log in to your Norton Account during the install process so the product is verified and can sync to Symantec servers.
If you have to reinstall Norton Online Backup, simply login to Norton Online Backup website to download NortonOnlineBackup.exe and install it as well.
Image credit: Norton 360 UI screenshot taken by the author.