Microsoft Anti Virus Total Protection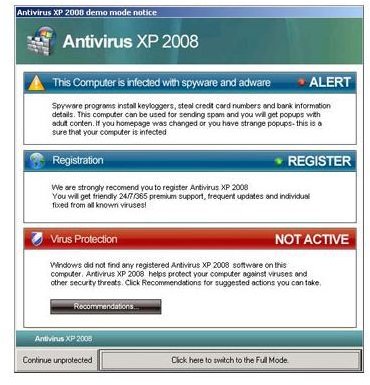 Before we talk about Microsoft anti virus total protection, let us understand that many rogue software are doing rounds on the Internet claiming to be Microsoft products. They are not part of Microsoft anti virus total protection but are designed by people or companies that intend to earn some money illegally by using the brand name Microsoft. Most of these rogue software also carry the logo of Microsoft.
One of such rogue anti virus is Antivirus XP 2008 (see image). The easiest way for these rogue software to get into your computer is banner ads that proclaim they are Microsoft products. Usually, they also offer a false online scan. When you click the banner or link for the free scan (assuming it is Microsoft), you end up downloading the rogue software into your machine. This is why I do not recommend downloading computer security products from any third party websites. If you wish to get a Microsoft product, please download it from Microsoft websites only. Similarly, if you wish to download Anti Virus Guard (AVG), get it from AVG website. You can also check Microsoft partner antivirus on its website to be sure that an antivirus is indeed genuine.
Microsoft has four antivirus and malware protection products and all of them are free for use on a genuine Windows OS. The next section looks at these products that form Microsoft anti virus total protection.
Microsoft Products for Anti Virus Total Protection
As part of its computer/network security initiative, Microsoft offers four exclusive products for prevention and removal of virus/ spyware. Other than these, it also offers Windows firewall – another free product that comes bundled with Windows OS.
Microsoft Live Safety Scanner
If you doubt that your computer is infected, you can run a free online scan from Microsoft to clear your doubts. The free online scan from Microsoft Live Safety Scanner not only checks for virus and spyware, it also takes a look at the condition of your computer. It also removes junk files while tuning up your computer for better performance. If you are Windows Vista or Windows 7 user, you need to use Microsoft Live Safety Scanner for Windows 7.
Microsoft Windows Defender
Microsoft Windows Defender is a powerful tool for detecting and removing spyware and adware from your computer. The Windows Defender comes bundled with Windows Vista and Windows 7 so you need not worry about downloading it. If you are using Windows XP, you need to download Windows Defender and update it so that your computer is safe from all kinds of spyware threats, including the Conficker threat. Windows Defender monitors your Internet browsing as well. If it finds any suspicious packets entering your computer, it removes them straightaway. However, please be aware that Windows Defender is neither a firewall nor an antivirus. Even with Windows Defender, you need a firewall and an antivirus.
Microsoft Malicious Software Removal Tool (MSRT)
The Malicious Software Removal Tool (MSRT) also offers protection against malware. Like Windows Defender, the MSRT should also be used in addition to antivirus. It should not be considered a substitute for antivirus. You can get the MSRT via Windows Update. It is updated every first Tuesday of each month. To stay current with latest definitions, make sure you have Windows Updates set to Automatic.
Microsoft Security Essentials
Microsoft Security Essentials (MSE) is the best antimalware product from Microsoft. It is a combination of antivirus, antispyware, and anti adware. It includes Windows Defender so if you download MSE, you need not use the Windows Defender. If you already have Windows Defender on your computer, MSE removes it while installation. This product is also free and can be used on any genuine Windows installation (XP and later versions only).
The above four are the current products from Microsoft Anti Virus Total Protection. I recommend using all of these four products in addition to one of the top ten firewalls for complete protection of your computer(s).
You may also be interested in the reviews of top three anti virus products.