Is it Time for Norton 360 Renewal?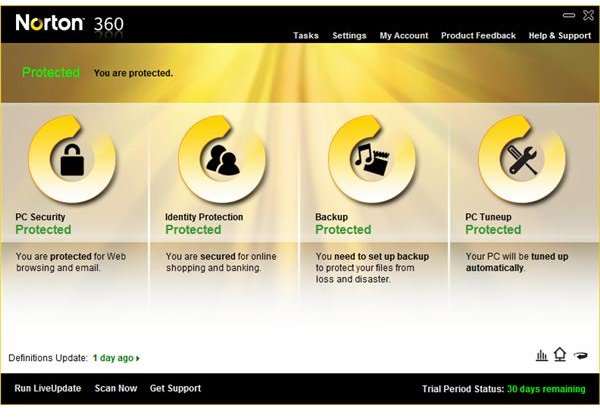 Norton 360's Norton Automatic Renewal Service
Norton 360 customers are automatically enrolled to Norton Automatic Renewal Service when you buy any downloaded version of the program and if you opted to purchase additional secured online storage. If you previously canceled a Norton renewal service and decide to renew your subscription to continue using the protection and online storage, you can buy a Norton 360 renewal without the need to uninstall or re-install Norton 360.
How to Renew Norton 360?
There are several methods for Norton 360 renewal:
Open the Norton product in your computer. Click the "My Account", next click "Renew Subscription" that lets you check your subscription status and renew.

If your Norton 360 is shipped or installed when you buy a new PC and the subscription is due to expire, you will be prompted to renew. Simply follow the on-screen instructions to proceed renewing the subscription.

Login to you Norton Account to view the status of Norton Automatic Renewal service. If you are enrolled, you do not have to do anything other than verifying that your credit card information and billing address are correct. Symantec will send you an e-mail before they will proceed to automatically renew your Norton 360 subscription

Visit Symantec's Upgrades and Renewals web page to purchase a Norton 360 renewal. Select the edition of Norton 360 in the drop-down menu for "Renew your subscription". Next, select the version of your existing product and then click "Go".
Notes:
If you received Norton 360 from your internet service provider (ISP), you do not need to renew as long as your internet service subscription is active and it is still supported by the ISP.
If you are using earlier version of Norton 360 but the subscription is still active, you do not need to pay to upgrade for new version of Norton 360. Simply visit Norton Update Center website to download your free program upgrade.
Why Renew Norton 360?
If you are a satisfied customer of Symantec and you enjoy the online storage that came with Norton 360, you would keep your subscription up-to-date and will renew the subscription. This is to maintain the protection against malware and your backups that are located in secured online storage in Symantec server.
Renewing Norton 360 lets you continue using the services by Symantec including the free 2GB online storage for Norton 360 standard and netbook editions. Norton 360 Premier edition customers enjoys 25GB secured online storage.
If you do not extend or buy a Norton 360 renewal, you should download your backup data from the online storage and download another antivirus, firewall software or internet security suite to continue protecting your computer from internet and computer threats.
Norton 360 Renewal vs. Buying another Norton 360?
Purchasing a renewal for Norton 360 costs $70 for one year of subscription for 3 PCs while buying a new product key will cost you $80. You saved $10 when renewing your existing subscription. It's better to renew than purchasing a new license key because the upgrade to new versions of Norton 360 is free. However, you can look at online shopping websites that often provide huge discounts when buying Norton 360. If the price is lower than $70, it's a good deal. Ensure only that you trust the online shopping website where you plan to buy a Norton 360 product key.
Image Credits: Screenshot taken by Donna Buenaventura