Tools to Prevent and Remove Ad Yield Manager Spyware

What is Ad Yield Manager
Ad Yield Manager is one of the ad serving service companies that you will often find on websites. It is also known for storing its cookies on your computer. The purpose is to serve advertisements, but it has been misused by some rogue affiliates to serve fake antivirus programs, to deliver malicious content targeting vulnerabilities in application plug-ins or browsers and to serve annoying ads, banners or logo using flash file format (.swf file extension) or any static or non-static contents.
A tracking cookie is added to your PC, allowing ad yield ad servers to know what you've browsed and this will push related ads. There are also annoying ads from ad yield that will play sounds that sound as if they're coming from your computer but it's really from unwanted ads. Ad yield manager is also found to serve iframes from another ad serving service and this is often unnoticed by end-users. The other ad serving service will pull its content from another site and will pull content again from ad.yieldmanager.com, only to serve malicious contents. The screenshot at the left is an example of ad yield manager's URL which redirected my browser to another website, banners.mt50mobilefun.com and then redirected me again to c3.mt-50.com. This rerouting is very open to exploit using ads.
How to Remove Ad Yield Manager Spyware
If you notice unwanted pop-ups while browsing or if your browser is not operating normally, you need to scan the computer using a malware scanner that will also scan the system for tracking cookies. Some anti-spyware and antivirus program don't pay attention anymore to detecting or scanning Windows for tracking cookies. The programs below are some of the best free malware/adware removal tools, which also provide spyware and tracking cookie detection:
If you have ad yield manager programs in the Control Panel in Windows, the above scanners should detect them as well and offer an option to remove ad yield manager spyware software.
Consider using the CCleaner program to delete the unwanted cookies of ad yield manager along with other cookies, if your preferred scanner does not scan for ad yield manager spyware cookies.
How to Prevent Ad Yield Manager Cookies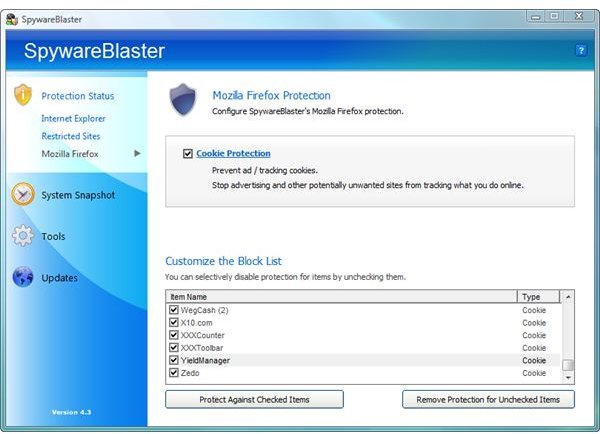 Prevention is better than a cure. You need security tools offering active protectiong against spyware or ad yield tracking cookies. The tools below will prevent any malicious software or tracking cookies from communicating to and from your PC and will also prevent storing data on your PC.