The Best Free Spyware Software Removal Tools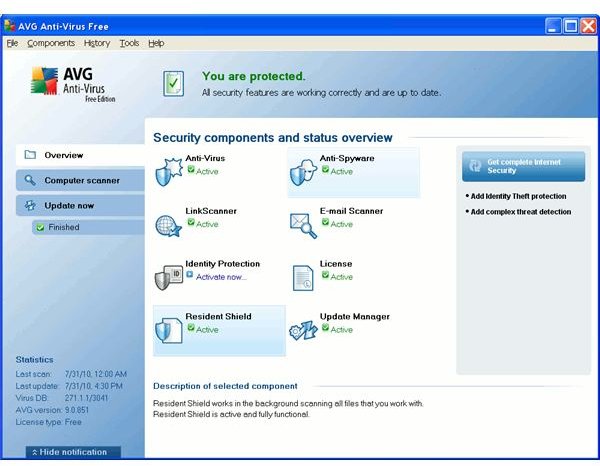 A Look at the Vast Market of Free Anti-Spyware and Anti-Virus Programs
Computer security is a big business. Everyone wants to be protected from the biggest threats out there, so naturally a major market comes out to try and tap into that demand. Thankfully, a major segment of the market is the free section. It is possible to get great spyware and virus removal tools that will keep your system perfected protected against anything that the Internet can throw at it.
This article will try to cover all the best options for spyware and virus protection. I'll also try to connect you to free anti-spyware/virus reviews. We have a review of just about every major and legitimate anti-virus or anti-spyware tool. If you have one in mind, use our search feature to see if we have some information about it.
I will not cover the wide array of free anti-virus software available on the market. We have another article that has brief reviews of just about every single piece of free antivirus protection for Windows 7. I hope to take a much closer look at what appears to be the cream of the crop for free protection.
This will include AVG, Avast, Avira, Spybot S&D, Malwarebytes and Microsoft Security Essentials.
The Best Free Anti-Virus Programs - AVG, Avast and Avira
**
AVG Free - AVG has been a personal favorite of mine for a long time. I think that AVG free is probably perfect for the person that wants something that's a jack of all trades. AVG is a very capable tool for scanning for viruses and spyware. It is fairly resource intensive, so you may not want to have it do a full scan daily, but it is great program that you can just set up and forget.
I really like AVG Free for it's extra features though. AVG offers a free LinkScanner program, which scans search results and places a red checkmark beside unsafe sites. It will also stop known attack sites and hacked sites from loading and will require a confirmation before you enter it. AVG also has a fairly nice Resident Shield and E-Mail Scanner that are very nice additions to the package. Overall, it's just nice because it offers a whole lot of anti-spyware and anti-virus protection in a single package.
Avast! -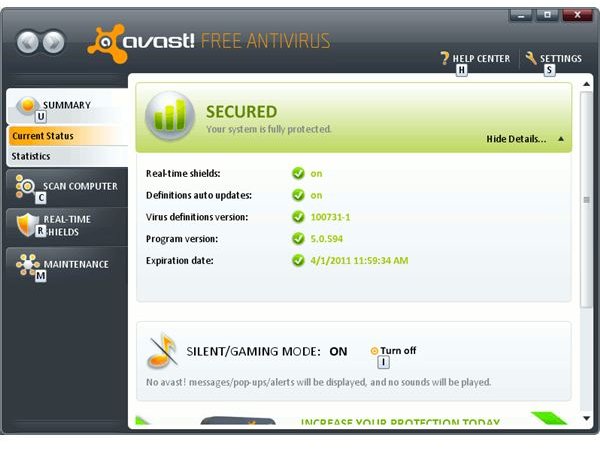 Avast! is another good anti-virus and anti-spyware programs. It is primarily an antivirus scanner, but it also has a resident shield that will shut down attack pages and prevent malicious software from loading on your system. Avast has a very simple scanner. You basically just click the button and let the little box scan for a bit. There isn't much room for customization or special features, but it also has a wide range of features that will be great for general protection.
My favorite feature of Avast! is that it offers a boot scan. This will restart your computer and scan it while it boots. This should, ideally, get rid of any spyware or virus that regularly reinstalls itself during the boot up phase. It's really nice to be able to just hit a button and let it do such a full scan.
Avast! also has a very simple button that you can click to set it into gaming mode. In this mode, it won't have any popup alerts or noises. It will just run in the background. This makes it the perfect antivirus software for gamers.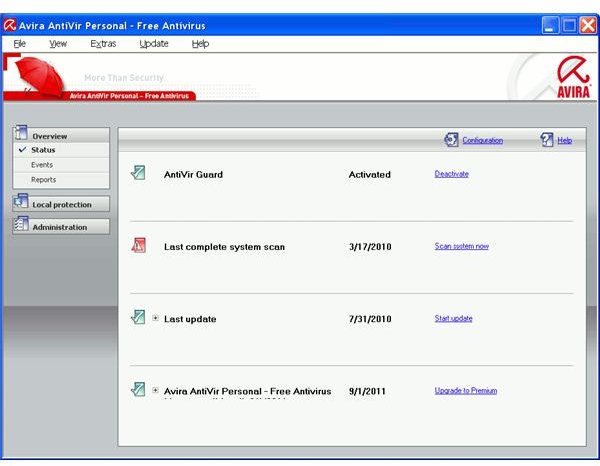 Avira AntiVir is another good program. It can also scan for viruses and spyware. It seems like the Antivir Guard is the best of the bunch for proactive virus protection. It was able to stop a variant of the Conflicker worm from getting a foothold awhile ago and has generally been great for spotting malicious processes online.
Note that Avira is probably the most annoying. The nice guard program is the only saving grace. AVG and Avast!, for the most part, just accept that you're using the free version. Avira will issue nearly full screen advertisements for their professional version anytime it updates. This is really annoying and you have to go into the registry to shut it off. It's also terrible for gamers, since the screen can minimize whatever you're playing. I don't like being killed by zombies because my antivirus system can't take a hint.
It also has one of the loudest and most obnoxious alerts for when it finds a problem, although that can be turned off in the menu. This is particularly bad, since Antivir tends to spot a fair number of false positives too (one every few days for me).
The Best Spyware Removal Tools - Spybot S&D, Microsoft Security Essentials and Malwarebytes
Spybot Search & Destroy - Spybot S&D is a great program that has been around for a very long time. It's absolutely great for protecting your system against spyware and adware. It's a great free spyware removal tool. Once you install it, it just has to run a very quick scan for known spyware. For most machines, this should only take a few minutes. It will then bring up a list of every piece of spyware and adware along with notes on what they're from and what they do. It also grabs many cookies and add-ons that are just security risks or annoying bits of adware. This makes it pretty handy for cleaning up minor "infections" that were installed accidentally. Stubborn toolbars will be destroyed quickly.
Spybot is also quite proactive. It has the TeaTimer program, which just runs in the background and prevents known spyware from installing itself onto the computer or adding registry entries. This is very handy if you can spare the resources. It also has a great "Immunize" feature, that will lock up security flaws and prepare Internet browsers to handle potential adware or spyware infections.
Note that Spybot S&D is not a real virus scanner. You probably need something else to handle viruses.
Microsoft Security Essentials - This package of simple tools from Microsoft is great for quick spyware removal. Microsoft updates it once a month. You actually probably already have this on your computer. It comes free with Windows Vista and Windows 7 and it will even update automatically through Windows updates. In general, it's very good for removing known threats. It doesn't offer much real protection, but if you pick up a bit of spyware, then it can easily wipe your computer clean without much fuss.
The Best Free Spyware and Virus Removal Tool - Malwarebytes
Malwarebytes' Anti-Malware - I love Malwarebytes. It's technically a virus scanner (since it does scans) but it is mainly a malware removal tool. It can easily remove viruses, adware and spyware from any computer. It's very simple to use too. You just have to download it, install it, update it and then let it run. After a quick scan it will get rid of most malware. I suggest that any users worried about possible infections have a version on their computer (and possibly a clean version on a USB drive, if they're worried about an infection corrupting it). It doesn't offer too much for active protection, but if you need to clean up any viruses, adware or spyware, then it's a dream come true.
Finding the Best Free Spyware and Virus Removers - Conclusion
Well, hopefully you have some ideas about what you'd like to use for your spyware and virus remover. As I covered, AVG, Avast and Avira AntiVir are good for general virus protection. Spybot S&D and Microsoft Security Essentials are great for protecting and cleaning up spyware and adware. Malwarebytes is a great pure removal tool that will clean up just about anything that the others miss.
If you'd like to learn more about these virus and spyware removers, or any other scanners or removal tools, then just check out our website for more information.