Installing and Setting Up Your Free AVG Virus Protection Download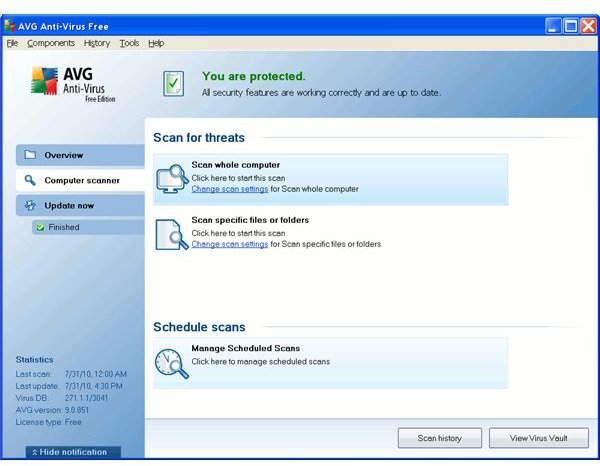 Introduction - AVG Free Edition Virus Scanner
AVG is one of the many different free antivirus programs on the market. I personally like AVG Free and find it to be a great program for people who just want good background protection from online threats. It's easy to download, easy to install, and very intuitive overall. I'll take you through the entire process of the free AVG virus protection download and make sure that your computer is well prepared for anything that it might face.
If you need more help, then we also have a complete guide for AVG 9.0 Virus Protection.
Installing AVG Free Virus Protection
The first thing that you need to do is download the AVG Free installer. You can get it from the official AVG website; find it here. Naturally, they make the paid version the more obvious choice and point out the extra protection it offers. Chances are that you really won't need it. The AVG Free edition virus scanner will probably be enough to meet most people's needs. If you would like a full computer security suite, then it isn't too bad of a deal for the paid edition.
Regardless, click on the button labeled Get Free Antivirus. You'll want the button on the left for the free version of AVG 9.0. Click on the next button to be taken to Download.com. Don't worry, this is just where AVG hosts the file. Download.com is part of the larger CNET network, so it's a safe download location. Click the button to start the download and save it to your computer.
Once the download has finished, you will want to double-click the installer icon to fire up the installation process. After that, just follow through with the steps, agree to their terms, and confirm that you want the basic protection package for free (again, unless you want to upgrade). Then hit next. It will need to download the actual files for the installation. It's not an insignificant download because it includes many updates that it has to grab, so expect it to take a few minutes. Just let it run until it install is complete.
Continue with the steps and pay attention to what the AVG Free edition virus scanner offers. You may be offered an opportunity to install a toolbar. Only opt-in if that's what you want. After a few more steps, the program should be all set and ready for its first run.
Setting Up AVG 9.0 Free Edition
To start with, AVG usually wants to do a preliminary scan to map out your system and figure out what you have installed and the locations on your drive where it will monitor for infections. Letting this preliminary scan happen should allow later scans to occur at a much faster pace. I can't give you much of an estimate for the time that it will take to run a full scan of your computer. It all depends on your hard drive size and how much CPU it can use in the scan. If you don't plan to use the computer, then you can set it to do a fast scan using the slider. It will then use up more resources and finish the scan faster. This will slow down anything else that is running on the computer, but if you're not using it, then it's a good way to save time.
You may have some infected files on your system. If that's the case, then just quarantine the files to the virus vault, or delete them. If you're unsure about the difference between quarantine and deletion for a virus, then the linked article above on AVG Virus Protection 9.0 should clarify the process.
After your initial scan is done, you're just about ready to let it sit in the background and protect your computer. I suggest that you click on the Computer Scanner tab and then click on the button to schedule future scans. The AVG Free edition virus scanner can be scheduled to occur automatically. You can set it up to occur daily at a certain time or only on certain days of the week. It's your choice as to how often you want it to scan your computer. It really comes down to just how worried you are about a potential infection. Regardless of your decision, just make sure that you schedule it for a time when the computer will be on but that you won't be using it. Dinner time or late in the evening are usually good times to schedule a scan, since you may be eating or watching TV while the scan occurs. If you need to use the computer, you can always pause the scan and restart it after you're done.
Please click on Page 2 for tips on understanding the Free AVG virus protection download and its features.
Understanding Your Free AVG Virus Protection Download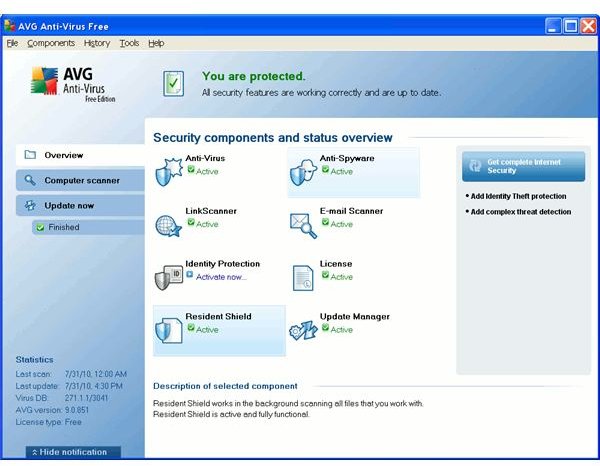 Once you've scheduled your scan and done your initial scan, you're basically ready to just let your free AVG virus protection sit in the system tray and quietly protect you. Before you move on though, it's probably a good idea to explore the components available in your Free AVG package.
Anti-Virus - This is just the standard antivirus and probably the reason you chose the download. You can double click the icon to pull up a little more information. Double clicking this icon will bring up the virus signature database that you're working from. Make sure that this stays updated. The automatic updates should take care of it, but it's something that you will need to watch out for. Updating virus signatures is crucial to staying safe.
Anti-Spyware - AVG Free virus protection also offers spyware protection. This is also important to help keep your computer safe from popups and annoying infections. You can also see the database that it is using, although it should be the same as the antivirus signature database.
LinkScanner - This is a really neat tool from AVG. Just like it says, it scans links for you. It works with both Internet Explorer and Firefox. LinkScanner reviews links brought up by search engines and puts green checkmarks next to websites that it confirms as safe. It isn't an absolute guarantee since scammers and hackers obviously aren't caught immediately, but it is a good guide. LinkScanner also checks links that you travel to for known malicious codes and maintains a blacklist of known attack sites. If it detects an unsafe site, it will stop you and make you confirm that you wish to visit it.
E-Mail Scanner - This is pretty simple. If you use a compatible client for reading your emails, then you can have the scanner scan new emails for viruses and have it automatically remove them before they attack your computer. You can also have it scan your outgoing messages and include a message saying that the message was scanned for viruses before being sent. Some security conscious friends might appreciate that.
Identity Protection - This isn't activated in AVG Free. It promises to protect your identity online, but I doubt that it's worth an extra $20 when you can follow some other free tips on avoiding phishing and identity theft scams.
Resident Shield - This is a really great component of the AVG Free edition virus scanner. It has a proactive defense in place that blocks malicious programs from gaining access to your computer. It might not catch anything, no program is perfect, but it is very useful for stopping exploits and other nasty bits of spyware from sneaking onto your system. You should definitely let it run in the background.
Update Manager - Like I said above, keeping your virus sigs updated is crucial to staying safe online. Rig up the update manager to check for updates at least once a day. I have a separate guide for when to schedule AVG updates at an optimal time. That said, as long as you're doing it once a day, you should stay very safe.
Other AVG Free Articles
Below are some additional AVG Free articles to help you better understand the program:
Image Credits
Screenshots of AVG Interface by Author - Copyright of AVG (https://www.avg.com/)