Free Review of Micro Trend HouseCall
Online antivirus and spyware scanners allow users the option to scan their computers for malware despite not having anti-malware software installed on their systems. In addition to offering a free service to Internet users, online scanners provide the added benefit of always having the latest virus definitions with which to scan for new threats. In this article, we'll take a look at Trend Micro HouseCall 7.1 to see how it performs.
There are quite a few free Spyware and virus removal tools that can be accessed online, while some are limited to scan a single file, more robust solutions such as a Trend Micro HouseCall free scan will do an entire free antivirus scan of your system.
Ease of Use (5 out of 5)
To use the Trend Micro HouseCall free scan, users will need to download a small launcher program (Housecalllauncher.exe), which is available in 23-bit and 64-bit versions to support older and new operating systems such as Windows 7. Once the launcher is downloaded, the user is required to run the program, which will download all the required components and ready itself to scan the computer. The scanning options include a full, custom (including folder specific scans) as well as a quick scan.
Users have the option of allowing the program to share threat data with "a global intelligence network to quickly discover new threats" according to the Trend Micro HouseCall website. Unlike some other online scanners, HouseCall not only detects threats but it can remove them as well. In fact, the program can be set to auto clean, which is a feature that tries to remove threats automatically, or users can choose to perform the removal tasks manually if malware is detected.
One major advantage that HouseCall has over traditional virus scanning solutions is that it is always up-to-date. The service doesn't rely on periodic software definition downloads to be able to detect viruses. Users are assured that the latest virus definition files are being used for each scan because the launcher always fetches the newest definitions prior to starting a scan. In a search for the best online virus scanners, you will be hard pressed to find a better alternative to HouseCall.
The Performance (3 out of 5)
Trend Micro HouseCall and its free virus scan, like many other online scanners, is generally available to everyone who has Internet service. However, its reliance on the Internet in order to perform a scan, is its Achilles heel. There are certain malware that will impair the computer's ability to access the Internet, making it nearly impossible or at least technically challenging to remove malware using online scanners.
However, once the scanner downloads the required components, it does a good job of scanning the computer for viruses without hogging system resources. It's not surprising that the program is not a system hog, however. Bear in mind that it doesn't run all the resident shields and active protection components of a full fledge virus scanner.
Minimum System Requirements to Run HouseCall 7.1
A Trend Micro HouseCall 7.1 download can be found on the Trend Micro website. In addition to needing Internet connectivity, computers must have these minimum system specifications to run the program. Before using the Trend Micro HouseCall free scan, check the minimum system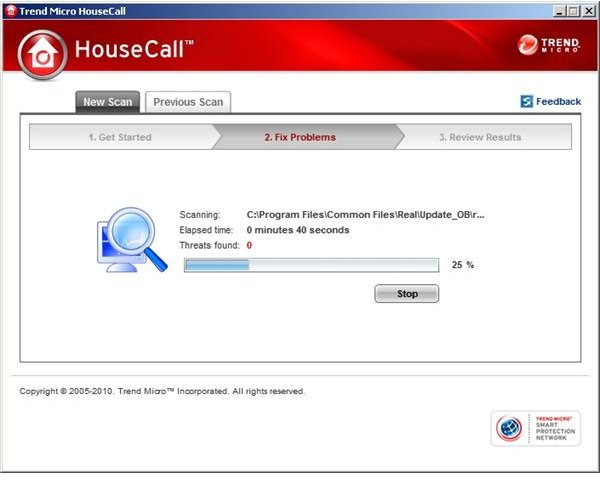 requirements below to ensure that your computer can use the service:
Hardware:
300MHz Intel Pentium processor or equivalent
256MB memory and 200MB available disk space
Operating System:
Windows 7 (32-bit, 64-bit)
Windows Vista (32-bit, 64-bit) Ultimate, Business, Home Premium, or Home Basic with SP1 or SP2
Windows XP (32-bit) Home or Professional with SP2 or SP3
Limitations of Online Virus Scanners
A limitation of online scanners, such as Trend Micro HouseCall is that they don't protect computers from being infected in the first place. In essence they are mop up solutions that are only useful after the system has been infected. On the other hand, resident antivirus programs constantly monitor all activities that have the potential to infect the system, in an effort to mitigate threats. However, free online scanners can be quite useful for doing quick scans using the latest virus definitions.
Some online services are only limited to scanning a single file, which must be uploaded to the site. This requirement makes this particular type of solution an impractical option for scanning lots of files or large files, which can be a bigger problem if the user is using a slow Internet connection. The saving grace of free file scanning services is that they use several scanners to detect viruses. This makes it easy for them to detect nearly all malware including: viruses, worms, unwanted browser plugins, and Trojans. Some popular file scanners include: Kaspersky File Scanner, Virustotal and Jotti Online Malware Scan.
Screenshot by Author: