How to Proceed with Norton Cancellation to Stop Automatic Renewal?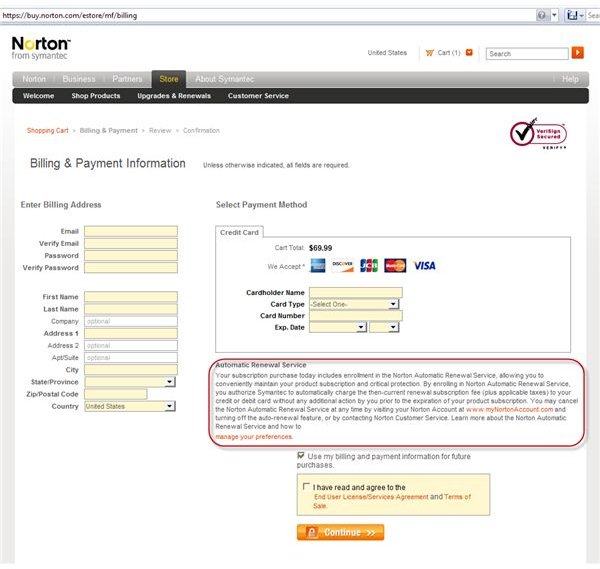 What is Norton Automatic Renewal Service?
Norton products include a Norton Automatic Renewal Service to customers - a fast and convenient method of renewing the protection
subscription of Norton products. There is no option to disable the automatic renewal service during your purchase. Read below on how to process the Norton cancellation of automatic renewal.
Only the following products are offered with Norton Automatic Renewal Service:
Norton AntiVirus 2006 or newer
Norton Internet Security 2006 or newer
Norton Personal Firewall 2006
Norton SystemWorks 2006 or newer
Norton SystemWorks 2006 Premier Edition or newer
Norton Confidential
Norton 360
Norton 360 Premier
Why Symantec Want to Automatic Renew Your Subscription?
Some people forget to renew the subscription of Norton products. When you forget renewing the program's subscription, you will no longer receive malware detection updates from Symantec. If you don't receive detection and program updates and you continue to use an out-dated definitions update, your PC and valuable information will be at risk from online and PC threats.
If you want to continue using Norton products, you should renew it manually or automatically. If you are planning to use other security solutions, proceed to the Norton cancellation options below.
How to Stop Automatic Renewal for your Norton Subscription?
When you purchase Norton using online as a downloadable version and when you renew your subscription online, you are automatically enrolled to automatic renewal service by Symantec. You cannot prevent this service during your purchase but you can stop the automatic renewal service using any of the 4 methods below:
Login to your Norton Account. Select "Norton Automatic Renewal Service". Next, un-check the box next to the Norton product for which you would like to turn off Norton Automatic Renewal Service and then, click "Update" button to apply the preferences.
Live Chat - Request the cancellation of automatic renewal service via Live Chat using your internet connection. Go to Live Chat page of Symantec here.
Use the online Norton Automatic Renewal Service Cancellation Form to stop or cancel renewal of your Norton subscription. You are required to enter the Order Number, Product Activation key and/or the product serial number.
Send an e-mail to Norton Customer Service using the form here. Click the drop-down arrow to choose "Auto-renewal and Ongoing Protection" and proceed to enter the required information including your request to stop the automatic renewal service of Norton.
Phone Support - Symantec can call you or you can call them to talk about automatic renewal service and your preference to not to automatically bill you next year. To call them or to request a call back service, go to this website of Symantec.
When you're done, verify the status Auto Renewal status from "My Auto Renewal Status" page.
Recommendations
Disable the automatic renewal service only if you do not wish to continue using Norton solutions. Norton programs will remind you if your subscription is going to expire in a certain number of days. You should also receive an e-mail before your subscription will expire and then you can decide whether to renew or not to renew your Norton subscription.