Kremlin Security Suite - Encryption/Decryption Software - Kremlin Data Encryption

Introduction
In present world of technology, you need to be careful about safety and security of your data that is exposed on the internet. With hackers all around, it has become difficult to ensure integrity and confidentiality of computer data. When you delete some data or files from your computer system that space is marked as unused space but data still persists at that location. With the help of low-level disk utility any hacker can read such sensitive data. Mac and Windows operating system were not designed to be secure in such a scenario.
Kremlin data encryption is one such solution to this problem. Kremlin encryption algorithms includes some of the most powerful and well-known algorithms like Blowfish, CAST, Safer SK-128, RC4 and New DES that not only protects your data from hackers but also wipes out the unused space so no one can read the data.
Kremlin data encryption algorithms (4 out of 5)
Kremlin encryption software includes two categories of algorithms, secure & powerful algorithms and good algorithm. Basically, this categorization has been done on the basis of trial and registered version of Kremlin data encryption software.
Secure and Powerful Algorithms
Blowfish – Invented by renowned cryptographer Bruce Schneier, this is a very powerful encryption algorithm designed so far.
CAST – This algorithm is mainly used in PGP (Pretty Good Privacy) programs.
RC4 – This algorithm is used in financial transactions made over the internet.
Safer SK-128 - Another powerful algorithm.
Good Algorithm
New DES – New DES (Data Encryption Standard) is an improvement of over DES. This algorithm is not very much effective in comparison to secure and powerful algorithms mentioned above.
Review (5 out of 5)
Kremlin data encryption software is both easy to install and easy to use. You can download the trial version of the application here. After you download the software, double click the file and follow the installation steps to install the software. After installation, make sure to restart your computer system. Once you reboot your computer system, you will notice a black color Kremlin icon in the system tray, called Kremlin Sentry. You will also notice Kremlin Encrypt icon on the desktop.
Right click on the Kremlin Sentry icon to open a popup menu. From there select Options to view different algorithms supported by Kremlin data encryption software.
To encrypt a particular or group of files or a directory, right click on the file or directory and from the list of options, select Kremlin Encrypt.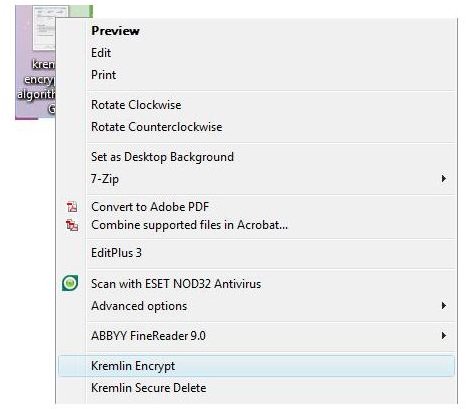 Note: In trial version of the application, you can't select more than 10 files at a time.
A window will appear asking you to enter the passphrase. Click Options to select the desired encryption algorithm. If you are using trial version of the application, you can only use New DES to encrypt files. All other secured algorithms are unlocked in full version.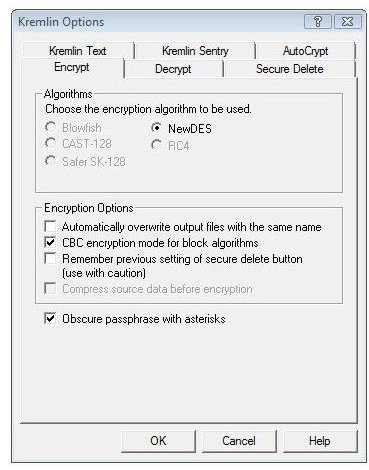 Once you have selected the desired encryption algorithm, you can choose to delete the source files after encryption by selecting the checkbox "Delete source file(s)".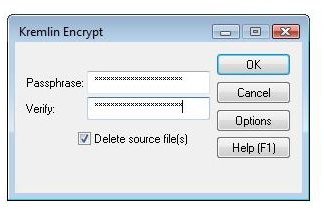 Pros and Cons (4 out of 5)
Pros
1. Kremlin Security Suite uses most secure and powerful algorithms for data security.
2. Kremlin wipe ensures that even the unused space is wiped out completely leaving behind no traces of data.
3. Hackers can't steal your information
4. Allows password encrypted locks on files
5. Kremlin uses 160 bit encryption key.
Cons
1. The trial version includes only New DES algorithm, which is not secure enough to protect your data.
Conclusion (4 out of 5)
After considering all the pros and cons and other features of Kremlin data encryption software, I will give Kremlin Security Suite a rating of 4 out of 5.
Images Credit
Microsoft windows screenshots by Microsoft
Kremlin Security Suite screenshots by Kremlin