AVG Resident Shield Inactive - How to Fix It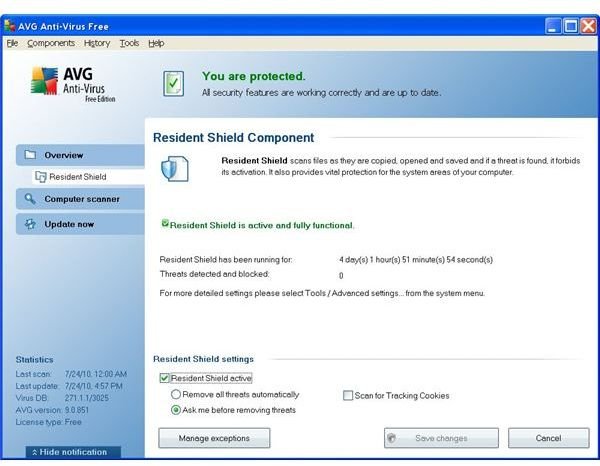 AVG Resident Shield Inactive - Turning It On
AVG is a great product. We have a number of guides explaining AVG and I personally find it to be a great piece of antivirus software. It's possible that your resident shield may be inactive just because it's turned off. Sometimes computer problems really are this simple. Regardless, it's like restarting your computer. It probably won't fix the problem, but it's a good thing to try before you do a few hours worth of work for no reason.
If your AVG resident shield is inactive, then you should try to turn it back on before you do anything else. Pull up your AVG control panel by double clicking the icon on your desktop. The button for the AVG resident shield is in the bottom left. Just click it twice to pull open this component. There should be a box in the bottom corner that you can check to make the AVG resident shield active again. Save the changes and watch for a moment.
If the program shuts down immediately, then something is very wrong. Skip to the next step. If it lasts for a bit, then you should try to restart the computer. If it holds up, then it was just a weird glitch. Keep an eye on it and you should be fine. If it doesn't start up again after a few minutes, then you probably picked up some malware that's interfering with AVG resident shield.
Screenshot (Aaron R) AVG Free Interface (https://free.avg.com/us-en/homepage)
AVG Resident Shield Inactive - Possible Malware Infection
If AVG resident shield stays inactive after restarts, then there's a decent chance that you picked up a nasty infection that is actively interfering with the program. Some of the new viruses today will actively shut down antivirus programs so that they can spread through your system without triggering alarms and download even more malware.
Don't completely panic. We have plenty of articles on how to delete malware and how to delete viruses. Since I don't know exactly what you have (new viruses go into the wild every day), I can just give you the basics. If it has already taken out AVG, it's probably a fairly nasty infection. This means you'll have to step up to an active malware removal tool. For the time being, Malwarebytes is a really good option. You can find it here. If Malwarebytes doesn't install or has trouble running, then we have a guide for that too.
If you're having trouble running a good malware remover, then you can look into using an online scanner. We have a list of top online virus scanners too. The advantage of an online scanner is that it isn't physically on your computer, so it can't be corrupted by the malware. One of these scanners should do the trick if all else fails. Remember to clean out your system restores, since viruses and malware like to install backup versions of themselves inside so that they can sneak back onto your computer.
Regardless of your methods, you should be able to find the malware and remove it. Once it's gone, reinstall AVG Free (Here's our guide for uninstalling AVG completely). If the files were damaged or infected then you'll probably need a fresh copy. Then restart the computer and see if the AVG resident shield is still inactive. If it is, then you might not have gotten all of the elements. In that case, trying restarting in Safe Mode and using Malwarebytes or another removal tool. This should be able to clean up everything.
Once your infection is clear, you should be able to use AVG resident shield as it was intended.