Review of Free Spyware Download Spybot Search & Destroy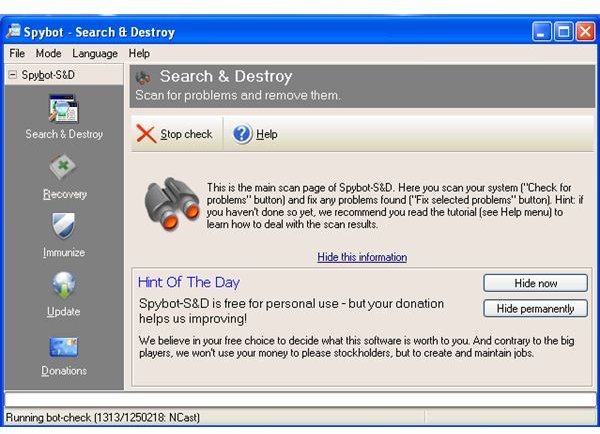 Overview and Features
Spybot S&D offers protection against malware including Trojans, dialers and other types of spyware. Spybot includes all the basics you'd expect including scheduled scans, frequent updates and a resident program to protect you from infection.
Installation and Usage
Spybot can be downloaded from the Spybot S&D website. The file comes in at a very reasonable 15MB. The first time Spybot starts, it will present you with a brief wizard walking you through backing up your registry and checking for the latest updates.
After the wizard completes, you'll be shown the main user interface where you can run a scan, recover removed items, update or immunize your system.
Immunization is an interesting feature in that Spybot will automatically place known malicious sites into Internet Explorer's restricted zone protecting you from malware should you visit one of these known malicious sites. It's a great idea that works well. As of the time of this writing, Spybot blocks over 14000 known bad sites.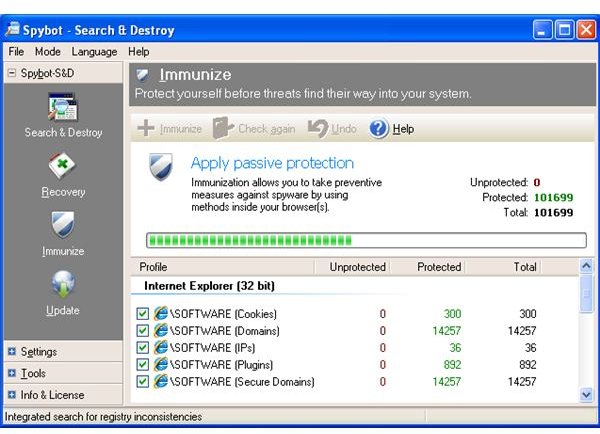 An antimalware tool is only as good as its update schedule. I'm happy to report that Spybot has recent updates for the most critical components. As Spybot releases updates for individual types of malware – dialers, Trojans, etc. some updates are more recent than others.
One note about Spybot's user interface – the default interface starts in basic mode. You can easily change to Advanced mode – which I would recommend. In Advanced mode, you are able to schedule scans to run when convenient to you. There are also several other options and even advanced tools available under the Advanced interface.
Spybot also has a resident application that runs at all times protecting you from malware infection. It seems a bit odd the resident portion is called "TeaTimer" where the main Spybot program is called Spybot S&D (Search and Destroy). TeaTimer seems a bit nebulous to me – it sits and runs and if you hover your mouse over the taskbar icon, it states that you are being protected against over 200,000 bad processes, but it seems completely separate from the main Spybot application. Updates for TeaTimer are performed by the main application, but otherwise, they are quite separate. Doing a bit more research, it appears TeaTimer monitors active processes and if it detects a known malicious process, it will terminate it. You can also specify if you want TeaTimer to automatically terminate processes or just warn you.
Overall Score (4 out of 5)
If you consider the number of antivirus and antimalware applications out there, how does Spybot stack up against the rest? If you look at only the Spybot application, you've got a relatively basic application. Toss in the TeaTimer, immunizations and the superb support and you've got a case where the whole really is greater than the sum of the parts.
Keep in mind though that Spybot is not an antivirus tool. Spybot focuses on finding and removing malware including spyware, Trojans and dialers so you will still want an antivirus tool installed (check out Avast if you are looking for a great free antivirus tool). The good news is that Spybot was written to not interfere with other resident antivirus applications meaning you can have both an antivirus tool and Spybot installed and running at the same time.