Full Review of SpyHunter Spyware Detection Tool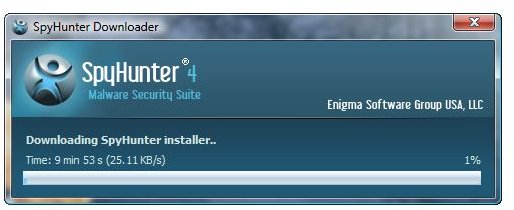 SpyHunter 4 Malware Security Suite
SpyHunter 4 Malware Security Suite by Enigma is an anti-malware program offering detection and protection against worms, trojans, rootkits, adware, spyware and other types of malware. The program features are as follows:
System Guards - A component in SpyHunter that will block malicious processes in real-time.
System Scan - Option to run a quick, full or custom scan. There's also an option to only scan the memory, registry, cookies and look for rootkits.
Backup and Exclusions - Any removed infection by SpyHunter is backed-up, if a restore is needed. Users of SpyHunter spyware detection tool can also use the Exclusions feature.
Spyware Helpdesk - A personalized one-on-one technical support. If any malware is not removed, the technical support by SpyHunter will use the Spyware Helpdesk feature to send custom fixes that you can use to remove an infection.
Automatic Update - SpyHunter lets you check for program and detection signature updates automatically so you won't miss any.
Scan Scheduler - Choose to schedule a scan on daily, weekly or monthly on specified time.
Network Sentry - A component to prevent modification to Internet Explorer and system connection.
System Requirements and Installation (1 out of 5)
To install SpyHunter, the computer should be using Windows 7, Vista or XP operating system. The application installer is using a bootstrap loader method to download a 25MB setup files that is stored in temporary internet files directory in Windows. When it finished downloading the required installation files, the install will proceed but with surprises.
I'm surprised that the program automatically started a scan without advanced notice. SpyHunter automatically scans the system for rootkits and the scan process immediately occurred even if you have not clicked the "Finish" button of the installer window. Internet Explorer is also automatically opened to congratulate the user of the successful install of SpyHunter and at the same time, the full system scan is started, again without notice. This type of installation method is very poor because users are not informed of the many tasks that it is doing right after the install.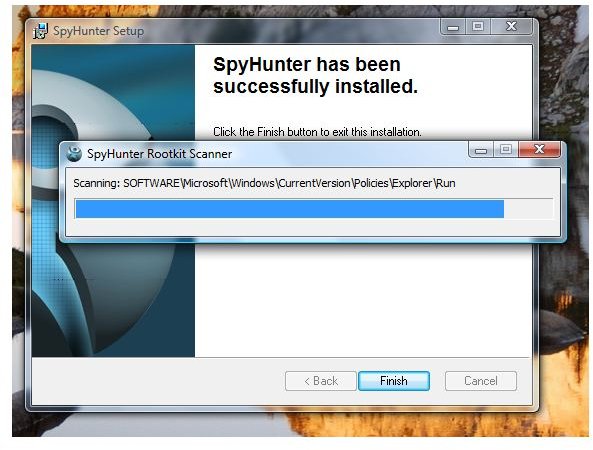 SpyHunter did not report its status to the Windows Security Center in Windows and will not disable Windows Defender in Vista or in Windows 7 or if installed and enabled in Windows XP.
Performance of SpyHunter (3 out of 5)
The computer did not experience any slowdown while SpyHunter was running a scan or monitoring the system for malicious activity or processes. However, the memory usage by its SpyHunter4.exe is using 95MB which is a lot of memory compared to other anti-malware programs that also offer real-time protection. This memory usage by SpyHunter application is unacceptable especially if the program is idle in the notification area in Windows.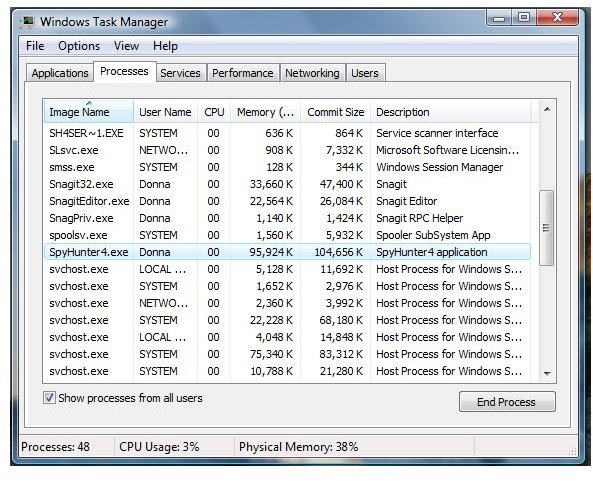 The System Guards of SpyHunter work as they should. Any application that is not known to its database as "safe" is not allowed to open unless the user allows the execution or launching of the program.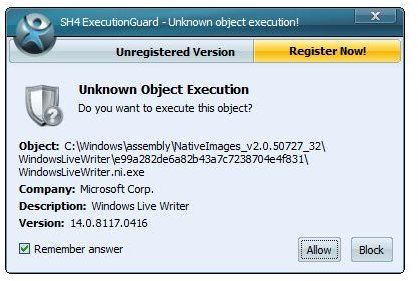 If a user decides to uninstall SpyHunter, the program is removed without issue but the SpyHunter's tray icon did not end itself during the uninstall process and was left in the systray area in Windows.
Malware Detection and Protection by SpyHunter (1 out of 5)
To find out if SpyHunter will prevent the transfer of malicious files, I transferred 314 malware samples to the system drive. SpyHunter's System Guard did not trigger any alert.
To proceed in testing SpyHunter's ability to find malware in Windows, I allowed it to scan the system drive that has 314 malware samples in a directory of the desktop. SpyHunter found 7 threats only out of 314 malware samples.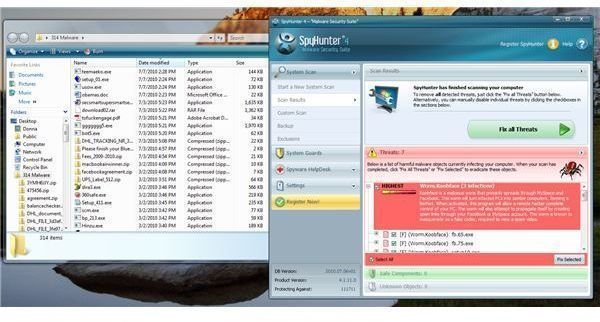 Conclusion
At $40 for 1 year subscription of SpyHunter spyware detection tool, the program is overpriced especially if the detection and protection is very poor. Shop for better anti-malware program or better yet, use the free anti-malware programs such as SUPERAntiSpyware, Malwarebytes Anti-Malware, EmsiSoft Anti-Malware, Spybot-S&D and Ad-Aware.