How to Remove Malware Infections Using McAfee Virus Scan Free

McAfee FreeScan is a free online virus scan service that only requires a browser by Microsoft. Users of Internet Explorer 5.0 and higher can use McAfee virus scan free. The program will download an ActiveX control and will be installed as an IE add-on. Find out below how to use McAfee FreeScan.
Why Use FreeScan by McAfee?
With McAfee FreeScan, detection by scanning the computer is not your only option, but you have the option to customize which area in Windows to scan.
When your antivirus program has missed detecting an infection or malicious files in your computer, the free online scanner by McAfee might help you to determine if your antivirus software is really doing its job. It's not going to hurt you to double-check your computer's security against malware using an online scanner.
The only downside in using McAfee FreeScan are:
You cannot use any other browser but Internet Explorer Versions 5 through 8 only in Windows 98/ME, Windows 2000/XP, Vista and Windows 7. Firefox, Opera or Google Chrome browsers are not supported to use the online virus scan from McAfee because the said browsers do not support installation of ActiveX controls. ActiveX is required because it's a popular component that can turn a web page into software pages, allowing us to use a service that is mostly found by installing and downloading huge program files. ActiveX control is small, easy to use, and remove.
A free removal detected infections on your PC is not provided by McAfee FreeScan. You have to use other virus removal tools or use a paid edition of McAfee Antivirus to get rid of the malware.
Using McAfee Online Virus Scan
Before using McAfee online scan, ensure that you have administrative permission in Windows to allow the installation of ActiveX control to be downloaded, installed, and used by the scanner in IE.
To start using McAfee FreeScan, simply visit this web page of McAfee. Click the "Scan Now" button after reading the End User License Agreement. The web page will start to download approximately 80MB of files and might take 80-100 minutes to download with a 56 Kbps modem. If you have a faster connection, the download should finish sooner. An information bar will appear in IE and you should allow it to install the add-on with the filename "mcfscan.cab"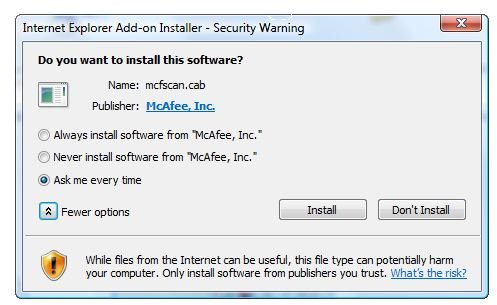 The next web page will give you an option to scan your documents, the whole system drive (C:), or only the system files in Windows: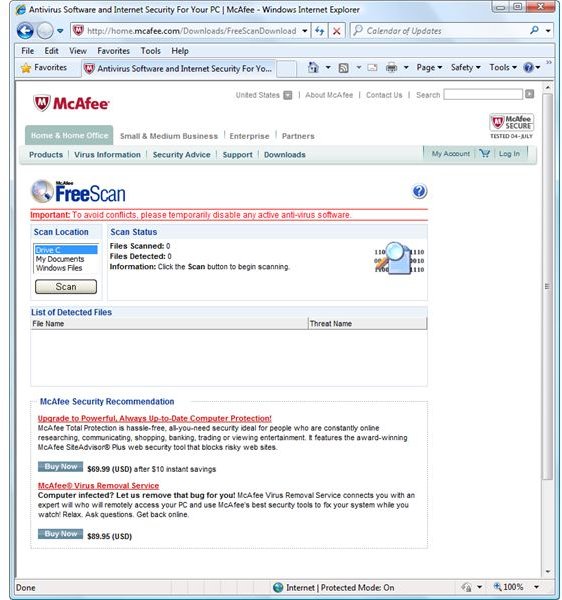 Depending on the number of files in your computer or documents folder, the scan time will take longer for a scan to finish if you have many files. If there's no malware, you will be presented with the following web page: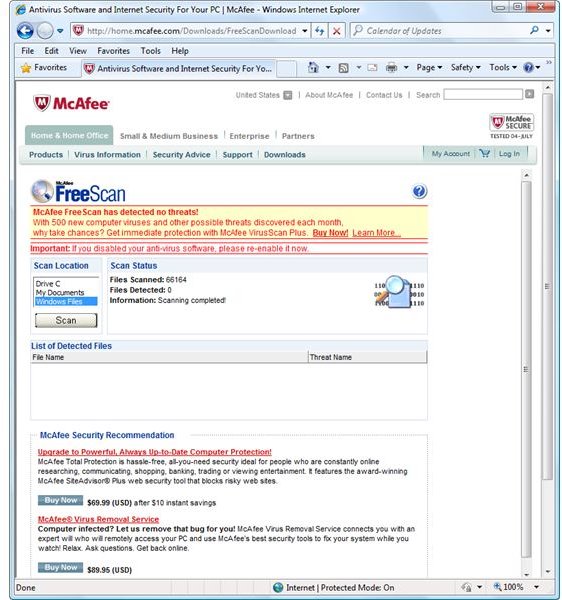 To test the detection of McAfee, I added 15 malware samples in My Documents folder and allowed the free McAfee virus scan to scan the said location: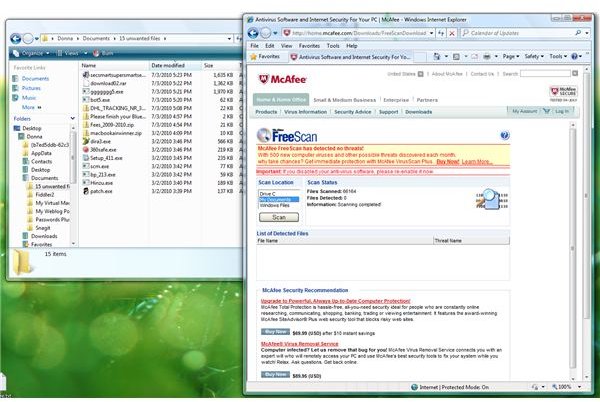 Out of 15 malware samples, McAfee FreeScan is able to detect 11 malware files. You'll notice that there is no option to remove the detected malware but there is an option to view the details of the threat with a link to the McAfee Virus Info website. It should provide help to know more about the threat and how it is impacting users.
When you've finished using McAfee FreeScan, you will notice this browser add-on in IE: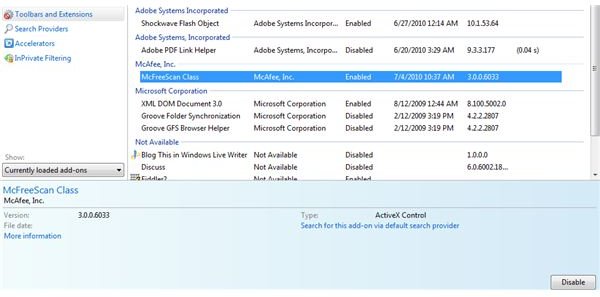 You can disable or enable it anytime or remove it using McAfee Consumer Products Removal tool (MCPR.exe). You may not see McAfee FreeScan in the list of products to remove by MCPR.exe but it will definitely remove the said ActiveX control in IE, which was installed by McAfee FreeScan.