A Guide to Using Norton Free Online Virus Scan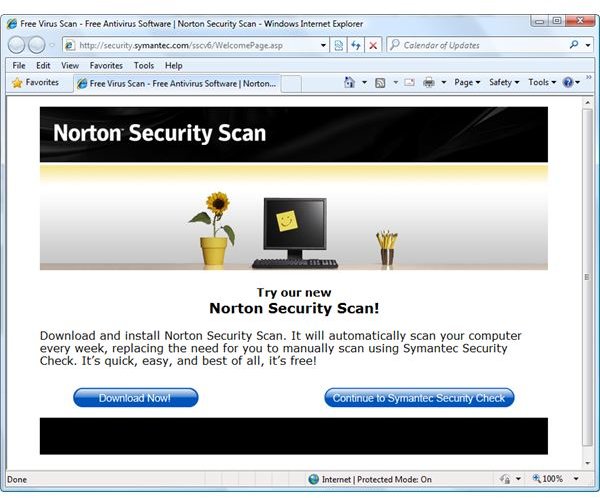 Like several antivirus vendors, Symantec provides a Norton free online virus scan to check if a computer is infected with malware, viruses, Trojans, worms, keyloggers, spyware, adware, potentially unwanted programs, and rootkit. The free online virus scan by Norton does not remove detected threats but will help to verify if your resident antivirus protection has missed any threats.
What Does Symantec Security Scan Do?
The free online security scan offered by Symantec will test your PC's exposure to a wide range of online threats including:
Security Scan - This option will test whether your PC is vulnerable to intruders and hackers. It will also test Windows for vulnerabilities, if your PC is safe from Trojan Horse attacks or if you have an antivirus program, and if the antivirus detection signature of the antivirus is up-to-date.
Virus Detection - This option allows you to run the free online virus scan by Symantec. It also identifies any detected items not fixed or removed by Norton online scan. You will need to get another virus removal tool or buy Norton Antivirus program to proceed in removing any malware.
System Requirements for Using Norton Security Scan
You need to use Internet Explorer 5.0 and higher to use Norton online virus check. Firefox users can also use the service but it will only run the Security Scan and not a virus detection because the online scanner requires ActiveX to run the online virus scanner.
Note to Vista and Windows 7 users: You do not need to disable the Protected Mode in IE7 or IE8 to use Norton online virus or security scans. A UAC prompt will be displayed when Symantec's ActiveX control is ready to install, which allows the scanner to run with administrative permission to scan what it has to check or access in your PC.
How to Use Norton Online Virus Scan and Security Check
When you visit Symantec's Security Scan website, you are given two choices: To download Norton Security Scan or Continue to Symantec Security Check. Choose the latter which is the free online scanner and requires no download except the ActiveX controls for IE.
Choose whether to check the security of your computer using Security Scan or scan the computer using the Virus Detection: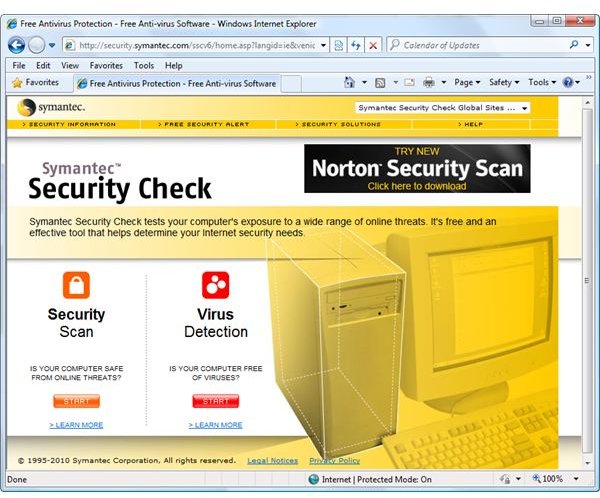 You will need to accept the End-User License Agreement before you can use the free service. After accepting the agreement, a Symantec Security Check component add-on is offered: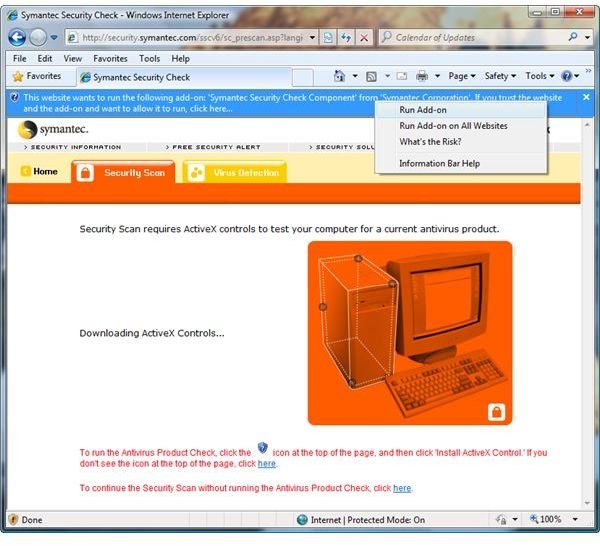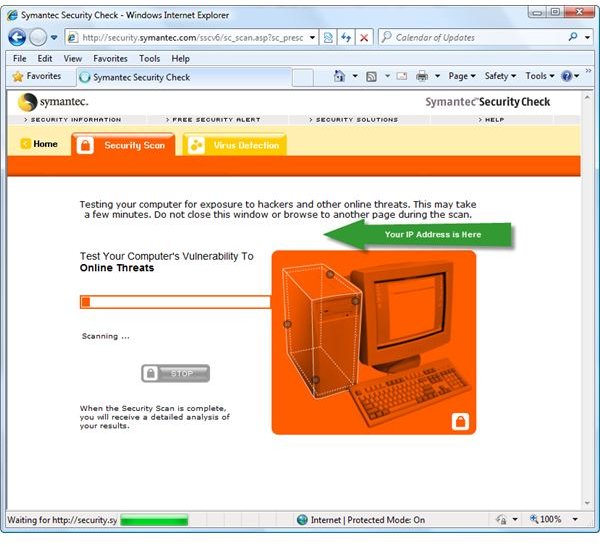 When it is finished scanning, the result is presented to you in the same browser window. An example below is a test system that only uses Windows Firewall in Vista and no antivirus program is installed. The Symantec Security Scan has detected issues on the said security status of the test system, which is very correct because the Windows Firewall is a basic firewall that will not offer complete firewall protection especially to Trojan Attacks. Most advanced firewall software like Outpost Firewall or Online Armor will provide complete firewall protection such as network ports used by Trojans: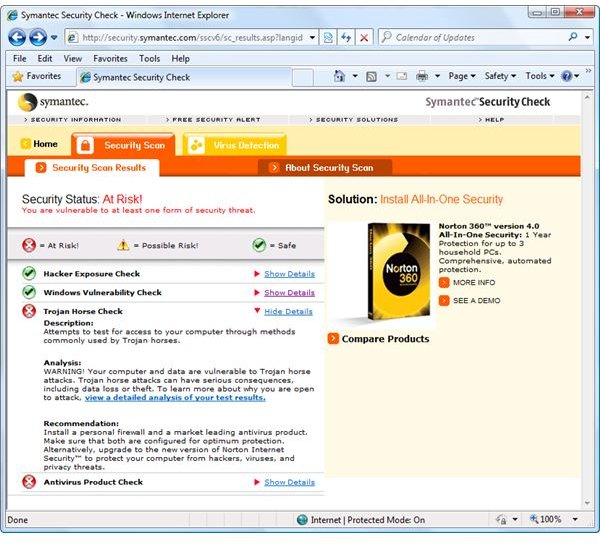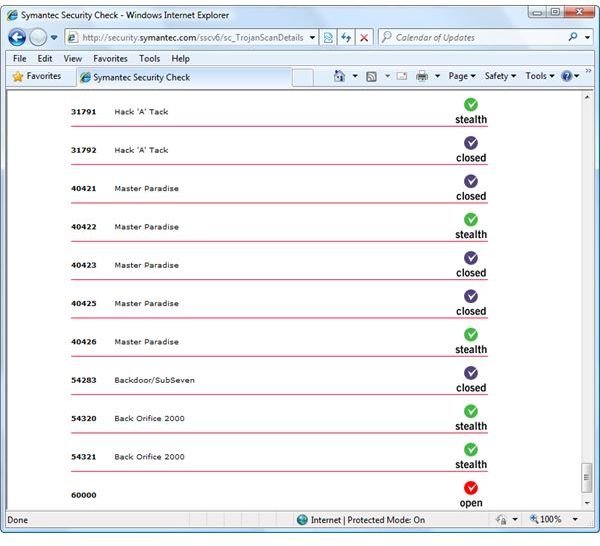 A good firewall should be able to "Stealth" your computer and Internet connections instead of "Closed" or "Open."
Summary
The virus detection of the online free Norton Security Scan will determine if your computer is safe or infected. Hopefully every computer is safe from malware infection: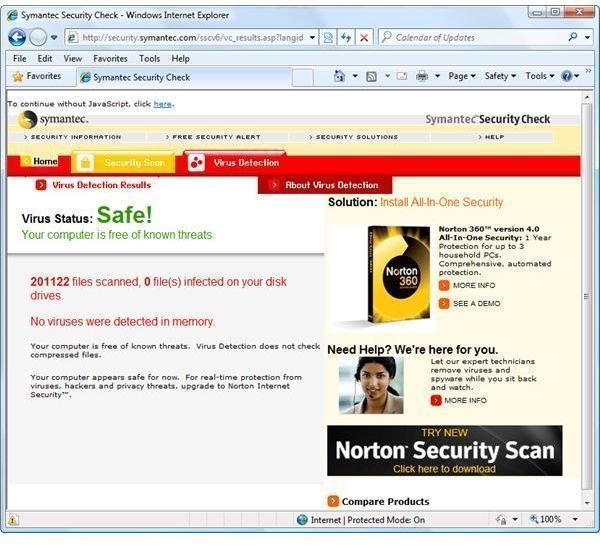 After using Norton free online virus scan or Norton free online scans, you will notice the two add-ons in IE browser:

You can enable or disable the said add-ons in IE or remove them using Symantec Support Tool ActiveX Control Cleanup Tool. Note that any known vulnerable ActiveX controls are monitored by Microsoft. Microsoft has released a ActiveX Killbits advisory and update to help protect their customers.