Review of McAfee Virus Protection for Windows 7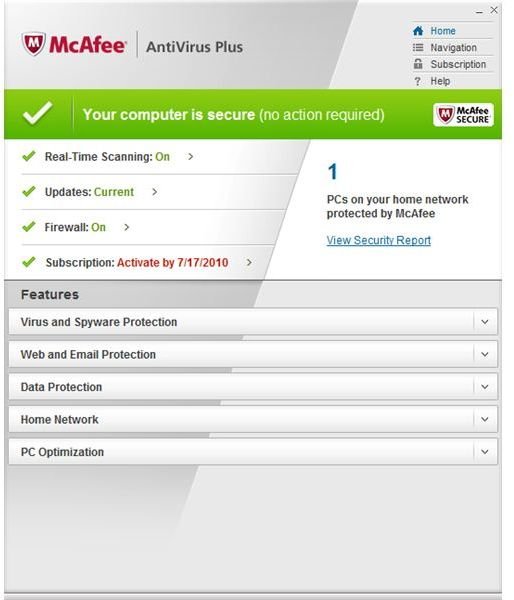 McAfee AntiVirus Plus is a standalone antivirus program offering malware protection and detection. Some optional protections are also included: A two-way firewall protection against unauthorized Internet communications, SiteAdvisor to protect against dangerous websites when searching or using search engines while browsing, and a clean-up utility for Windows.
Features, Installation, and System Requirements (4 out of 5)
McAfee AntiVirus Plus is compatible in Windows XP and in 32-bit and 64-bit editions of Vista and Windows 7. The program will use 200 MB of your hard-disk once the chosen programs are selected to install.
The install process of McAfee's virus protection for Windows is easy! You can customize the installation by allowing the install of all the components below or only your preferred components:
VirusScan - The antivirus and anti-malware module of McAfee with real-time protection, scan, and removal engine.
Personal Firewall - The easy to use rule-based firewall software to protect against intrusions or unauthorized connection to and from your network or home group.
SiteAdvisor - A free version of SiteAdvisor is integrated in McAfee AV Plus to warn or block dangerous websites while you browse or search the Internet.
Quick Clean - The clean-up utility by McAfee to remove junk or temporary files in your hard-drive.
Other features in McAfee is the Security Center that will monitor the status of McAfee virus protection for window 7 or earlier OS. A Shredder utility is also included in McAfee AV Plus 2010 that will destroy private or sensitive files securely.
During installation, McAfee will check the computer for any incompatible programs and if there is not a compatibility issue, the install process will proceed. It registers its status to the Windows Security Center and will disable Windows Defender anti-spyware, if enabled in Vista and Windows 7 or if installed and enabled in Windows XP. A computer restart is not required after the install, which means you can use, configure, and start protecting the computer using McAfee AV Plus. However, I highly recommend to immediately update the program to download the available updates for your program including the detection signatures. On the initial update, McAfee prompted for a restart to finish the install of the updates as seen in the screenshot below: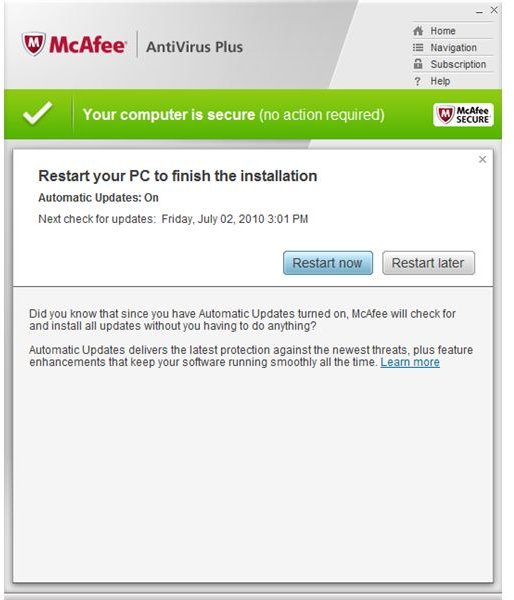 The only missing feature in McAfee AntiVirus Plus is enabling end-users to manage an exclusion list. Some computer users need this feature to exclude a partition, file or folder in the system drive. McAfee is advertising a disk defragmenter utility in McAfee AV Plus but the said utility is not developed or included in the program. It will only launch the built-in disk degramenter program in Windows. SiteAdvisor, if you choose to install, it should warn you on unwanted websites but it's not fast in updating its database so I suggest turning on the SmartScreen Filter or fraud protection in browsers (see screenshots below):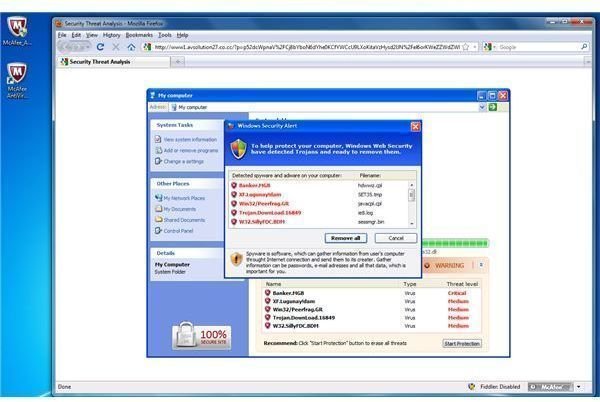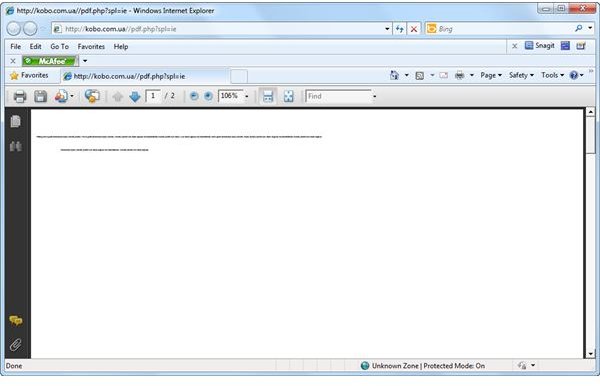 Performance and Memory Usage (4 out of 5)
McAfee's virus protection for Windows 7 will use a lot of memory for several of the installed components:
Windows services: McAfee Services, McAfee Network Agent, McAfee Proxy Service, McShield, McAfee Firewall Core Service, McAfee Validation Trust Protection Service, McAfee SiteAdvisor Service, McAfee Personal Firewall, McAfee VirusScan Announcer, McAfee Scanner, and McAfee OOBE Service.

Startup Item: McAfee Security Center

Browser Add-Ons: VSCore, McAfee SiteAdvisor toolbar and SiteAdvisor plug-in.
The program did not cause any lag while using McAfee to scan the computer or by using any other application in Windows.
Malware Detection by McAfee (4 out of 5)
I transferred 300 malware samples in Windows 7 while McAfee was monitoring the computer for any malicious activity. During the transfer, McAfee detected a lot of malware samples. When I opened the directory containing the samples, McAfee continues to detect more malware.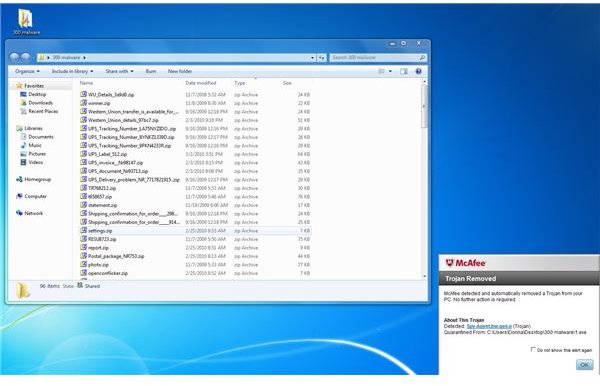 I decided to scan the remaining malware samples and McAfee handled the compressed malware files as well by removing the infected files and leaving the archived file empty: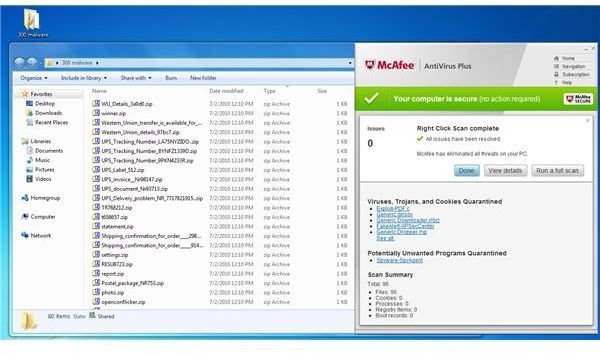 McAfee only left 13 malware samples out of 300: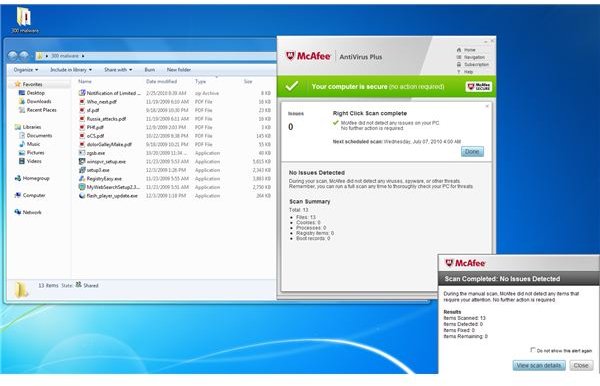 Conclusion
McAfee AntiVirus Plus 2010 offers good protection that most home users require. For $40 a year on a single PC, it's worth using the protection and programs of McAfee in Windows 7. If your ISP provides a free security solution by McAfee, take advantage of it. Newly purchased computers come with McAfee virus protection for windows 7 as well. This software is highly recommended!