Review of PC Tools Spyware Doctor with Antivirus: How Good is the Protection?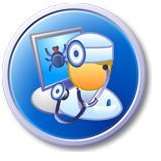 Introduction
PC Tools Spyware Doctor with Antivirus v7.0.0.545 is a scanner and remover of trojans, viruses, worms, rootkits, keyloggers, spyware, adware and other potentially unwanted programs (PUPs). The antivirus program by PC Tools is compatible with Windows XP SP2 and XP SP3, 32-bit and 64-bit of Vista and Windows operating systems. There are three editions of Spyware Doctor: Spyware Doctor which is an anti-spyware and malware scanner and remover only, Spyware Doctor Starter Edition which is a limited edition of Spyware Doctor and can be downloaded using Google Pack, and Spyware Doctor with Antivirus which is what I reviewed today.
Important note: It is recommended to download Spyware Doctor with Antivirus only from the PC Tools website or trusted alternative download sites like CNET.com. Doing so will prevent you from visiting abusive marketers or affiliates of many security software that are using a blackhat SEO strategy. An example of such fraud by some people has been blogged about by a Microsoft MVP known as S!ri Urz in the security circle (the creator of the useful program, SmitfraudFix).
Installation (4 out of 5)
The install process by Spyware Doctor with Antivirus is straightforward and I'm glad to see that a system restart is not required to start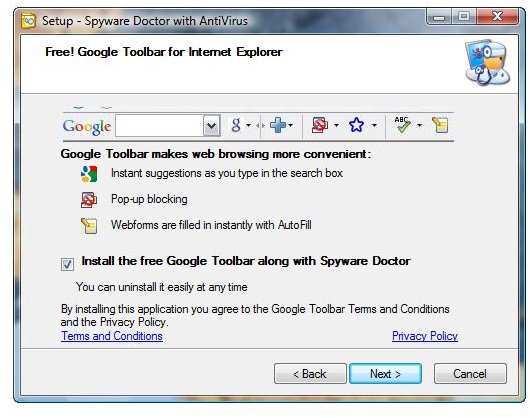 using or configuring the program. The setup file of Spyware Doctor with AV is bundled with Google Toolbar. You should know that it is not required to install the toolbar to continue with the install process of the security program by PC Tools.
Another nice thing is it's not required to enter your personal information such as name and e-mail address before you can install the program. During the install process, an option to check for updates is available so you should take advantage of this. This is a good method used by PC Tools, especially since the scanner does not require a reboot which means the user simply installs and uses the software to protect their computer right away. Some anti-malware or antivirus programs require a restart of the system which is not appealing to many PC users. Other software developers should spend some time enhancing their installers to act in this manner.
When the installation is finished, the program will initiate a malware scan which you can pause or stop, or just allow the scan to finish. The program will use 194.5MB of hard-disk space. The program will also install Browser Defender which is powered by ThreatFire.
Important Tip: After installing Spyware Doctor, you should immediately update the computer by using the Windows Update application in Vista or Windows 7 or by visiting the Windows Update website for Windows XP. The reason is that Spyware Doctor will install Microsoft Visual C++ 2008 Redistributable Package v9.0.30729.17 which is vulnerable. Microsoft will offer you the "Security Update for Microsoft Visual C++ 2008 Redistributable Package (KB973924)", if Spyware Doctor with AV has installed the said program. Some programs also install the said package and if you've patched it already, you should not be offered it any longer by Windows Update after installing Spyware Doctor. But, it's best to check for updates for Windows after installing programs that will install any Microsoft related module or components.

Features, Memory Usage, and Performance (2 out of 5)
One thing I cannot accept about the performance of Spyware Doctor with Antivirus is the huge memory usage during a full scan. Try using SnagIt by TechSmith while running a full system scan. The editor in SnagIt may be very slow in responding or not respond at all unless you stop the scan, because Spyware Doctor is using 97MB of memory. This needs attention by PC Tools.

Spyware Doctor will report its status without issue in Windows Security Center. The Smart Update component, a built-in updater in the program, is also a nice addition. There are plenty of features in using Spyware Doctor:
IntelliGuard - The real-time protection module in Spyware Doctor which includes protection for the browser, file, system, e-mail, a behavior-based protection of ThreatFire, cookie guard, site guard, immunizer guard, network, processes and startup guards.

Quarantine Manager - An option to manage the detected items in quarantine.

Scheduler - Allows you to create a scheduled task to update the program or run a scan.

PC Tools Secure Community - An optional feature in Spyware Doctor that allow their users to submit and share the detected items to PC Tools server for further analysis and start protecting other customers of PC Tools as soon as possible.

Custom Scan - In addition to a single file, full and quick scan, there is option to run a custom scan using the following scanner:
Malware Detection by Spyware Doctor with Antivirus (5 out of 5)
To test Spyware Doctor's ability to detect malware in the wild, I allowed the program to scan 300 malware samples. The detection of Spyware Doctor is great. It detected 295 out of 300 malware samples: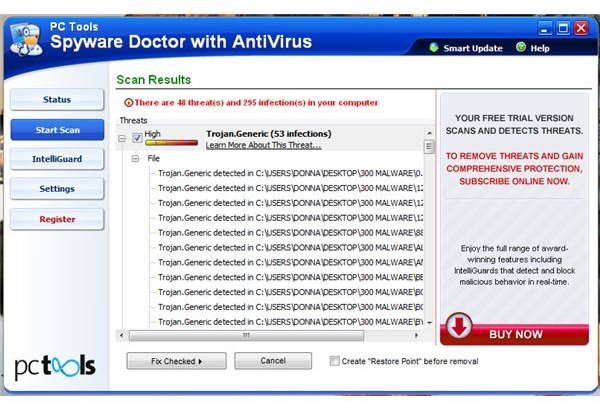 Registered users of Spyware Doctor have the following options for any detected items: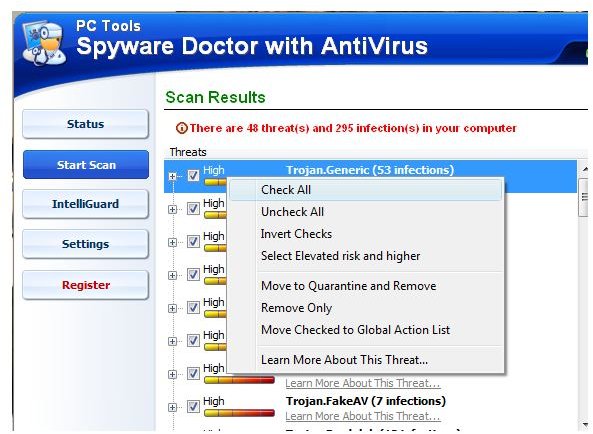 Conclusion
I can only recommend PC Tools Spyware Doctor with Antivirus if PC Tools puts effort into fixing the scan performance. Securing a computer is important and I have no doubt that Spyware Doctor with AV will provide that protection, but we also need a security program that will not compromise the performance of the system or other applications. Let's hope for a new build or version of Spyware Doctor with Antivirus that has these fixes.