Webroot Spy Sweeper Anti-Adware and Anti-Spyware Review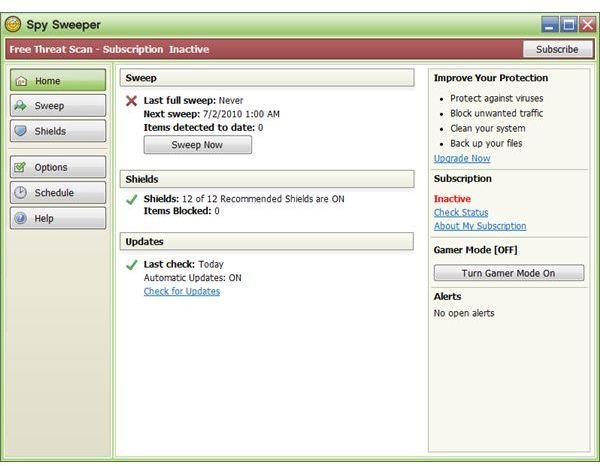 What is Spy Sweeper Program?
Spy Sweeper 2010 is a security software from Webroot. Webroot has been in the software business since 1997, and they first introduced a Windows file and disk cleaning application called Window Washer. After 5 years, Webroot started to offer the Spy Sweeper antispyware and anti-adware program. Spy Sweeper has been a popular program for many years. Let's review the current version of Spy Sweeper to find out if the program is worth using.
System Requirements and Installation of Spy Sweeper (2 out of 5)
Windows 7, Vista and XP is the system requirement to install Spy Sweeper anti-adware and antispyware program. The install process is not straight-forward because you have to take note of the following:
The trial version is a free scanner only with limited real-time protection.
No removal engine for detected malware after a scan.
If the real-time protection detects malware, it will be quarantined but you cannot view the quarantine area while in trial mode.
The installer is nearly 40MB, so you think that is all that is needed to install? Unfortunately, the installer will also need an Internet connection to download another 10MB of files. Some files that it downloaded are unnecessary, such as AskBarSetup.exe (the Ask Toolbar installer which is a third-party program and not required to run or use Spy Sweeper), the EULA of Ask Toolbar, and some of its logo.
The installation will offer the Webroot Ask Toolbar and unchecking this option will not install the toolbar, but it will continue to download the Ask Toolbar installer to your hard-drive. The said files are placed in a temporary folder and automatically deleted after a restart.
A system restart is required after installing Spy Sweeper. Many security software programs require no restart nowadays to start protecting the computer and it's unfortunate that Webroot has not enhanced the install process of Spy Sweeper.
Spy Sweeper's UI and Memory Usage and Performance (4 out of 5)
Spy Sweeper uses an acceptable amount of memory when idle and running a scan. The program logs each session nicely and you have the option to save and clear the logs. The threat name and location of any detected malware is presented according to its threat name. I noticed a lag in performance each time I restarted the computer after installing Spy Sweeper. I tried configuring it not to show the splash screen and not to perform a check on the system during startup but the slowdown on startup continued. There is no available update or upgrade to hopefully fix the problem which means v6.1.0.145 of Spy Sweeper during this test is the latest stable version.
The user interface of Spy Sweper is neat and easy to manage. The security status of Spy Sweeper will detail how many items have been detected, when the scan was last run, status of the update and real-time protection. There's a lot of features in Spy Sweeper:
Web Browser shield - This shield will protect your home and search pages, IE favorites and cookies that can track your surfing habits.
Network shield - This will block ads, domains in a host file and malicious or unwanted Internet communications.
Windows system shield - Any critical changes to the system's services, alternate data stream executions, Activex installations and file system changes are monitored.
Startup items and e-mail attachment shields.
Scheduler engine to run a scan.
Automatic update to check for new definitions.
Option to scan using Full, Quick or Custom sweep.
Malware Detection and Protection (1 out of 5)
We need to know if Spy Sweeper will be able to protect its customers or potential buyers from malware that is in the wild. I let Spy Sweeper scan 250 malware samples and it performed poorly. Spy Sweeper was only able to detect 96 out of the 250 samples. I proceeded to test the real-time shield offered by Spy Sweeper and it was able to detect and block some but not all. The test system was easily infected even if Spy Sweeper's real-time protection was running.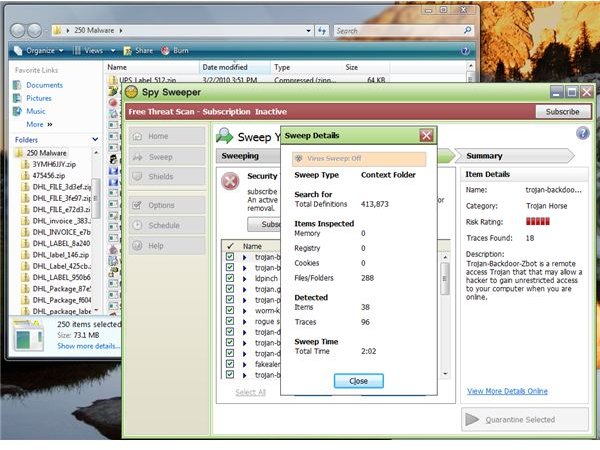 The network shields by Spy Sweeper blocked the Internet communication of the malware process which is good but not good enough, if the Spy Sweeper program did not detect the process as malware.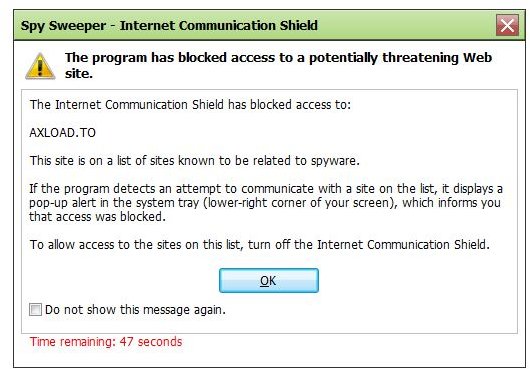 Conclusion
It's not all about a friendly user interface when choosing a security software solution and I have to say that Webroot Spy Sweeper needs to improve its detection and scanning engine before anyone should use the program. Shop around for a better anti-spyware or anti-adware security solution.