AVG Free Virus Protection Download Help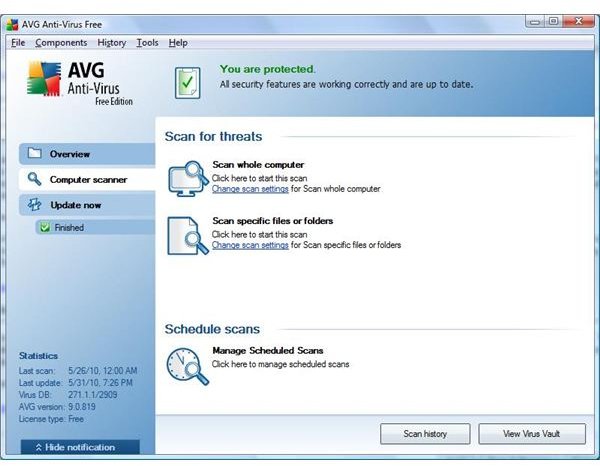 Getting AVG Free
If you want to get a good antivirus program without spending a dime, then you should really look into getting AVG Free. It's a great antivirus software suite. I've already covered why AVG Free should be enough to protect your computer, so now let's take a look at how you can get it.
This is actually pretty easy. Any time that you try to download a program, you should just go straight to the source. The website is https://free.avg.com/us-en/homepage. Just go here. You can read a few things on the website to learn more about the product if you want. For our purposes, just click on the button that says "Get Free Antivirus."
They'll try to give you the upsell for the paid versions. These have some decent features, but the average user should be fine with the free antivirus version. Click on the free version to download it. You'll have to click again to go to their secure link at Download.com. Just do one more click to download the latest version. It should be a very small download, so it will only take a minute.
Double click on the installer file to fire it up. You will need a valid Internet connection for this to work. The downloaded file is just the starter. It will download the rest during the installation. Click through and pick the basic protection package once again. Then go grab a sandwich while all the files download and install. You can entertain yourself by watching the little "remaining time" thing jump around from a year to 2 minutes.
Once it's all done, you can just click through the rest to finish the installation. It should be fairly self explanatory.
Setting up AVG Free
Once the installation has completed, you just have to finish up the setup. It's possible for them to ask if you want to do a preliminary scan to help it identify safe files so that it can scan faster in the future. If you get that option, then do the scan. It's usually a good idea to do a starter scan just in case anyway.
While the scan runs, you should also click on the "Computer Scanner" tab in the menu. You should be proactive with your antivirus protection. One of the easiest ways to do this is by setting up scheduled scans. Ideally you can do this while you won't be doing much on the computer. AVG does require a fair amount of resources for its scans, so it will slow down a system. Normal use will be fine, but don't expect to do much intensive processing while it's running. I usually rig mine up to scan around midnight. This usually lets it sneak in a scan right before I shut it off for the night.
You can schedule a scan for any time that you want and rig it up to do so daily.
Updates aren't as much of a problem now. Just make sure that the update manager is working. This feature will just take care of updates every day. You should probably click the update tab to make sure that you're completely up-to-date. The version on Download.com might not have the absolute latest updates to definitions. There's no reason to not check.
Running AVG Free
If you've set it up properly, then you should be fine for the most part. The active shield and link scanner will protect you from malware and attack sites. The resident shield should also protect against other efforts to alter files maliciously. Automatic scans will sweep away minor cookies and light infections steadily and automatic updates will generally keep you up-to-date and safe.
If you followed these instructions, then you're definitely on your way to a much safe browsing experience.