MSE Slows Down Computer – Fixing the Issue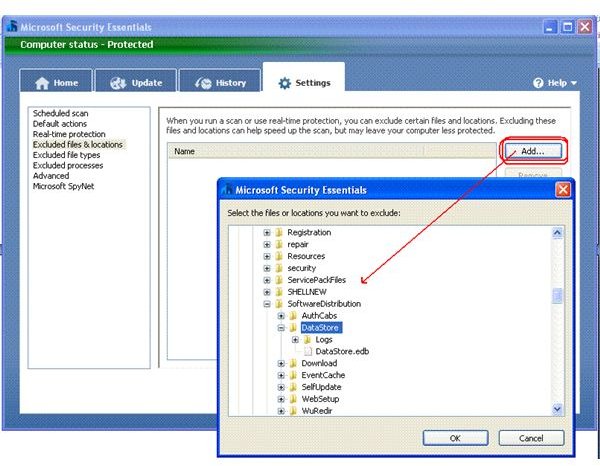 MSE Slows Down Computer - Common Reasons
If you feel that MSE slows down computer, check out the system requirements and see if they match your computer configuration. MSE slows down computer if your computer does not meet the minimum system requirements and some other reasons.
If you experience slow computer after installing MSE, see your system carries the following:
For XP, you should have 256 MB of RAM with 500MHz processor. You also need 140 MB of free hard disk space for smooth functioning of MSE.
For Vista/Windows 7, you need a minimum of 1 GB of RAM with CPU of clock speed 1 GHz or above. The hard disk space should again be a minimum of 140 MB.
If your computer does not match the above specifications, MSE will slow down the computer. You may opt to continue using MSE or replace it with any other antimalware. If you wish to continue with MSE, the next section explains how the exclusion of some folders will speed up computer without adding additional risk.
Another reason why MSE slows down a computer is the presence of other antispyware on the computer. MSE will not install if you have any antivirus installed on your computer. However, the installation does not check for antispyware. If you have any antispyware such as Windows Defender running separately, you need to uninstall it before using Microsoft Security Essentials. By default, MSE includes Windows Defender so you won't need a separate version running alongside. You need to remove all antispyware, including the one offered by Ask toolbar (often installed with Nero) so that MSE doesn't slow down computer. You will notice a significant increase in the speed of your computer after you remove third party antispyware.
Sometimes, the leftovers of your previous antivirus may also cause MSE to slow down your computer. You can check out the website of your previous antivirus vendor to find a proper tool that removes the antivirus traces. For example, if you were using Norton prior to MSE, you can download the Norton Removal Tool. Similarly, for McAfee too, you get the McAfee removal tool. Other renowned vendors also offer software removal tools that are a better option than Add/Remove Programs. Even after uninstalling through Add/Remove Programs, you can use these tools to remove the leftovers of the previous antivirus.
If you do not find any such tool, you can run a check using CCleaner (both Registry and Hard Disk) or any other free computer cleaner of your choice. After running the cleaner, the speed of you computer should increase.
MSE Slows down Computer - Excluding Files and Folders to Speed up Computer
If none of the above works and you still feel that MSE slows down the computer, you can change the settings of MSE to exclude some files and folders from "MSE Real Time Monitoring."
To add any file or folder to the exclusion list, double click on the MSE tray icon. Select the Settings tab and them on Excluded Files and Locations. You will find a button labeled Add towards the top-right corner of the MSE window. Clicking on it opens a browse window (see figure). You can browse to a specific folder or a file to exclude it from "MSE Real Time Monitoring".
Add the following files/folders to the exclusions (Note that %Windir% represents your Windows Directory):
Windows Update File (%Windir%\ SoftwareDistribution\Datastore\Datastore.edb
Log files (%Windir %\SoftwareDistribution\Datastore\Logs)
Windows Security Files:

%windir%\Security\Database\*.edb
%windir%\Security\Database\*.sdb
%windir%\Security\Database\*.log
%windir%\Security\Database\*.chk
%windir%\Security\Database\*.jrs
Group Policy Registry Folder (C:\Documents and Settings\All Users)
Group Policy Client Settings Folder (C:\WINDOWS\system32\GroupPolicy)
After adding these files, click OK and minimize MSE to system tray by clicking on the Close button.
This should fix the problem where MSE slows down the computer, but if you feel the problem is still unfixed, contact Microsoft Security Essentials Customer Care.
Related Reading
Microsoft Security Essentials: Tips and Tricks
This post is part of the series: Microsoft Security Essentials Problems - How to Fix MSE Errors?
This article series intends to help you with problems and questions associated with Microsoft Security Essentials, the free antivirus from Microsoft. It covers the most common Microsoft Security Essentials Installation problem while covering other problems as well.