Microsoft Security Essentials Download – Beware of Fake Security Essentials 2010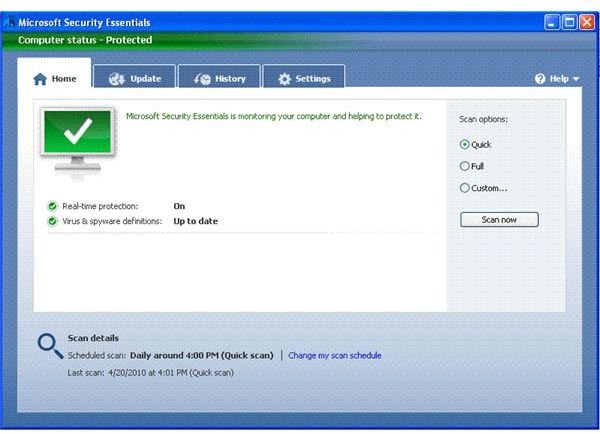 Microsoft Security Essentials Download – Get MSE Download and Not Security Essentials 2010
The Microsoft Security Essentials download link is available on the Microsoft website. I strongly recommend that you download Microsoft Security Essentials ony from Microsoft and NOT from any third party website. Also, check out the system requirements before the MSE download. The problem is that if you go for a Microsoft Security Essentials download from a third party website, you may end up downloading Security Essentials 2010 software.
The Security Essentials 2010 software looks like genuine antimalware from Microsoft by its design. However, unlike Microsoft Security Essentials, Security Essentials 2010 is rogue software that is cashing on Microsoft's brand name. Not only does Security Essentials 2010 claim to keep your system clean from malware, it is malware in itself. In short, if you go for Microsoft Security Essentials download from a third party website, you may get the lookalike malicious software named Security Essentials 2010 that may compromise your privacy while destroying your files etc. Figure 1 above represents the original Microsoft Security Essentials while Figure 2 below is the rogue software by the same name (except that the term "Microsoft" is not present).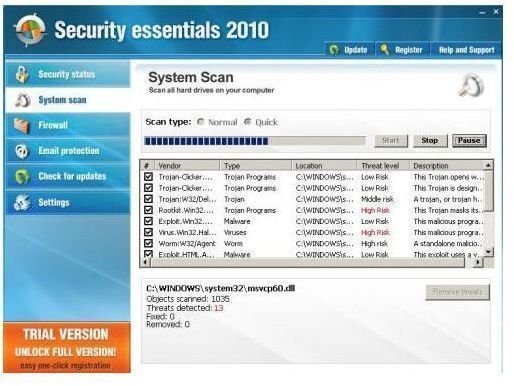 Before we discuss Microsoft Security Essentials download, let us check out how to remove Security Essentials 2010 in case you installed it assuming it Microsoft's antimalware. To remove Security Essentials, you need to kill the related process first. You cannot remove Security Essentials 2010 as long as its processes (SMSS.EXE and SE2010.EXE) are running. The tough part to remove Security Essentials 2010 is that it is not easy to stop the process in the Windows Task Manager. You may have to download a third party tool that identifies malware processes and kills them. I recommend that you download Rkill and install it to remove Security Essentials 2010. As you run Rkill after updating the definitions, it kills all malicious processes – including the process related to Security Essentials 2010. Download Kaspersky Virus Removal Tool 2010 and install it to remove Security Essentials 2010. As you now understand that MSE download from third party websites can be very dangerous and compromising, you should go only for genuine Microsoft Security Essentials download.
Though some third party sites also offer genuine Microsoft Security Essentials download, I suggest you download MSE from Microsoft website only. The webpage also contains resources for help and other information. Before you get to MSE download, I recommend you read the system requirements of this package that contains a free antivirus plus other MS security tools:
The OS should be Windows XP SP2, Vista, or Windows 7. The Windows OS should be genuine else, though you can download the MSE installation package, you cannot install it. CPU in case of XP should be 500 MHz and for Vista/Windows 7, it should be 1GHz. Similarly, in case of XP, RAM should be 256 and in case of Vista/Windows 7, it should be 1GB. The hard disk space requirement is 140 MB.
Summary: The bottom line about Microsoft Security Essentials download is that you should trust only the Microsoft website for MSE download else you may end up installing the rogue Security Essentials 2010, which is a malicious software that compromises on your privacy and security instead of offering protection.
Also See:
The Making of Microsoft Security Essentials
This post is part of the series: Microsoft Security Essentials Problems - How to Fix MSE Errors?
This article series intends to help you with problems and questions associated with Microsoft Security Essentials, the free antivirus from Microsoft. It covers the most common Microsoft Security Essentials Installation problem while covering other problems as well.