Four Free Internet Antivirus or Firewall Programs Available Online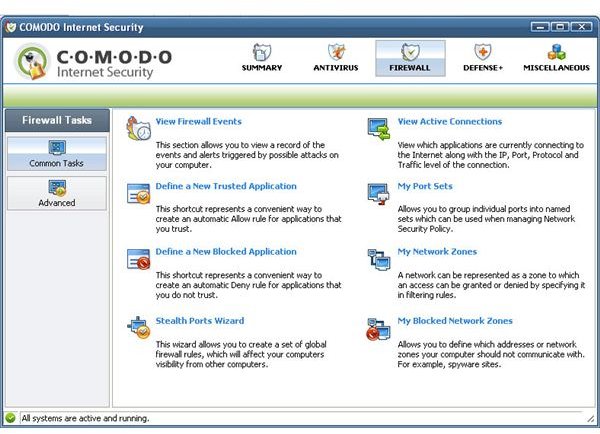 There are so many threats online from viruses to unscrupulous scammers that you really have to be on your guard. If you have ventured online without the benefit of a firewall and you haven't performed an anti-virus scan then it is probably already infected. At a minimum, you need a firewall and anti-virus software and it is a good idea to get some protection from spyware and spam as well. In this article we will look at four free Internet security programs available. These are complete packages that you can download and install for peace of mind.
Comodo Internet Security
This is a highly rated free package, which includes anti-virus software and a firewall. It runs on Microsoft Windows 7, XP (Service Pack 2), and Vista (32 or 64 bit). All you require is at least 128 MB RAM and 210 MB of hard drive space. You can choose to install just the components you want but as a complete solution Comodo Internet Security is a real contender for the best free Internet security suite title.
The installation is a breeze and the software doesn't make great demands on your system so you are unlikely to notice it running in the background. The anti-virus software scans and protects your system from viruses, Trojans and all sorts of other malware. It updates the definition files frequently to ensure your protection is up to date and you can schedule scans for whenever you like.
The firewall protects your system from any unauthorized intrusions and prevents programs from establishing outbound links without your permission. Once you have configured it and added your commonly used programs it will rarely pop up. You'll also enjoy protection from spyware with this software suite.
The overall package is definitely amongst the best free Internet security suites and the firewall is particularly good. You can download this software from the Comodo website.
AVG Anti-Virus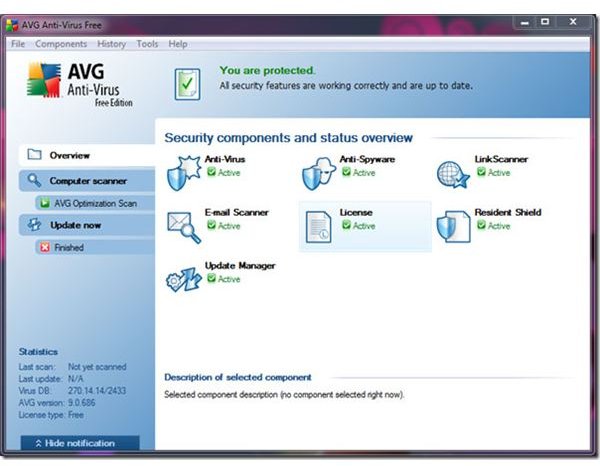 This is another popular piece of security software, which can be downloaded free. It isn't a complete security suite because you will need a firewall but it does provide basic coverage for malware and spyware threats. This program is compatible with Windows 7, Vista, XP and 2000.
Once again, it is an easy install and the only real drain on your system resources is at boot time and shut down. It scans for viruses, worms, Trojans and other malware and keeps up to date via definition updates. There is also a Link Scanner, which ensures web pages are safe before you visit them.
This is a decent free anti-virus and anti-spyware package and if you're concerned about the lack of a firewall, you could combine it with something like the free ZoneAlarm firewall.
You can download AVG Anti-Virus free from the AVG website.
Avast Free Anti-Virus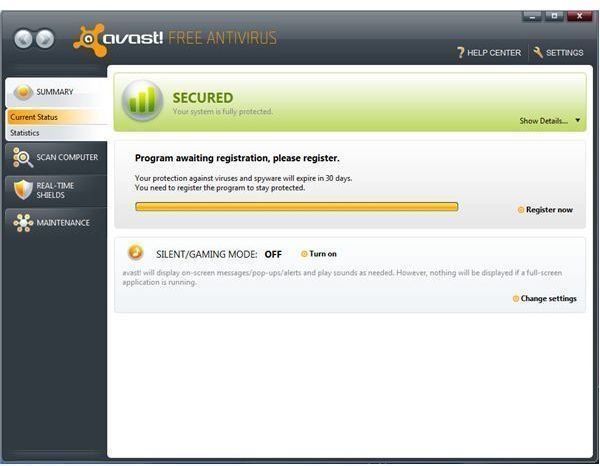 This is another popular name when it comes to free security software. It is effective and provides a complete anti-virus solution making it an attractive free Internet security suite. It is compatible with Windows 7, Vista and XP and installation is quick and easy after a 40 MB download.
Avast provides all sorts of fantastic protection using an intelligent scan system that protects you in real time. As well as comprehensive anti-virus protection, you also get anti-spyware, website and email scans. The software performs extremely well, frequent updates ensure you have the latest protection and the footprint is small so you won't notice it running. There is also a dedicated gaming mode that allows you to play without fear of interruption.
This is one of the most popular free security programs in the world for a reason. Once again add in a free firewall program like ZoneAlarm and you have excellent protection for your system.
You can download Avast Free Antivirus for free from the Avast website.
ZoneAlarm Free Firewall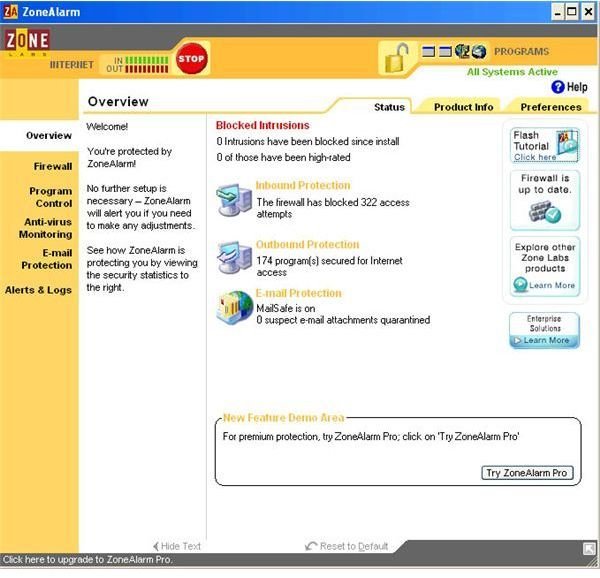 Perhaps the best free firewall out there the ZoneAlarm firewall is quick and easy to install and provides excellent protection from attack. Your computer can be rendered invisible online and intrusions that lead to malware can be prevented. It is compatible with Windows 7, Vista, XP and 2000.
The user interface with ZoneAlarm makes configuring your firewall very easy. Over time the pop ups will become less frequent as the software gets used to what programs you use and what needs access to the web. This is protection made simple.
They are no trying to move into anti-virus and anti-spyware but the standalone firewall remains free and in conjunction with a good free anti-virus program it will give you all the protection you need.
You can download ZoneAlarm Firewall free from the ZoneAlarm website.
There are plenty of other free security software options out there but these are the best in my opinion. If you want the convenience of an easy single package then the best choice for you is Comodo Internet Security. For top notch, free protection a combination of Avast Free Antivirus and ZoneAlarm Free Firewall is your best bet.