Learn to Protect Your Network: Online Training Options Both Free and For-Pay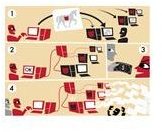 Why All the Fuss About Security?
Prior to finding suitable online venues for network security training, it is imperative to understand the three-fold nature of the subject matter. Generally speaking, network security involves:
The creation of protective policies and processes on the network administrator level.
The use of software applications as well as hardware components to create and maintain the security of a network.
Ongoing evaluation of the suitability of policies, processes, network infrastructure, and of course the consistent use of the safeguards by those who are allowed access to the network.
Not surprisingly, the security of any network can be easily compromised at any of the three levels. The more sophisticated modern-day hackers become, the more vulnerable even protected networks turn out to be – especially if administrators are not up to date on the latest threats. The more users have access to the network, the more likely it is that a network breach will occur.
Get it Online!
Private households, small business owners, and also mid-sized or larger companies greatly benefit from enhancing their network security with training. Online network computer training classes are affordable and convenient. They offer rudimentary or advanced instruction in the field – depending on the prior expertise of the student. Frequently, all three types of network security are addressed.
What's Better Than Free?
LearningSpace is a good source for learning IT and computing related materials. Operated by the Open University, it provides free training for network security. Services offered include explanations and illustrations for active and passive attacks, the shifts within network security itself, the changing faces of vulnerabilities, basic information on encryption and cryptography, and a closer look at authentication methods.
This is an excellent introductory vehicle that provides solid information on the types of network security levels and how each user of the network contributes to the success – or failure – of the security effort. For the student who is uncertain about her or his level of computer security expertise, this is a good first course to take.
Training in the Field
The professional who is looking for computer security training online as a vehicle for furthering a career will do well to take a closer look at Cisco System's CCNA Security Certification. A prerequisite to taking this online training is a CCNA or CCIE certification. Upon successfully undergoing this online training in network security, the graduate may go on to obtain the CCSP certification.
Making Up for the Human Element
Common network security problems show that a business may have to look no further than its very own employees to recognize the biggest threat to its network security. Training online and offline may serve as a means of combating this problem effectively, as long as the participants are willing to abide by the rules and policies set forth by the network administrator. It is a good idea for the network administrator to institute checks and balances within the user matrix; this pinpoints potentially worrisome users of the network.
Quick and easy online training tools, such as PhishMe, provide hands-on training scenarios that introduce network users to likely and common security risks and network security threats. What sets apart this training from other network security training courses is the setup of mimicked phishing attacks with WYSIWYG functionality. It is very user-friendly and stays away from computer jargon so that even technophobes learn about protecting a computer network.
References