Top Password Managers for Chrome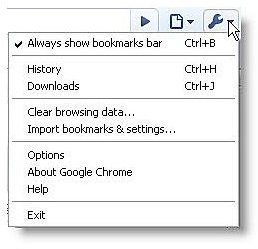 Password Managers & Removing Password Records from Chrome
Why use a password manager?
Using a password manager allows users to securely store online usernames and passwords of websites and services in the browser (like Google Chrome) so the user does not have to enter them every time. Just imagine how convenient it is having such a utility that can remember your login credentials to every Web site you visit. Nice, huh?
How a password manager works?
Logins are stored on the online server and passwords are encrypted. Once users are logged into their online account, they are able to complete an online registration and checkout forms with a simple click.
Note: Google Chrome uses its own "PasswordManager" to save a password. Then, "PasswordFormManager" appears between the user interface and the database.
The steps to remove password records from Chrome (as mentioned by Google)
Window users must…
Click the Tools menu.
Select Options.
Click the Personal stuff tab.
In the "Passwords" section, click Show saved passwords.
From the list, select a site and click Remove to clear its username and password. You can also click Remove all to delete username and password records for all the websites you've visited.
Mac users need to utilize Keychain Access to store their login information.
Top Password Managers for Chrome
Google Chrome does come with its own basic password manager that can store logins and passwords, as well as view and recover passwords in Google Chrome. It is, however, too basic of a utility and does not provide adequate password protection. For instance, the Google Chrome Community Forum speaks of how anyone who wanted to can obtain passwords stored in Chrome just by going to Options > Minor Tweaks > Show Saved Passwords. To avoid this problem and to protect passwords in Google Chrome, try the Chrome Lock feature (Press Ctrl+Shift+L to lock); otherwise, if you want another password manager, why not choose from the list of the top password managers for Chrome that are listed below along with some other handy tools.
LastPass - is a free password manager for Google Chrome (via bookmarklets). It's a form filler too. LastPass operates on Windows (2000/XP/Vista/7), Linux, and Mac platforms. There is a premium version too. It's available for $12/year, but it adds support to users on a Blackberry and Windows Mobile devices. For more information, visit the website for LastPass.

RoboForm - is an online password manager from Siber Systems. It allows users to manage, encrypt, and generate random passwords or synchronize passwords between computers. It also saves, and fills in login info for web sites. Additional features include Fights Phishing and Defeats Keyloggers. Starting with version 6.9.98, RoboForm can be tweaked for use in Google Chrome. RoboForm is bundled with Chromium ver 4.0.267.0. Note: RoboForm has a Chrome Plug-in for Windows only. It can operate on Windows 98/Vista & PocketPC & Palm. Windows Mobile, Palm, Symbian and Blackberry. Find out more about RoboForm from their website.

ChromePass is a free password recovery tool by Nirsoft that allows you to view the user names and passwords stored by Google Chrome. Two versions are available: Version 1.0 (the first release) or version 1.05 (the latest edition), which adds support for recovering Google Chrome passwords from an external drive. ChromePass operates on Window platforms and is explained on their website.

Chrome Password Decryptor 1.6 is a free utility that makes it easy to recover login secrets (which are found on the logins table) and then decrypts the password for each of the websites stored by Google Chrome. It also features an export option that can be used to save the login secrets to the local file in an HTML format. Platform : Windows XP, 2003, Vista, Win7. Learn more about Chrome Password Decryptor by visiting the website.

Another two worth mentioning are…
Mitto Password Manager for Chrome manages passwords securely. It can work with all the browsers.
Passter Password Manager for Chrome secures password information in Google Docs account rather than on its own servers.
* For details on these Password Managers for Chrome and others, users may be interested in seeing the "4 Free Password Managers for Google Chrome."
Useful Web Sites on Password Managers and Form Fillers
For additional information and help on password managers for Chrome, visit some of these websites.
Google Chrome Password Managers
Best Free Web Form Filler / Password Manager
Password Manager Shootout – eWallet vs. KeePass vs. LastPass
Related Articles
Top Free Password Managers and the Best Free Password Manager
RoboForm Pro Review: Never Forget Your Online Passwords Again!
A Review of LastPass - Free Password Management
Google Chrome Images by What's My Pass?