Windows Vista Firewall Review - Which is the Best Windows Firewall?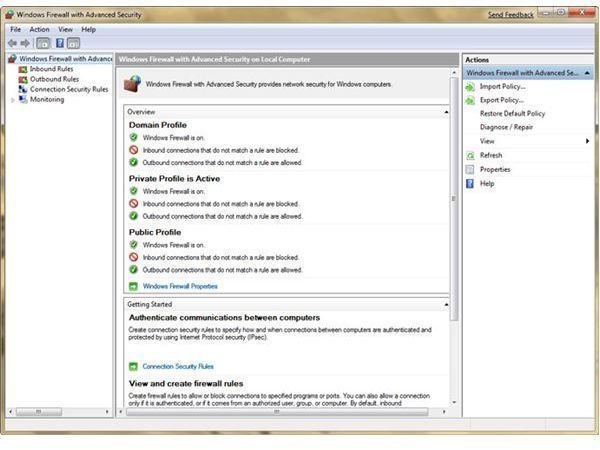 Windows Vista Firewall Review – A Quick Look
Though this is a Windows Vista Firewall Review, let us also check out the developments on the front of Microsoft regarding its early operating systems. Microsoft (MSFT or simply MS) did not include any default firewall into its Windows OS until it released Server 2003. As Server 2003 was for networking, MSFT included a default firewall. People did not accept it– possibly because it was silent. Users never knew what was happening, and hence they presumed that the firewall was non-functional.
Though Microsoft released several other OS versions with the default Windows firewall, they too failed to gain the faith of users. The problem was again the same: Windows firewall would not give out messages when any program requested access to the Internet. It however, displayed a message when it blocked a connection. With firewalls, people are interested in knowing what programs are connecting to the Internet and when. Probably, Microsoft did not want the firewall to present its users with frequent screens as with other third-party firewalls. The idea failed and led people to disable Windows default firewall and use a third-party firewall.
With the Internet Connection Sharing that came with Windows XP, Microsoft had to introduce Internet Connection Firewall. However, people still preferred third party. Then with Vista, almost each Windows Vista firewall review online said that Vista was the most secure Windows operating system to date, even though most users disliked the OS owing to frequent problems.
Coming to year 2010, most Windows Vista Firewall reviews found on the Internet say that it carries the best system security compared to any of the previous OS versions released by Microsoft. Imagine the labor put in by the engineers at Microsoft – within a span of four years – not only to cover the flaws of earlier firewalls, but also to add further security and functionality to the Vista firewall. Microsoft Policy states it will release a new OS every four years. Windows 7 came two years early (2009) as Vista (2007) failed after MS released it nearly four years after XP (2003).
Working positively on the firewall, Vista finally brought in Windows Firewall with Advanced Security.
Windows Firewall with Advanced Security – Windows Vista Firewall Review
"The engineers at MSFT worked really smart to finally produce a Windows Firewall with Advanced Security," says the Windows Vista firewall review at one of the MSDN blogs. Windows Vista firewall looked pretty normal without many changes when compared to Windows XP. Microsoft designed it in a way that the firewall could be used at two levels– the first being common users who can easily configure it, and the second level being "computer experts" who can add their own "rules" to the firewall.
First level users are people with basic knowledge of computers. MSFT designed the interface of Windows Vista firewall with Advanced Security in a fashion that even a person with minimal knowledge can configure it easily. (See Fig).
The second, higher level of customization allows users to add outbound rules, add customized network rules based on user rights and security policies. It also allows firewall settings as per user profiles if there are multiple user profiles on a single computer. Customization requires knowledge of C++/VBScript. Thus, Windows Vista firewall eliminates the need for third party firewalls for even corporate LANs. LAN designers can always customize it using Windows firewall API calls.
Note: This is a personal Windows Vista firewall review based on content from MSDN. Bright Hub advises you not to use it as a verdict. Make your own inquiries before you choose the firewall for your computer/network. You can also check the other Bright Hub article on Windows Vista firewall review before reaching a decision.