Wireless Security Cameras With Computer Monitors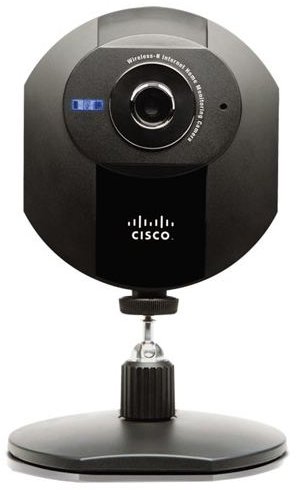 Do I Need a Wireless Computer Controlled Security Camera System?
Maybe you have concerns about what goes on in your house during the day, maybe you want to keep an eye on the pets or even the nanny. The solution could be wireless security cameras which you can access and even control via your computer. These kinds of systems are becoming more and more popular and affordable. While they are primarily aimed at home security they could be used just as effectively to protect a small business.
There are various types of security camera systems. Some are designed for outdoor surveillance, some are designed for indoor. You can get systems that function as video intercoms for your front gate and systems that sweep your garden for intruders. Let's take a closer look at some of the top systems on offer.
Wireless N Internet Home Monitoring Camera
This is a popular choice for people seeking home security cameras. It features easy set up and can be hooked up to your network via an Ethernet cable or using Wi-Fi 802.11n. It allows you to send footage to your home computers, record directly to a network drive or even access the feed through a web browser or smartphone.
When set in Security Mode it will email up to 3 people with a 5 second movie file whenever it detects motion within its field of view. You can then log in and view the live feed from anywhere. If you don't have a static IP address you can sign up to an IP mapping service which allows you to access the camera feed.
The quality is 640 x 480 pixels and around 30 frames per second. It easily offers enough quality to keep an eye on things. This device is manufactured by Cisco and so it is very reliable. It is also reasonably priced at around $120.
GE 45236 Wireless LCD Portable Monitor and Camera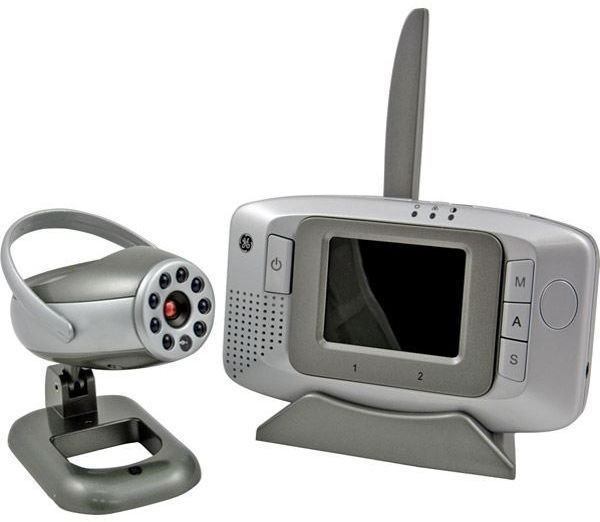 This system offers a wireless security camera with computer monitor. It is designed for monitoring another room in your home or even your garden. It can transmit audio and video up to 200 feet. The camera transmits to a 2.5 inch colour LCD and it has night vision technology built in so you can see what is going on even in low light conditions.
This is quite a versatile system in that it can cover indoor or outdoor areas. Unfortunately the fact it only transmits to the supplied LCD and has a range of 200 feet limits the possibilities a lot. You can hook it up to a VCR or DVD recorder using AV cables and this will allow you to record footage but the camera will have to be wired in. In fact if you don't buy the rechargeable battery you'll need to make sure it is plugged into a power outlet anyway.
You can get a second camera and the monitor will scroll between the two. It can also be set up to alert you when there is sound or movement. The sensitivity of the alarm can be tweaked which is a vital option if you don't want a lot of false alarms. You can get this system for around $150.
Panasonic BL-C131A Network Camera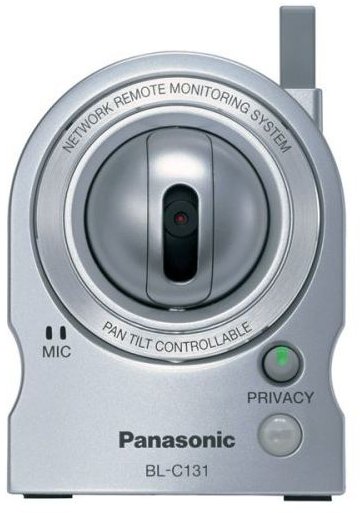 This is a terrific wireless camera option and you can access it remotely via the web. Not only can you view the camera feed from a web browser or a smartphone anywhere you can even control the view by panning, tilting and zooming the camera. You can even set up 8 positions which can then be referred to instantly.
This device is more expensive than the others we've looked at so far but it has the features to justify the extra money. There is a heat sensor which can be used to activate the camera and is far less prone to false alarms. It can also be set up to email you when someone enters the room the camera is in.
You can set it up to record only at specific times if you want and you can set it to record at various speeds up to 30 frames per second. It has a night view mode and a motion sensor as well and it can capture still images as well as movie files. There is also a built in microphone for audio.
The camera has its own web address and can be accessed quickly and easily from anywhere. The Wi-Fi is 802.11g and there is security built in to ensure your privacy. This will cost you somewhere over $300.
TRENDnet SecurView Internet Surveillance Camera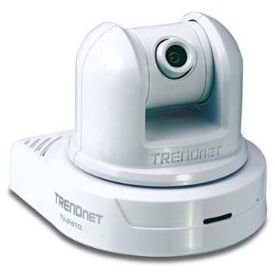 When it comes to wireless computer controlled security camera systems TRENDnet actually offer a wide range of options. We'll take a look at their Internet surveillance camera here but they do have options dedicated to businesses and outdoor security as well.
This is another camera that you can access via the web and tilt or pan for a better view. It provides a reasonable quality video stream securely and it has motion detection capabilities. It can also carry out scheduled recording and send email alerts.
It can record in low light conditions and at speeds up to 30 frames per second but unlike the Panasonic camera it does need to be hooked up to a computer which is running. It is also capable of taking snapshots. It is currently reduced to around $150.
If you need a big security system the software that comes with this allows you to network up to 16 cameras of various types. This means you could build it into a useful wireless computer controlled security camera system.
Defender SENTINEL3 Security System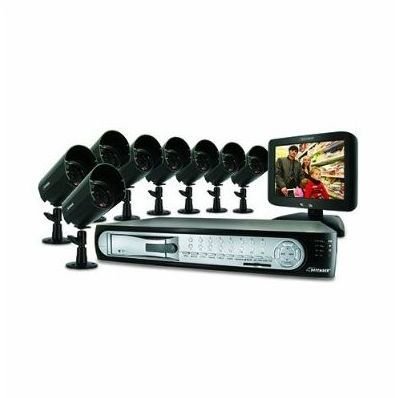 The last system we're going to look at offers wired security cameras with a monitor and a digital video recorder. This is a complete home security system which surpasses the needs of most people. The 320 GB hard drive is part of the Seagate SV35 series and it allows you to record up to 2 years worth of video footage. You can also access the footage via the Internet from anywhere.
There is an 8.5 inch LCD monitor included which you can use to view the footage locally. You can also transfer footage to a compact flash memory card. The cameras are all night vision equipped and they offer a resolution of 420p. The system is very versatile and the camera can be set up to record continuously, on a schedule or be triggered to by motion. You can even set up a mixture of rules for different cameras.
You can search for footage by time, date or event so it is always easy to find what you need. There is the option to connect a microphone if you require audio but you'll need to purchase it separately. The system hooks up to your network via Ethernet. Unfortunately the cameras do require wiring but you get 60 feet of camera wiring with the system and you can purchase more if required. The cabling carries power and the video signal.
This is a comprehensive security system and if you're looking for thorough coverage for a large home or business then you can expand this to use 16 cameras. The basic system comes with 8 cameras, the digital video recorder and the 8.5 inch LCD all for a reduced price of $799.99 on Amazon right now.