How to Backup Your Laptop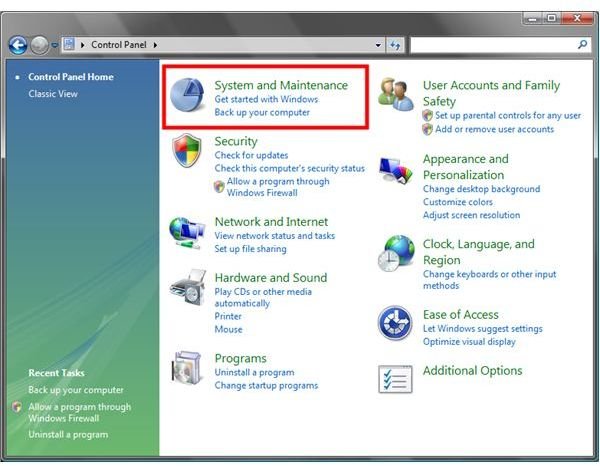 Part of your basic computer security contingency plan is to have a backup. This is true whether you have a desktop or a laptop. But if you have a laptop, a backup is significantly more important. Why? I'm glad you asked.
Having a computer that is small and portable presents its own special challenges. First of all, like any computer, data on the laptop can get corrupted from various reasons. This can happen if you lose power while the computer is in the middle of writing data to disk, or if your hard drive crashes. And, unlike desktops, laptops have a much higher chance of being lost or stolen! If it is lost or stolen, you probably have 0% chance of recovering your data if you don't have any backups.
In either case, having a backup of your irreplaceable data would be a "godsend." Wouldn't you agree?
With this in mind, this article answers the question "how do I backup files on my laptop?" There are many different ways. This article will:
Give you ideas on what files to backup
Help provide you with ideas on how to do basic manual file backups
Explain how to automate your file backups
Explain how to automate your file backups using "in-the-cloud" on-line storage solutions
Show how to use a hybrid approach to backup your files.
This article will introduce you to some backup concepts and ideas, but will not discuss their actual procedural use in detail.
Files to Backup
Regardless of which Microsoft Windows operating system you are using now, files (depending on what type they are) are typically saved in their respective folders (e.g. pictures, videos, music, documents). Some people create their own folders for various other file types. So if you are the type of user who don't pay much attention to where things are saved, then those are the typical folders Microsoft operating system places the files. If you are the type who places files where they wish, then you know exactly what files you need to backup and where they are located.
Here are some common files you may need to consider backing up:
.jpg (picture/image file)
.tif (picture/image file)
.png (picture/image file)
.mov (video)
.wmv (video)
.avi (video)
.mp3 (audio/music)
.wma (audio/music)
.mpg (video)
.mp4 (video)
.doc or .docx (MS Office Word document)
.xls or .xlsx (MS Office Excel document)
.ppt or .pptx (MS Office PowerPoint document)
.pdf (portable document format, the type Adobe Acrobat reader can view)
Basic Backup
Most people use the basic approach to backing up their laptop files. This isn't the best approach, but it is better than nothing. If you have the Home or basic edition of the Windows operating system, the operating system may not have a backup utility built in, or may have one, but scheduling isn't included.
When you use the basic approach, you are manually invoking the backup utility or copying your files from your laptop to an removable or external drive. This assumes you know exactly the path where your files are located, and you have a removable media or external hard drive. Below are the various targets you can use to backup your important files:
another drive within the laptop (not recommended)
Writable CD/DVD
Flash or thumb drives (64GB thumb drives exists now!)
External USB drives (1.5TB and 2TB are now affordable, in the price range of around $150)
If you copy manually, you can use free on-line storage (e.g. adrive.com (50GB free), mozy.com (2GB free), idrive.com (2GB free))
Performing a Backup In Windows Vista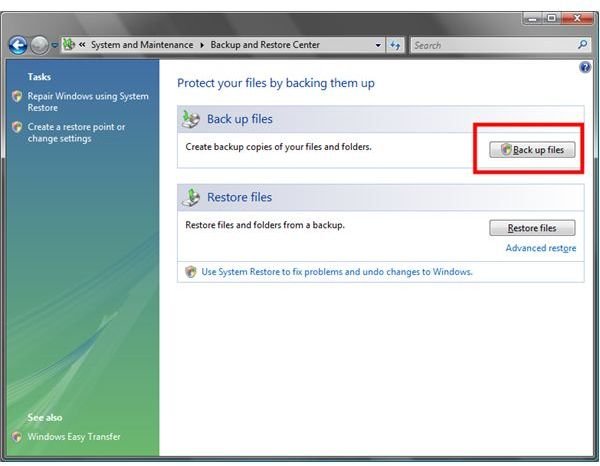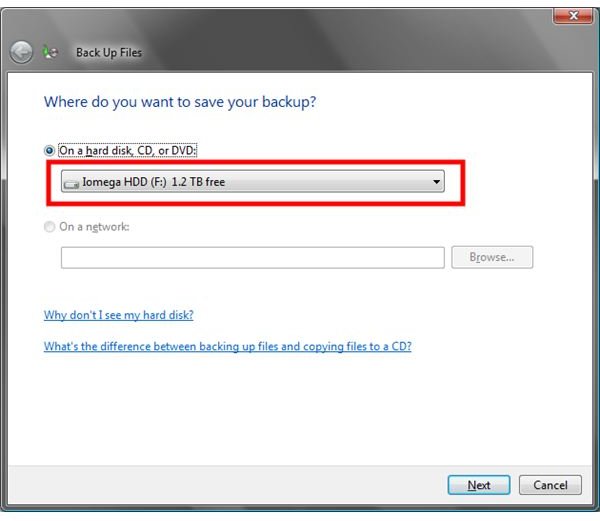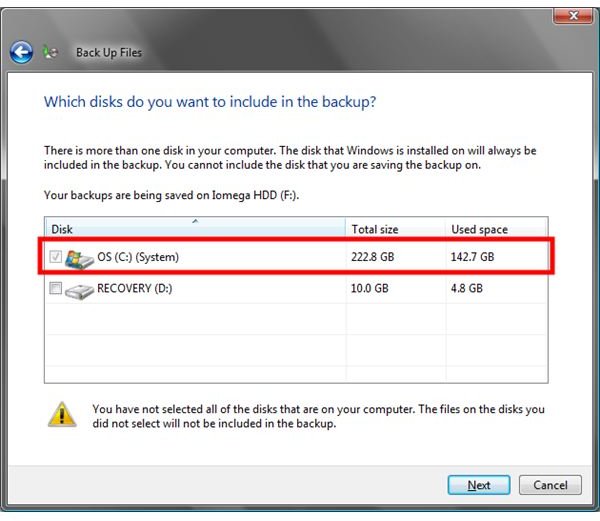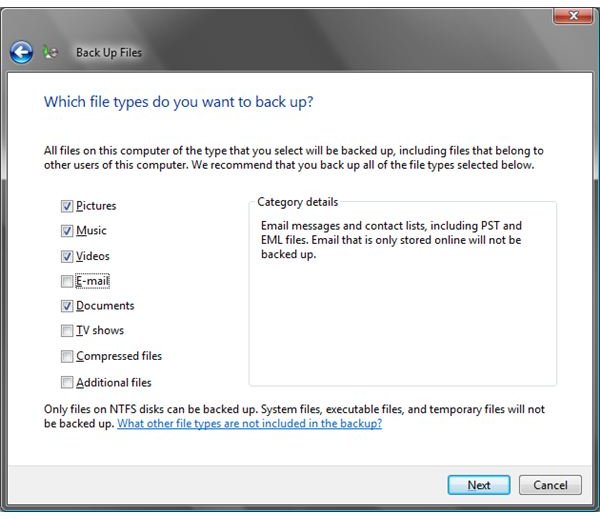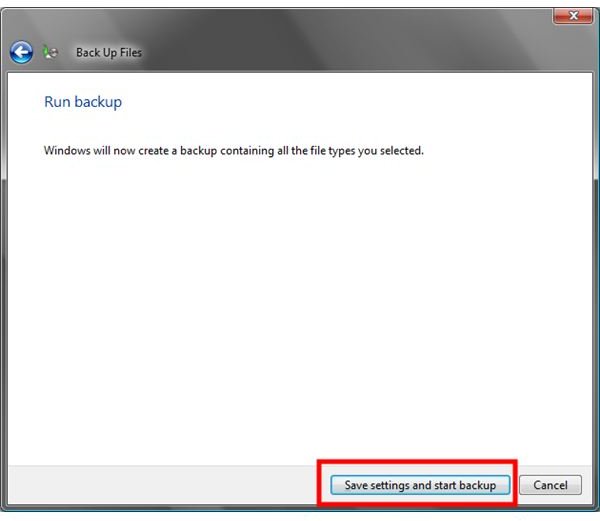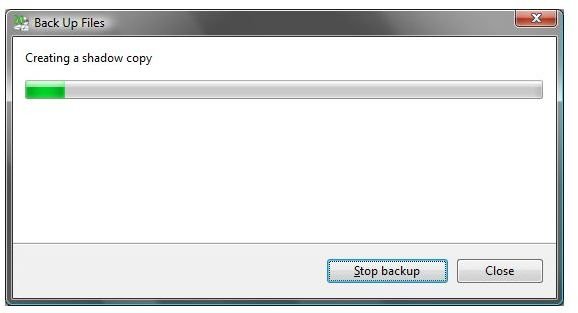 Automated Backup
Automating the backup process is probably the best way setup your backup process. When you automate your backup process, you use some program to schedule the backup of your files. This way your backups occur without too much direction from you. On a Windows operating system, backups can be scheduled, unless you are running the basic or home edition of the operating system.
On Windows XP, you can run the NTBACKUP utility; if you have the home edition, you'll have to download the backup program. The NTBACKUP installer can be obtained here: https://www.winxptutor.com/ntbackup.msi. The Microsoft Knowledgebase article 308422 describes how backup your files using NTBACKUP, and if you lost your data which was backed up on XP, and you now need to restore it on your Vista machine, you'll need to download a restore utility.
On Windows Vista, Microsoft provides instructions on how to use their backup facility. Note that if you have Windows Vista Home Basic, you cannot schedule backups.
You can find information on how to backup files in Windows 7 at https://windows.microsoft.com/en-US/windows7/Back-up-your-files.
There are various third party backup programs, and typically when you buy an external USB storage device or gadget (the iOmega iConnect Data Station is a good example: https://www.youtube.com/watch?v=vJj5iEXFkOg), they will come with their own backup program from which you can specify drives, folders, and files to backup.
Automated Backup In-the-Cloud
With cloud storage or on-line storage service becoming more affordable, it only makes sense to consider storing your data or files online. Typical service cost is around $5 per month. Here are some online backup solutions you can consider:
These solutions provide a backup agent which installs on your computer. The backup agent gives the service access to specified drives, directories, and files. It also provides access to your files from a simple user interface. The initial backup may take hours or days, depending on how much you have on your computer, but thereafter, the backup goes faster as it just trickles the changes out to the Internet whenever you are using your computer. The backup agent setup is relatively simple.
Hybrid Backup
If the thought of your removable drive breaking or the thought of your Internet access becoming inaccessible, or worst, the online service provider goes under, then you might opt to take the hybrid approach. The hybrid approach involves using automated local backups using external or removable storage, and subscribing to one of the online storage services.
This way, regardless of what happens you have a means of recovering your data from your laptop.
Summary
This article has answered the question of "How do I backup files on my laptop". There are basically many ways to backup files:
Copy files or run the built-in backup utility within the operating system to another disk drive, a removable/writeable medium like a CD/DVD read/write drive, a flash/thumb drive, or an external USB drive. Or copy files to a free online storage service
Automatically by scheduling the builtin or a third party backup programs to backup specified drive, directory, or files to a target medium
Using online storage service to backup files
Using a combination of automated scheduled backups to local medium and subscribing to online storage service.