Symantec Product: What is Norton 360?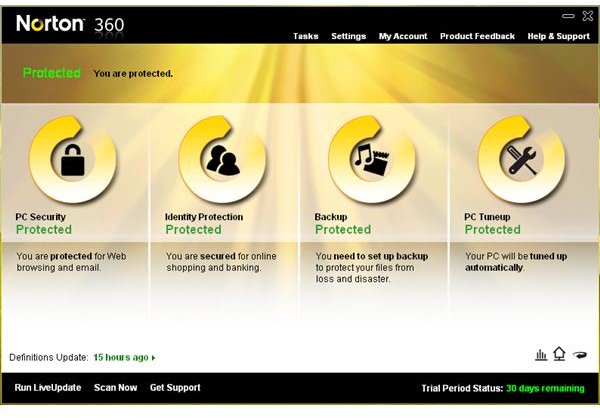 Overview
Symantec not only offers standalone Norton Antivirus, but also provides a Security Suite and 360 degrees of protection with its Norton 360 software. What is Norton 360, and what is the difference between Norton 360 and Norton Internet Security 2010?
What is Norton 360?
Norton 360 is similar to Norton Internet Security 2010 software. It will run on XP, Vista and Windows 7 systems. Both programs offer real-time protection and on-demand scans using its antivirus software, a two-way and rule-based firewall solution, advanced protection against web-based threats, anti-spam, a recovery tool, optional parental and privacy controls, protection against known exploits, identity and fraud protection, and a network map. Norton 360 comes with three flavors – a Premier edition, the regular Norton 360 and Norton 360 Online. The difference between the Premier and regular Norton 360 is the amount of free online storage to use. The regular Norton 360 includes 2GB of online storage while Norton 360 Premier edition includes 25GB. If you have an external drive or another partition to store your backups, you don't have to subscribe to additional online storage space by Symantec. Norton 360 Online is only available to internet service subscribers of T-Home, 1und1, Yahoo! BB, Telenor, Belgacom, and Tiscali UK. Note: If you are using a Netbook, Symantec provides a Norton 360 Netbook Edition as well.
The only features of Norton 360 that NIS 2010 doesn't include are as follows:
PC Tuneup – Norton 360 includes Norton Utilities to tune-up the computer but some utilities in this program are not developed by Symantec. It is using the built-in utilities in Windows operating system.
Backup and Restore – Backup the data or system in any location or use the included online storage.
Is it worth using Norton 360?
We understand the need of having a backup and clean-up utilities but I find the Norton Utilities included in Norton 360 for tuning up your PC, not effective as other software titles. The backup solution in Norton 360 is a great addition, especially the automatic backup option in Norton 360, but you'll get that free backup using Mozy Home with 2GB of online storage, with similar features and great support.
Norton 360's performance is similar to other Norton products – the memory usage, improved scanning speed, fast installs and ease of use has been proven. Norton 360 will use 84.66MB of hard-disk space and will integrate itself to Windows Security Center. The antivirus and antispyware protection is effective and the support is good since there is a free discussion forum and free live chat or email. The automated fix by Norton Utilities in Norton 360 lets you create a backup before fixing. However, registry cleaning must be use only by advanced users because it can damage your computer instead of fixing it. Be very careful in running a registry cleanup especially when Norton 360's registry clean-up do not offer you a choice of what to fix in the registry!
Images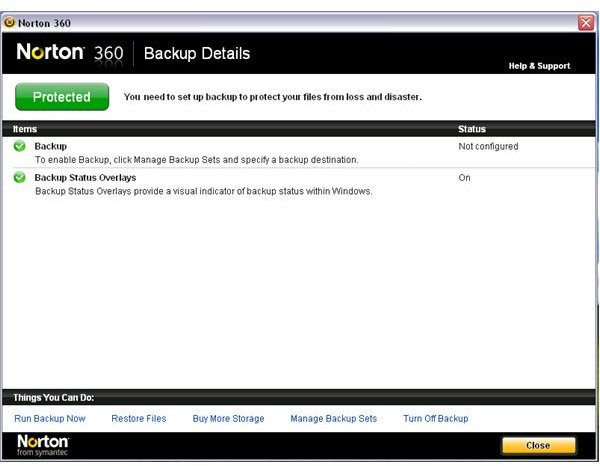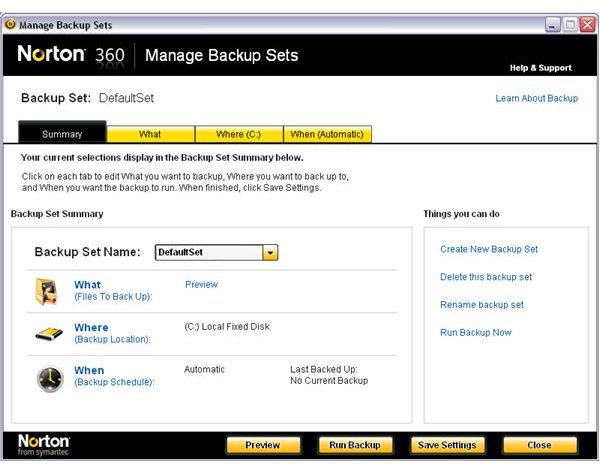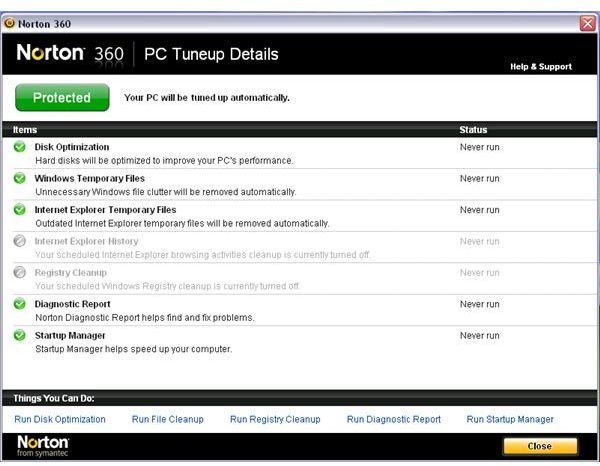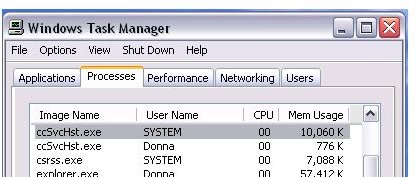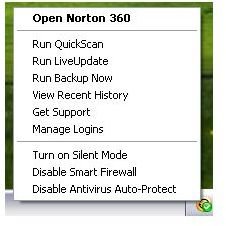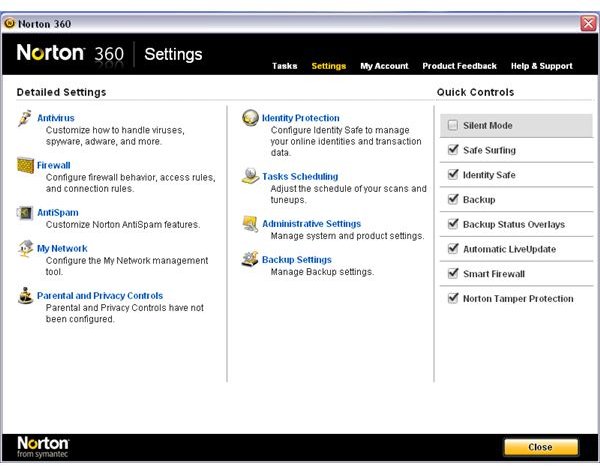 Conclusion
The antivirus solution and protection against intruders is no doubt one of the best and top rated antivirus and antimalware program. Norton 360 costs $80 while the premier edition is $100. Both edition includes one year subscription and can be installed up to 3 PCs. However, the features in Norton 360 to backup and tune-up the computer is not worth the money for there is better alternative– a free Mozy Home subscription and free CCleaner utility. If you want the antivirus program by Norton, just get yourself the standalone Norton Antivirus or use Norton Internet Security 2010 with advanced protection.