Free Antivirus Comparison: Microsoft Security Essentials vs. AVG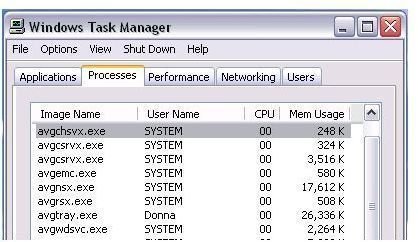 Overview
Both antivirus programs by Microsoft and AVG Technologies are available as free or for personal use. AVG Free has been in the market for quite some time while Microsoft Security Essentials is a new program, but not a new offering by Microsoft since they've been providing an antivirus and antispyware solution for some years as well. Read this comparison, Microsoft Security Essentials vs. AVG, if you are planning to install a free but effective antivirus in home computers.
Installation and System Requirements
The installer' file size of Microsoft Security Essentials (MSE) is only 6.97MB while AVG's setup file is 76.6MB, both because there are more components in AVG and because its installer bundles third-party software. AVG's installations file bundles with the AVG Security Toolbar, which is powered with a Yahoo! Search and offering security rating system for any Internet searches using a supported browser.
AVG's install process is as straightforward as MSE. The latter uses 14.84 MB of hard-disk space while AVG will use 57.26 MB of disk space. MSE does not add any browser add-on while AVG installs a Safe Search Browser Helper Object, avgssie.dll. If you opted to install the AVG Security Toolbar, you will find another browser add-on, IEToolbar.dll.
Before you can install MSE, your system must pass the genuine validation. One action of MSE installer that I do not like is the changes on Automatic Updates settings in Windows. MSE will enable AU settings if you have it disabled prior installation of the antivirus program.
Both programs will run on Windows 7, Vista and XP. AVG continue to support Windows 2000. Note that MSE will only run in 32-bit edition of XP.
Feature and Options in AVG and MSE
MSE and AVG both offer real-time protection and on-demand detections on malware. Free updates are also provided by the vendors. You can schedule a scan task in MSE and AVG or manually run a scan full or custom scan. AVG does not have an option to run a quick scan. Both programs have options to manage quarantine files and allowed items. You can exclude files, folders and processes for any scan or real-time monitoring by AVG and MSE.
Other features in AVG are as follows:
AVG LinkScanner – additional security feature in AVG by scanning pages for any threats
E-mail Scanner – a personal email scanner to catch viruses in messages and attachments. Note that MSE will only scan for viruses in e-mail attachments.
Rootkit scan – AVG Free offers a rootkit scan but not an advanced rootkit scanner that is available in the paid edition.
Optimization – AVG will scan the system for trusted files that do not require scanning, to allow future virus scans to be much faster.
Viewing of available updates – AVG continues to allow its customers to view the details of any available program updates.
Update Scheduler – you can configure AVG to check for updates. Note that MSE will push the update whether the automatic updates in Windows is enabled or disabled.
Revert to previous definitions – if the new detection signature of AVG has caused false positive detections, you can always revert to using the older definitions and wait to install a new and corrected detection signatures
Delete temporary update files by AVG
The only issue that I noticed with AVG's default settings is it is configured to scan or monitor infectable and selected file extension only. I understand that this is the preferred option by AVG to reduce memory usage of the program, but it is not a recommended setting if the user wants full protection.
Memory Usage and User Interface
MSE used up to 72.9 MB of RAM during this test while it was monitoring only the system for any malicious activity while AVG will only use up to 51.3 MB of RAM. During a system drive scan, MSE's RAM usage is 89 MB while AVG will use up to 74.4 MB of RAM.
The UI of MSE is neater than AVG. Whenever you will open AVG, it will display its advertisement notice. The controls in managing the program using MSE is easier than AVG. AVG's menu requires double-clicking but you'll end up seeing few controls only. You will end up looking at Advanced Setting's menu to configure the program instead of using the controls within the interface. Both icons by these antivirus programs in the notification area of Windows do not have handy commands other than opening the program.
Screenshots of AVG and MSE's memory usage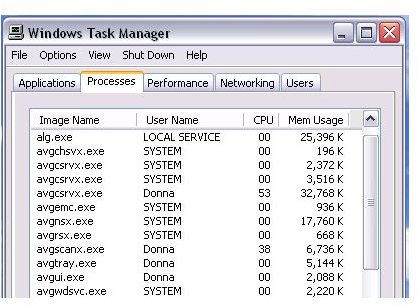 Malware Prevention and Detection
I'm quite disappointed with AVG's real-time shield against malware. I transferred 260 malware samples to the test system but AVG only prevented 1 out of 260 malware samples. I opened the folder containing the remaining 259 malware samples but AVG's real-time protection is not doing what it has to do.
MSE's real-time protection is much better than AVG: MSE has prevented in real-time a 173 malware samples out of 260. It allowed 87 malware files to be stored in the computer.
To proceed in testing the scanners of AVG and MSE, I run an on-demand scan on the remaining malware files that were not prevented by both programs: MSE is able to detect another 70 malware files, leaving the computer unprotected against 17 threats. AVG's on-demand scanner detected 229 malware files out of 259, leaving the computer at risk to 30 threats.
Over all, MSE can offer up to 94% of protection while AVG only offers 89% of protection.
Screenshots of MSE and AVG's malware detection and prevention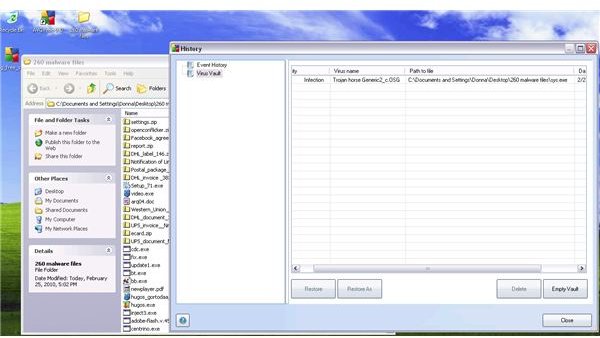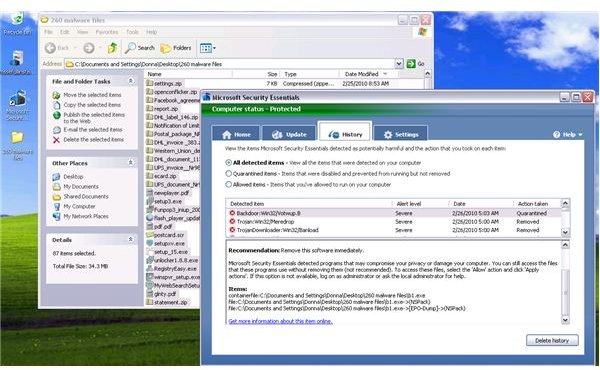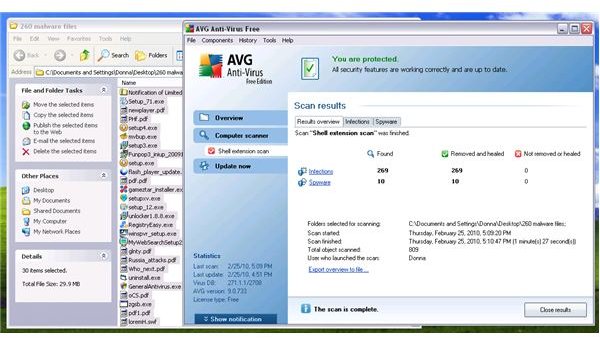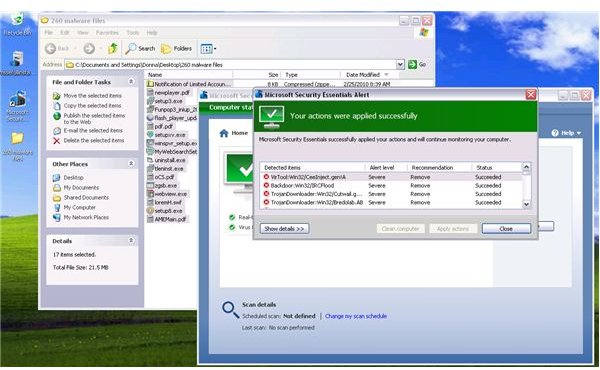 Conclusion
AVG provides more feature and options to protecting a computer than the antivirus by Microsoft. However, the malware prevention and detection by AVG cannot beat Microsoft Security Essentials!