Antivirus Comparison - AVG vs. Ad-Aware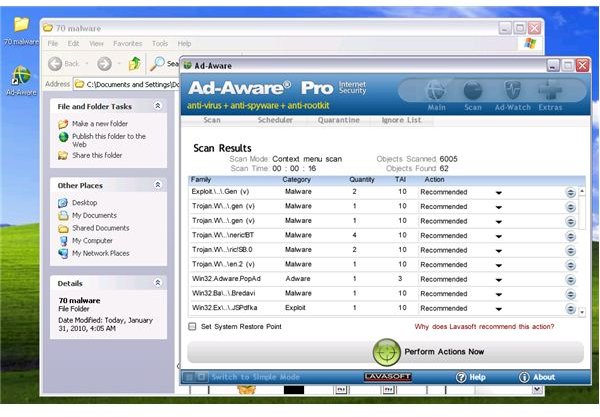 Overview
AVG Anti-Virus by AVG Technologies is available in two versions: Paid and Free. Both editions provide protection for the PC, but there are limitations if you use the freeware version.
Ad-Aware by Lavasoft is available in three versions: Free, Plus, and Pro editions. The free edition does not include a real-time antivirus protection. It's only an on-demand malware scanner and remover. The paid editions of Ad-Aware, Pro, and Plus are both offering antivirus protection, but the latter's real-time protection module, Ad-watch Live!, has limited features and will not scan drives in a home or office network.
To proceed in comparing the features and performance of AVG and Ad-Aware, I chose to compare AVG Anti-Virus to Ad-Aware Pro edition because the Pro edition is the version that offers more complete virus protection than the other two editions.
System Requirements and Installation
Both programs will run on Windows 7, Vista, XP, and Windows 2000. AVG and Ad-Aware installers are both bundled with third party installers. AVG bundles a toolbar, powered by Yahoo!, and the Google Chrome web browser installer is bundled in Ad-Aware.
A computer reboot is not required after the install of AVG while Ad-Aware provides an optional restart so the Ad-Watch Live module will be properly installed. It's better, though, to be able to use the protection after the install without the need for a PC restart.
An optional browser protection is offered by Ad-Aware called "Download Guard for IE." AVG will install AVG Safe Search, by default. This browser add-on is causing a crash in Internet Explorer during a search.
Program Features
A real-time protection against virus, rootkit, trojans, spyware, adware, rogue and other types of malware is provided by AVG and Ad-Aware. Both products also includes game mode, schedule scan, on-demand scanner, malware removal, appearance customization, behavior-based protection and detection, a rootkit removal, and customization, and single file scanners.
What AVG does not have that Ad-Aware has are the following tools: Process Watch, AutoStart Manager, Hosts File Editor, TrackSweep, and an option to run a quick scan. Ad-Aware on the other hand does not include an e-mail scanner and anti-phishing protection.
Memory Usage and Scan Performance
The new build of Ad-Aware is using a very low memory usage than AVG when both aren't doing any task but to protect the computer from any malware activity: AVG is using 1.4MB while Ad-Aware will only use 264KB of memory. During a scan, both programs will use almost similar memory usage, 24MB for AVG and 22MB for Ad-Aware. Both products resulted in a false detection after a system drive scan: AVG falsely detected a bookmark file in my WebsiteWatcher program while Ad-Aware falsely detected the customized Hosts file in Windows.
Malware Detection and Removal
To determine which of them will detect more, I use the shell extension scanner to scan the 70 malware samples in a folder. Ad-Aware is able to detect 62 out of 70 while AVG detected 56 out of 70 only. During the removal process, AVG failed to remove the two malware it has detected while Ad-Aware succeeds in removing all detected malware.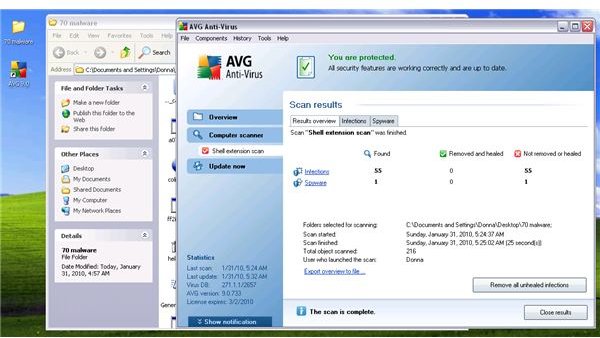 Conclusion
AVG costs $34.99 while Ad-Aware's price tag is closed to $40. Ad-Aware is a little bit more expensive than AVG, but you'll get better features. Ad-Aware Pro is the clear winner in this comparison for it detected more, removed all, and came packed with useful security tools.