Backup Strategies – How to Backup a Hard Drive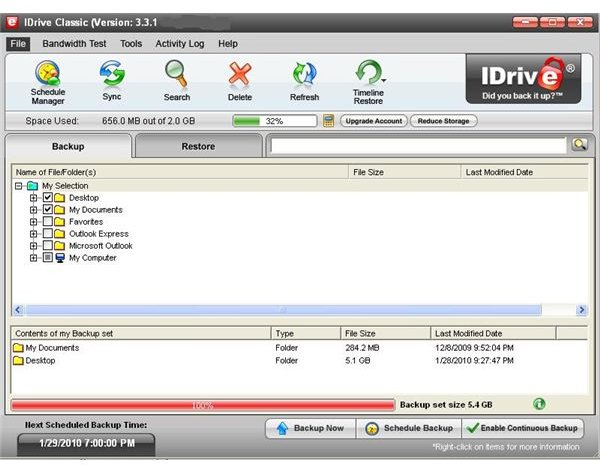 Overview
In part one I covered why it is important to backup your computer, describing how hard drives work and can be prone to failure. This article will talk about some ways of backing up your data including some of my favorite free backup software.
Types of Backups
You can perform different types of backups to protect your data – local backups or cloud based backups. Local backups allow you to copy data from your computer's hard drive to another type of writable media including a secondary hard drive, a thumb drive or writable DVD media. Cloud based backups allow you to back up your data to a 3rd party over the Internet.
The biggest advantage of local backups is the cost and your control over the backup. You decide where to keep it and what type of media you want to use. DVDs are inexpensive, but can deteriorate after as little as 10 years. The biggest disadvantage of this is that the media likely won't leave your house, so if you have a disaster at your house, your backups will potentially be lost as well.
Cloud based backup services such as Microsoft Mesh, Mozy or IDrive will offer a limited amount of space for free but also offer inexpensive paid plans for more storage. These services take care of the data for you so if you have a problem in your house, your backups should still be okay. The biggest drawback is typically the limit to the amount of space you can use. With IDrive, you can get 2GB backup space for free or 150GB for $4.95/month or $49.50 for a year. Microsoft Live Mesh really isn't meant for backups – it is meant for synchronizing data between computers. It can easily fill in for online backups – but it's up to you to place data you want backed up in a Mesh folder. Mozy gets rid of the tiered pricing with a single fee of $4.95/month for unlimited storage. With Mozy or IDrive, you use a clean client interface to tell it what data you want backed up and how frequently. I'm not going to discuss the pros and cons of various online storage services – I'll use my favorite in the rest of the article.
Using IDrive To Backup your Hard Drive
Go to https://www.idrive.com/ and click the link to sign up for IDrive Basic (the free service will give you 2GB of space for backups).
Fill in the information required to activate your account and download the client. Follow the prompts to install the client on your computer.
When the IDrive client starts, enter your username and password and click Connect. After a moment you will be presented with the main interface (Figure 1)
By default, your Desktop and "My Documents" folder will be selected. Select any other locations you wish to back up.
Click the Schedule Backup button and select a time and day you think your computer will typically be on. I would recommend at least weekly backups – if not more often.
You initiate your first backup by pressing the Backup Now button.
That's all there is to it. Performing a restore is relatively simple. By going to the Restore tab and checking the items (or performing a search), you can easily restore lost files.
This post is part of the series: Guide to Backing Up Your Personal Computer
This series will tell you why it's important to back up information on your computer in case of a hard drive failure and how to perform backups to protect your data.