Where Can I Get the Best Free Antivirus Software for My Computer?
Free Antivirus Software
Wondering where to get a free antivirus for your computer? Well, you have several options to choose from. Free antivirus programs can be just as good as premium software such as McAfee and Norton… if you get the right one. There is plenty of top rated free antivirus software out there to choose from. Here is a list of great antivirus applications that have constantly received good reviews from tech sites as well as consumers. There are also links for all of them so that you can download the best free antivirus software. Hopefully, one of them will work great for you.
Microsoft Security Essentials (5 out of 5)
Microsoft Security Essentials is a top rated free antivirus application with a very simple interface. Because it is a Microsoft program, you don't have to worry about it having problems with different versions of Windows. Aside from being an antivirus solution, Security Essentials is also a spyware and malware protector. This makes it an ideal all-on-one application. Microsoft Security Essentials has a virus scanner as well as real-time protection. Thus, even if your computer is virus free at the moment, it will notify you as soon as a threat is detected. Overall, Microsoft Security Essentials is a great program that will catch the heavy majority of viruses out there. Microsoft frequently updates virus definitions, which can be downloaded quickly and easily via Windows Update.
Get Microsoft Security Essentials
Avast Free Antivirus (5 out of 5)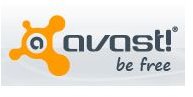 Avast is a company that makes several different computer protection products. Looking to download the best free antivirus software? Avast might be it. Not only has Avast received great reviews from experts, but many consumers as well. Avast is another all-in-one virus protection suite. The basic scanner is accurate at picking up threats and effective at removing them. Avast also has layered real-time protection, which they call Real-Time Shields. Real-Time shields work by protecting certain elements of your computer. For example, there are web shields, peer-to-peer shields, instant messaging shields, behavioral shields, etc. Overall, Avast is a great option for free antivirus.
AVG Free Antivirus (4 out of 5)

AVG Free is a great choice for basic antivirus protection for your computer. It is a combined virus scanner and malware scanner. So, like Avast and Security Essentials, it is a complete all-in-one solution. Generally, AVG features a user interface that would be easy enough to use for most people. However, if you are looking for the simplest antivirus, that is easily updatable through Windows, go with Microsoft Security Essentials. AVG Free also comes with a link scanner and email scanner to protect your daily web surfing/email tasks. AVG Free has received great overall reviews by most experts and consumers, why not give it a try?
Avira Antivirus Free (4 out of 5)

Avira is the last free antivirus in our list. Avira offers many unique options that one would find in a premium antivirus suite. For example, Avira has an actual option to scan scan external hard drives connected to your computer. As far as efficiency, Avira is not quite as simple as the other programs on the list. However, anyone with even a bit of computer knowledge should have no problem using it. For the most part, the interface is clean and straight forward. Avira has self-protection, meaning that it can stop any viruses that attempt to slip by or alter its settings. One notable feature of Avira is the ability to scan compressed files before extraction. For example, Avira should detect a virus within a ZIP as soon as it is downloaded, not after it's extracted. Overall, Avira is a great choice as well.
Conclusion
Hopefully, this list solved the problem of where to get free antivirus for my computer. There are no bad antivirus programs on this list. All of them have received several great reviews from numerous sources. Even if you are running a more expensive antivirus software, you may want to give one of these a try.