Internet Explorer Parental Controls: Free Parental Control of Internet Access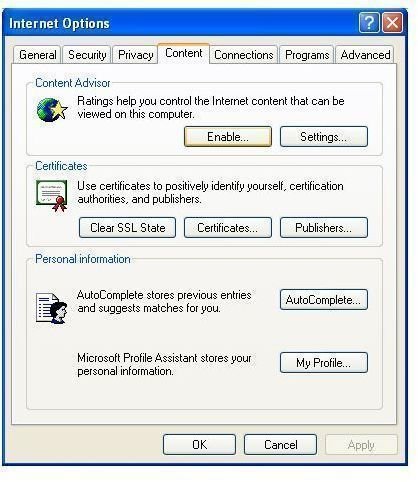 Getting Started
Before you begin to use Internet Explorer Parental Controls, you will need to be certain about which version of Windows you are using. If you are unsure, you can find out in a few short steps. Click the Start Button. Right-click My Computer or Computer and select Properties. Your computer's System Properties window will open, displaying the version of Windows you are currently using.
Internet Explorer Parental Controls in XP
If you are using Windows XP and IE6, your free parental control of Internet access comes in the form of the Content Advisor. To enable the Content advisor, first you should log in on your child's user account. Open Internet Explorer. Go to the Tools menu and select Internet Options. Click on the Content tab. Click the Enable button under Content Advisor. the Content Advisor dialog box will open.
Go to the Ratings tab. Select a category for which you want to set Internet Explorer parental controls. Use the slider to adjust how much or how little your child is able to view.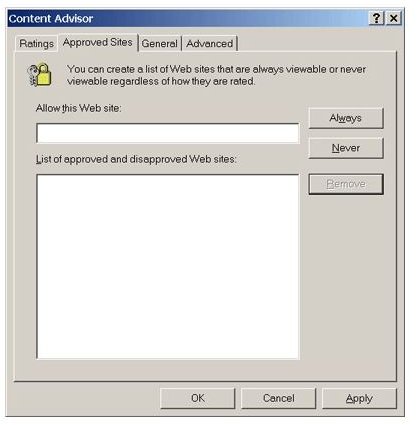 Another way that you can use the Content Advisor is by specifying websites that your child is or is not allowed to view. Go to the Approved Sites tab of the Content Advisor dialog box and type in a web address you wan to allow or block. Click the Always button if you want to allow the site or the Never button to block it. Enter as many websites as you choose.
You will want to create a supervisor password to ensure that your children do not override the Internet Explorer parental controls you have set. While the Content Advisor dialog box is still open, go to the General tab. Select Create Password under Supervisor Password. Type the password you choose into the Password box. Type it again into the Confirm box. Enter a hint that will remind you in case you forget the password and need to make changes later. Click Apply to save the changes and OK to close the Content Advisor dialog box.
Internet Explorer Parental Controls in Vista and Windows 7
If you are using Windows Vista or Windows 7 with Internet Explorer 7 or 8, you have built-in free parental control of Internet access.To open Parental Controls, click the Start button and type Parental Controls into the Start Search box at the bottom of the Start Menu. Click on Parental Controls in the Programs list that results. Click yes or enter a password if promtped. The Internet Explorer Parental Controls window will open.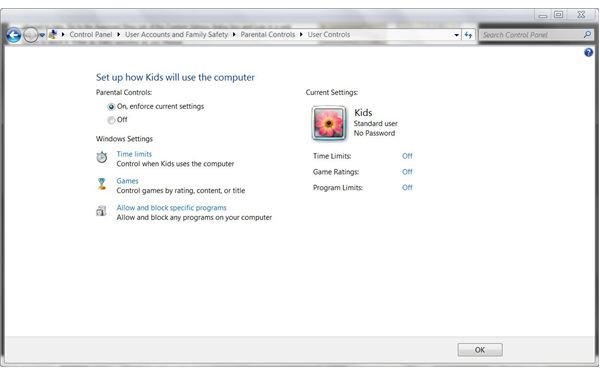 Click on your child's user account or set up a new account specifically for your child to use if you have not already done so. Select the On, Enforce Current Settings button under Parental Controls.
Select an option under Windows Settings to determine your child's Internet and computer access. Click on Time Limits to control the days and hours your child is allowed on the computer. Click on Games to control whether your child can play games on the computer, set allowable game ratings and allow or block specific games. Select Allow and Block Specific Programs to do just that.
When you are done, click OK to apply the changes and close the Parental Controls window.
Related Articles
If you are looking for other Internet Explorer parental control options, Bright Hub offers numerous reviews and ideas, with articles such as Top 5 Best Free Web Filter Software, Free Web Filter - Parental Control Bar Review and Net Nanny 6.0 Review.