How to Prevent and Clean Up Spyware: How to Stop Spyware With Paid Solutions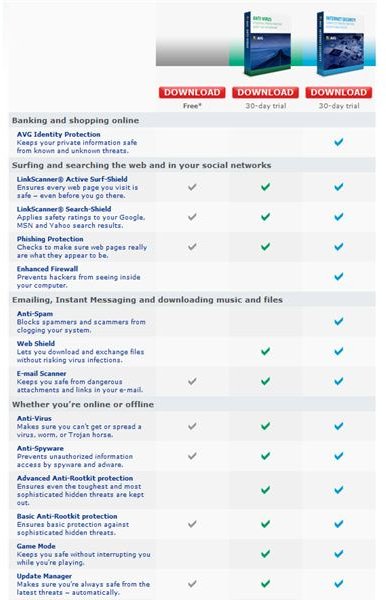 Standard Features
If you want to locate all Internet security layers on your desktop or laptop, and you don't mind a possible performance hit, then consider paid AV solutions. They may differ significantly from free spyware and malware removers when comparing features, but not always. Let's take a popular product which comes in both a free and a paid version–AVG.
Figure 1 compares the for-fee versions of AVG AV software with paid versions (AVG.com). The first column is the free version, the second is AVG Anti-Virus (paid version), and the third lists the features of the premium AVG version, Internet Security. Note there are only a few differences between the free and paid AV versions.
There is no firewall in the free version.
The free version doesn't include a spam filter
No protection in the free version for file sharing over instant messaging or social networking sites
No rootkit protection in free version
In addition to the list above, there is also no free technical support unless you purchase an AVG product.
Another example of free versus paid malware solutions is Avast!. There are only two versions of Avast!: home and professional. The Home version is free, but the differences between it and Professional are minimal. Although no firewall exists in either version, both the free and the paid include a spam filter and rootkit protection. Paying for Avast! is more a question of where you use it rather than feature set. Missing from the free version are management tools you would expect in a business-level product.
So the list of extra features expected with a paid version of a product is not very large (and may be present in some free releases):
Integrated enhanced firewall (not available in all products)
Web site analysis
Rootkit detection and removal
Spam detection and removal
Intuitive management interface
Task scheduling
Enhanced data transfer protection
For business, centralized management and free support are important features not commonly available in free products
Paid Malware Removal Tools
So there can be little difference between free spyware and malware removal tools and those with a price tag. The deciding factor in most cases is the size of the organization and how you plan to manage client updates and AV software policies. If you find yourself taking out your wallet–and you should have a pretty good reason for doing so–or filling out a purchase order, I suggest you take a look at the following options before making a decision (prices rounded to nearest dollar):
There are more products, but these are a great start. My personal favorite is Avast!. It works on just about any platform, and it is feature rich.
Note the pricing is pretty constant across all solutions. And expect to pay an annual subscription if you want to continue receiving updates when new viruses are released.
Finally, almost all AV vendors allow a trial run or at least an initial scan to clean up your system. So check out a product before you buy.
This post is part of the series: Understanding Malware
This series of four articles describes the types of malware, how they negatively affect our lives, and how to combat them.