The Best Free Online Virus Scanners With a Quarantine Feature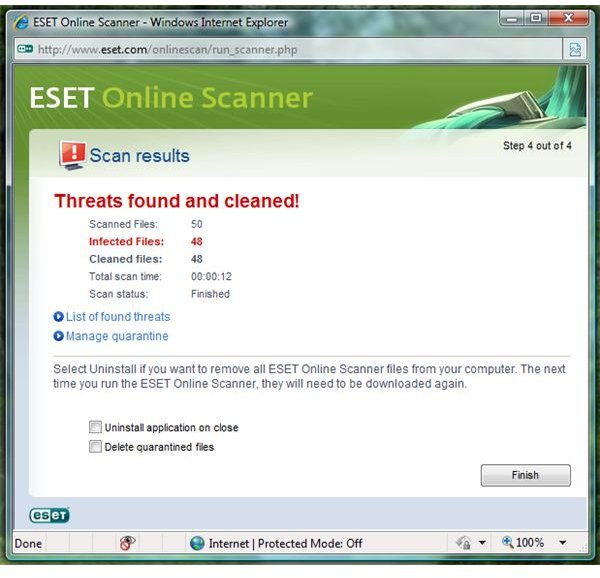 Overview
What is online virus or malware scanner? An online malware scanner installs its' scan engine or component in a browser as add-on. It does not offer a real-time protection against malware but offers many advantages for end-users and malware scanner vendors.
Advantages of Using Online Scanner
Free malware detection: If you want to check if the installed on-access and on-demand scanners in your computer have missed any threats or if you want to double-check if your anti-virus and anti-malware have detected a positive risk, the online scanner by other security vendors can help determine if your PC is infected or the detection by your anti-virus is a false positive.
Free malware removal: _**_No single malware scanner has receive a perfect score in removing malware which means if your anti-virus has failed to remove a malware or spyware, you can take advantage of free malware removal by other vendors without installing the program but by using the free online scanner with removal feature. If your antivirus is not working due to infection but your browser is running, the online scanner can help.
Community Protection: When running online scanner, you have the option to send the detection result to the vendor. This will help the community by receiving protection against malware that is in the wild (in case the vendor will receive a new variant). Submitting the scan result will also allow the malware scanner vendors to determine which threat is prevalent or in the wild thus they will alert the community via their newsletter, blog or website.
Always Up-to-date: Running an online will ensure that you are using the latest scan engine and detection database
Privacy: You can use the online scanner without the need of providing your personal information (name, e-mail address)
Quarantine a suspect or positive malware: One of the important features in a malware scanner (whether it's online or offline scan) is to allow us in quarantining a suspect or detected malware file or process. This allow you us to restore a file (if false positive). However, not all online scanners are providing a quarantine option. The next page will list the online malware scanners that I found to offer free online malware detection, removal and quarantine features.
_**_See AV-Comparatives.org's Malware Removal test. Note removal test is not the same as detection test so if you want to buy or use a good AV, it's best to choose a scanner that have passed both testing – detection and removal. You'll never know when you need to remove a malware!
Online Scanner with Detection, Remove and Quarantine features
If you want to use online scanner that will run a system-wide scan, detect, remove and quarantine, take a look at the 4 online services by the following vendors:
Using online scan with quarantine feature will save you time to evaluate another security program. Also, you'll be saving your PC from existing bugs or compatibility issue when installing another malware scanner. Check below screenshots of their online scanner with quarantine manager.
TIP and Notes: Like any other software, online scanner's add-on/plug-ins requires updating. Regularly run online scan to automatically download the new scan engine and definitions. You do not need to uninstall existing Online Scanner's add-on, it will be replaced when you visit their website. Uninstalling the add-on or plug-in by online scanners will remove the items in quarantine.
Images