Which is Better? Lavasoft Ad-Aware Free Anti-Malware or SUPERAntiSpyware Free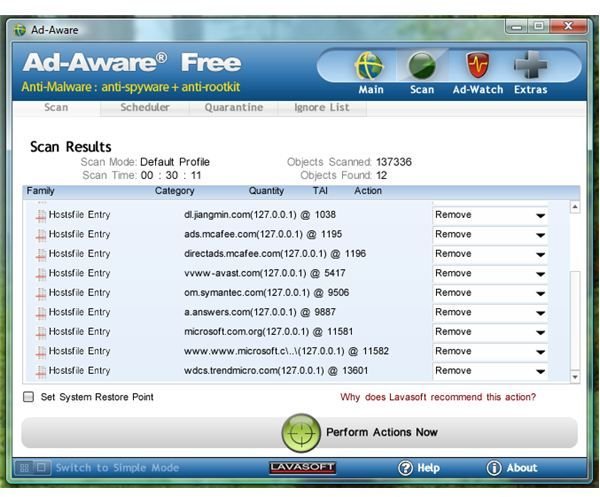 Detection Updates: Winner – Both
Ad-Aware and SUPERAntiSpyware is updated daily. Manual update for both programs is available from their websites. Both programs will be able to detect not only spyware, adware but rootkit, Trojans, worm and other threats. Behavioral detection is also provided by these free security tools however, their detection is not on new threats is not impressive. Check below section to find out more.
Scan Performance (default scan settings): Winner – SUPERAntiSpyware
A smart scan using Ad-Aware finished in 119 seconds and it scanned 9,026 objects. SUPERAntiSpyware's quick scan has finished in 27 minutes and 45 seconds by scanning 16,725 files. The system drive scan by SUPERAntiSpyware finished in 39 minutes with 20,559 scanned files while Ad-Aware has scanned 137,336 files in 30 minutes.
While running a scan, Ad-Aware will use 35MB of memory and SUPERAntiSpyware can use up to 45MB.
False positive: After running a system drive scan using each program, Ad-Aware found 12 false positives which are entries in the HOSTS file (a Hosts file that blocks communication to malicious and rogue websites).
Images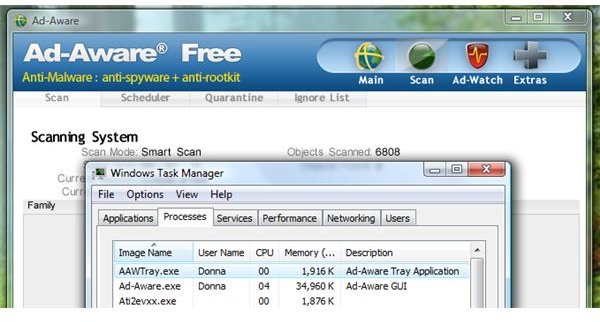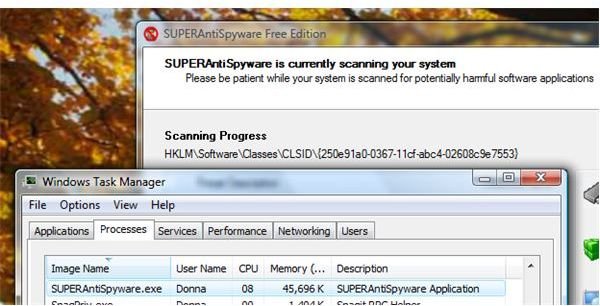 Malware Detection: Winner – Ad-Aware
I've downloaded 50 malware files to test the detection by Ad-Aware and SUPERAntiSpyware against new threats [Note: These samples were gathered between Nov. 7 - 16, 2009 (GMT +8)]. None of them is able to detect all or most of the positive samples but Ad-Aware has detected 5 out of 50 while SUPERAntiSpyware only flagged 2 only.
I have 100 malware samples that were collected last month (these samples were tested against NOD32 vs Avira and MBAM vs A2 Free) that I also use to test if Ad-Aware or SUPERAntiSpyware will detect some week's old threats. Ad-Aware detected 55 out of 100 while SAS detected 13 only. Please note that Ad-Aware image below on 100 samples is showing 56 detections but it only detected 55. The reason for this is because one of the sample is a self-extracting file with 2 files on it.
You can find below the screenshots of their detection and the list of 50 and 100 malware samples that I used to test their detections on new and old threats. Note: X means detected.
Images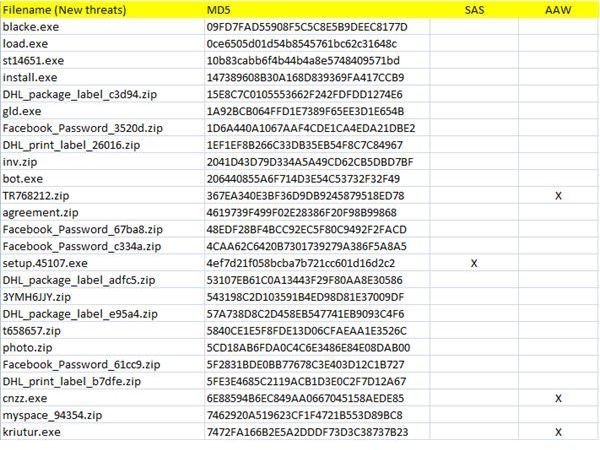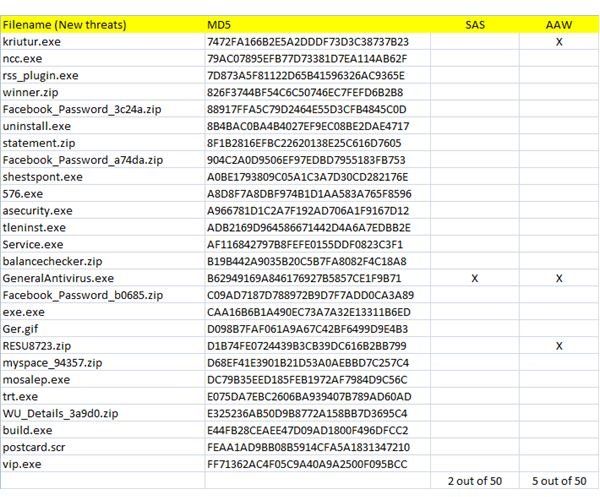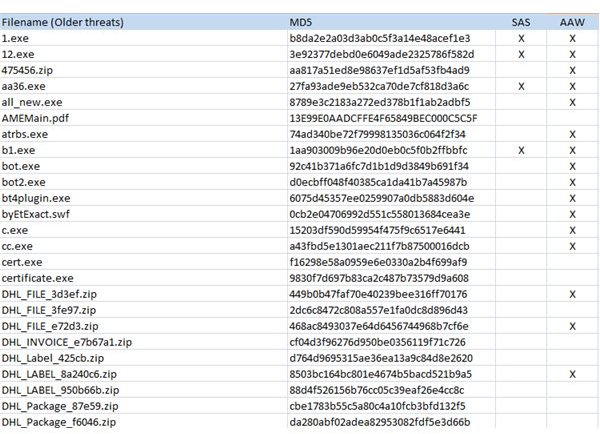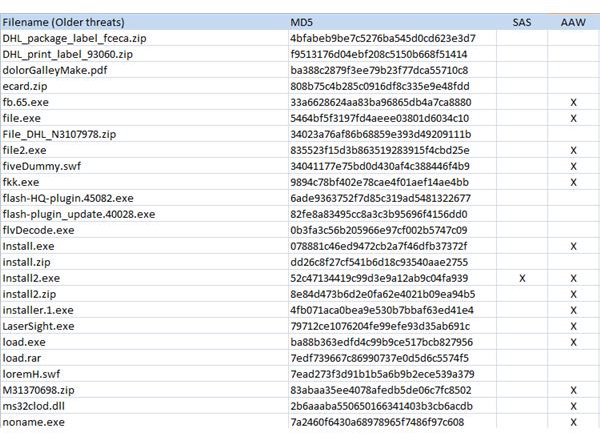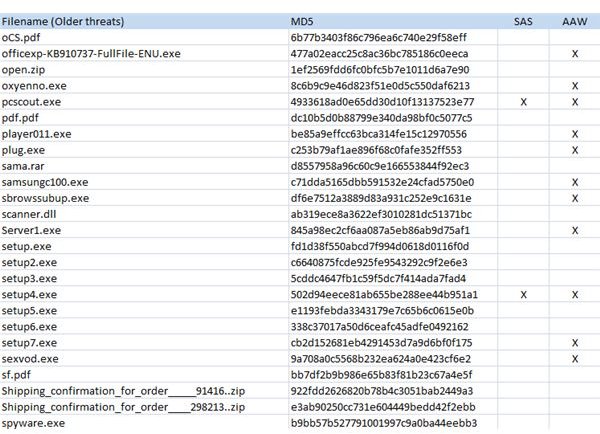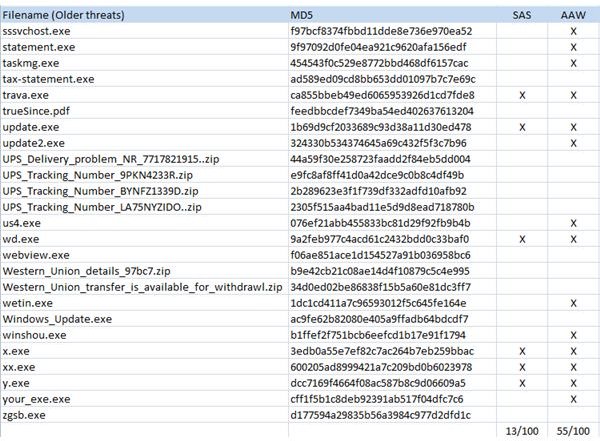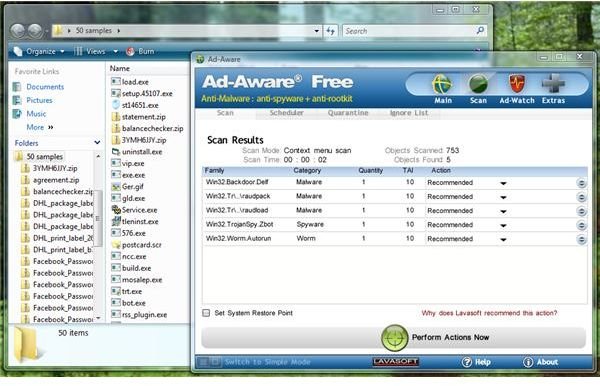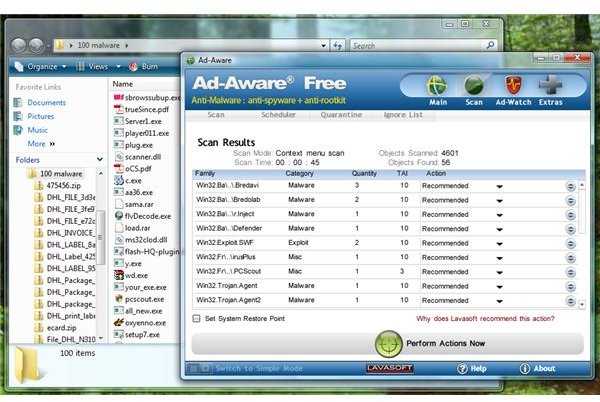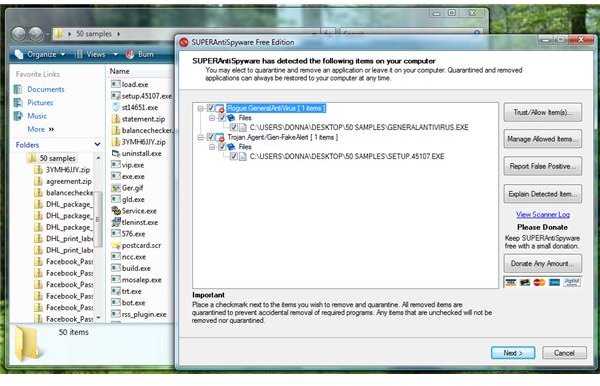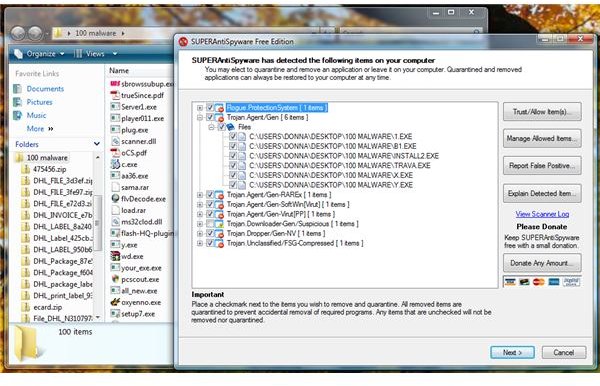 Support and Price to Value
Lavasoft and SUPERAntiSpyware.com are providing the scanner and remover for free including free support via their forums.
Conclusion
Complementing the real-time protection by anti-virus program is a good thing but it's best to use anti-malware that has more and fast detections in case the anti-virus failed to protect your computer. Ad-Aware's on-demand detection on malware samples is better than SUPERAntiSpyware during this review but SUPERAntiSpyware has better features and setup options. Choose your pick!
This post is part of the series: Which is the Best? SUPERAntiSpyware vs. Ad-Aware
Ad-Aware and SUPERAntiSpyware are available as free malware scanner and remover. We'll find out which of these two programs will detect new threats and which have better performance and features.