Which is the Best? SUPERAntiSpyware vs. Lavasoft Ad-Aware

Overview
The free edition of SUPERAntiSpyware and Ad-Aware complements our antivirus program because there is no single scanner that can detect all type threats. Ad-Aware includes real-time protection when downloading using Internet Explorer and also offers real-time monitor for malicious process. SUPERAntiSpyware will monitor any homepage hijacks and block any attempt. Find out below in which installer, scanner and features is better: Ad-Aware vs. SUPERAntiSpyware
Installation: Winner – SUPERAntiSpyware
Ad-Aware and SUPERAntiSpyware will run in Windows 7 and earlier edition of Windows. The file size of SUPERAntiSpyware's installer is very much smaller than Ad-Aware Anti-Malware: 7.03MB vs. 73.5MB. There is no third-party add-on in the installer of SAS while Ad-Aware have bundled their anti-malware with Google Chrome which is optional during installation.
A reboot is required when installing Ad-Aware while SUPERAntiSpyware do not require such. It's quite impressive to see anti-malware vendors to improve their program's installer because I'm finding many of them requires no reboot to start protecting or scanning a computer (e.g. AntiVir, Avast!, A-squared, Malwarebytes Anti-Malware, Microsoft Security Essentials and NOD32 to name a few).
Ad-Aware will use a lot of hard-disk space than SUPERAntiSpyware: SUPERAntiSpyware will only use 27.9MB of space while Ad-Aware application will take 107MB and 568KB for its Download Guard for IE browser.
There is existing issue with Ad-Aware's installation of its Ad-Watch Live: The notification balloon keep prompting to restart the PC. The possible fix is to follow the advice in their forum but after doing all the suggestion, Ad-Watch Live will continue to not install turn on. The only work-around I have found is to uninstall existing anti-virus and firewall before re-installing Ad-Aware.
Features and Memory Usage: Winner – Both but with limitations
Both programs will install a tray icon for extra protection (Homepage protection and updating for SAS while updating and real-time protection for malicious process is offered by Ad-Aware). SUPERAntiSpyware only use 620KB of memory while Ad-Aware will use 1.9MB. Ad-Aware is also offering Download Guard for Internet Explorer (it works like SmartScreen Filter in IE8) that will scan in real-time if the file you are downloading contains is a threat or safe.
SUPERAntiSpyware include repair utilities, SafeBoot, repair SUPERAntiSpyware, Alternate Start (in case a malware is preventing SAS to load), and exclusion manager. Ad-Aware features its Ad-Watch Live and Download Guard as free real-time protection.
None of these programs is causing the system to use too much memory while you are busy with the computer. Both programs are offering a quick, custom, context menu and full system scan. Scheduler and command line scanning is not available in free edition of Ad-Aware and SUPERAntiSpyware. The toolbox in Ad-Aware is for paid editions only except the ThreatNetwork (to submit files to Lavasoft for analysis).
Images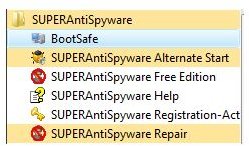 This post is part of the series: Which is the Best? SUPERAntiSpyware vs. Ad-Aware
Ad-Aware and SUPERAntiSpyware are available as free malware scanner and remover. We'll find out which of these two programs will detect new threats and which have better performance and features.