Fireproof External Hard Drive Face-off: ioSafe Solo Versus FireKing MediaVault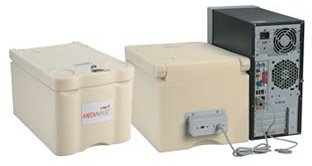 Introduction
After my review of the FireKing MediaVault MVHD-500 I'm ready to test it against the ioSafe Solo. Let's compare the features, the differences, and the prices of them both and see what we discover.
Feature Face-off
MediaVault MVHD-500
The MediaVault MVHD-500 comprises an enclosure with a UL Class 125 fire rating and dual Seagate Momentous 5400.4, 2.5", 250 GB SATA-300 hard drives. The Seagate drives arrive in their own NexStar 3 SATA/USB enclosures, which was a pleasant surprise for me as I have used the NexStar enclosures in the past and think they are great. The 5400 RPM drives have 8 MB buffers, <12 ms average seek times, 5.6 ms latency, and a transfer rate of 300 MBps. The external transfer rate, however, is limited by the USB bus to 58 Mbps. Fire protection is rated for temperatures up to 1700 degrees Fahrenheit for durations of up to one hour. The separate internal drive enclosures connect to separate USB cables, and from there to two separate external USB ports. This, of course, requires two USB cables and ports to connect to the PC unless you have a USB hub.
ioSafe Solo 500 MB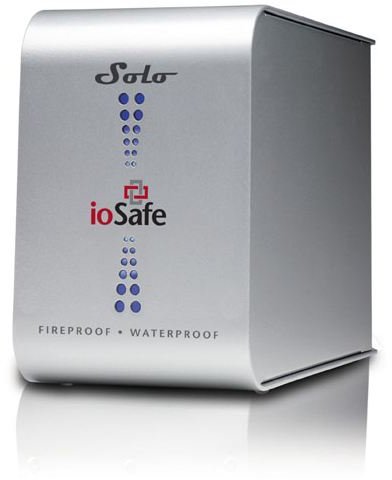 The ioSafe Solo 500 MB is smaller, weighing only 15 lbs. It uses an AC power supply rather than relying on USB power. It's USB 2.0 interface has a transfer rate of 480 Mbps. The single USB 2.0 disk is a 7200 RPM drive, 500 GB capacity in this model. Fire protection is rated at 1550 degrees Fahrenheit for 30 minutes per ASTM E119. Water protection supports 100% humidity, full submersion up to 10 feet in depth in fresh or salt water for up to 3 days. A cable lock port is provided. A 3 year manufacturers warranty for defects is standard with a $1,000 one-time data recovery guarantee.
So?
There are several differences in features and functionality that really stand out in my mind that make the ioSafe a superior product. One of the biggest is that the ioSafe Solo is waterproof as well as fireproof. Water damage is likely in a fire event due to sprinkler systems or fire department efforts. Also, water damage due to plumbing problems, water supply system damage, or flooding is a real concern. The next major point is that the ioSafe delivers 500 GB in a single drive, and offers up to 1 TB or even 1.5 TB in the same enclosure. The ioSafe drive is 7200 RPM, a higher performance drive than the 5400 RPM offered by the MediaVault. Next we discover that the ioSafe Solo offers a 1 year data recovery warranty up to $1000 with a 3 year standard hardware warranty, and this can be upgraded to a 5 year hardware warranty with 5 years of data recovery service for an additional $99.
Granted, the ioSafe Solo offers less fire protection, with a lower temperature rating (1550 deg. F versus 1700 deg. F) and only for 30 minutes of time at that temperature. I'm not sure how much difference that would make in the event of an actual fire as I'm not an expert in the physics involved, but my risk management opinion is that we're trying to mitigate the risk, and can't eliminate it. Best practices involve having off-site backups of your most critical data.Another technical point is the use of a dedicated power supply for the ioSafe, and because the Solo is a single USB drive rather than two USB drives with separate USB connections, only one port is used up, and does so without drawing on USB power. Couple all that with the far lower price of the ioSafe and we start to see why it's the far better value. Granted, the MediaVault should be able to support larger drives if you purchased them (separately), and the MediaVault does provide additional storage space for other media or documents. The MediaVault should be resistant to water from above, but wouldn't protect against submersion. The lack of a cable-lock for the MVHD counts against it as well.
A Higher Price Isn't Always a Higher Value
The ioSafe 500 GB sells retail from the manufacturer's web site for $249.98 including the 5 year warranty and 5 year data recovery service option. With prices online for the MVHD-500 at $875, that's a huge difference in price, considering the feature gap.
Apples to Apples? Closing Thoughts
The big question is, are we really comparing the same things? On the whole I would say yes, and that makes the ioSafe Solo the clear winner. For that big a difference in price we should expect more from the MVHD than a JBOD interface without even an integrated USB hub to connect via a single port, much less as a single device. As well we should demand more storage; the ioSafe offers an upgraded model with 1.5 TB and a superior warranty for less than half the cost!
What About the Seagte BlackArmor?
There is another secure hard drive on the market: the Seagate BlackArmor. How does the BlackArmor compare to the winner of this head-to-head? Read our article Seagate BlackArmor versus ioSafe Solo to find out!