Which is the Best Free? AntiVir Vs Microsoft Security Essentials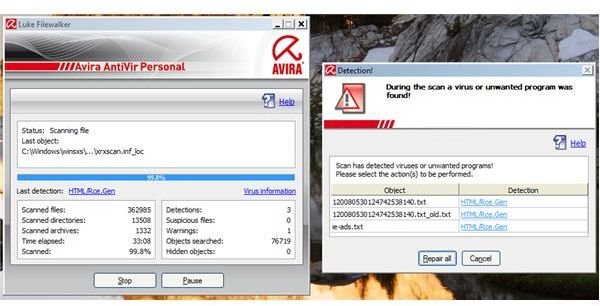 Overview
Avira AntiVir Personal Edition is one of the widely-use anti-virus protections that you will find in millions of PC and often recommended to end-users looking for free security solution. Microsoft Security Essentials is the new kid in the block and has garnered good detection rating in AV-Comparatives.org review (beating other popular antimalware scanners). Let's compare the two applications that will not only protect your computers from malware but will help you in browsing securely.
Installation and System Requirements: Winner – AntiVir PE
Microsoft Security Essentials (MSE) and Avira AntiVir Personal Edition (AntiVir PE) will work with Windows XP, Vista and 7. AntiVir continue to support Windows 2000 and what is great is you can install it in a Netbook! Installing AntiVir let you customize which component to install and how you want the program to protect the system while MSE do not offer such. Both programs require no reboot after installation which means you are protected as soon as the installation has finished, you can start configuring and using the malware scanner. No registration is required to continue installing any of these programs but Microsoft will need to validate if your Windows has passed the Genuine Advantage program.
User Interface: Winner – Microsoft Security Essentials
The UI of AntiVir is actually good but comparing it with MSE, the latter is neater and will not confuse beginners to start configuring the program or which is safe to change.
AntiVirus Task Scheduler and Memory Usage: Winner – AntiVir PE
With AntiVir PE, you can create several scan and update tasks within the program. MSE only allow you to modify the single update and scan task.
AntiVir is lighter to use than MSE: AntiVir will only use 57MB when running a full system scan while MSE's memory usage during a scan is 73MB. When the programs are idle, MSE will use 4MB while AntiVir will use 1.3MB only.
Scanning Performance: Winner – Microsoft Security Essentials
When I run a system drive scan using the programs' default scan settings, MSE finished scanning in 45 minutes and 12 seconds with 434,750 files scanned. AntiVir has scanned 362,326 files in 23 minutes and 45 seconds. Changing the scanner of AntiVir to use maximum heuristic analysis resulted to 3 false positives after it scanned a total of 362,985 items.
Note: MSE's scanner offers heuristic detection but no option to disable/enable it. No false positive by MSE after the system drive scan. The 3 false positives by Avira are text files of IE-SPYAD and Website Watcher.
Images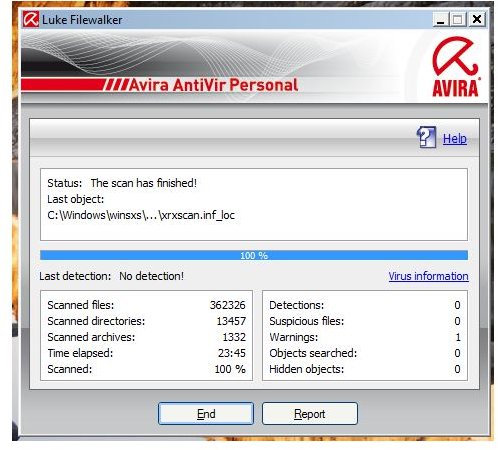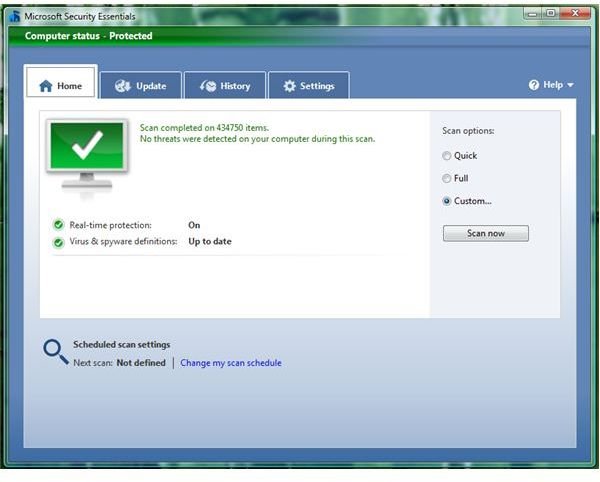 Features: Winner – AntiVir PE
MSE features its real-time protection against malware and spyware, heuristic detection, e-mail attachments scanner and browsing protection. AntiVir will offer the same except e-mail scanner (this feature is available only in paid edition of AntiVir).
AntiVir also provides anti-phishing protection and Secure Start protection which is quite useful because any identified malware is removed before the system will continue to load. However, both programs do not offer web shield against rogue and malicious websites (unless the website will download or load content that is malicious).
MSE and AntiVir let you run a quick, full, single (via context menu) and custom scanning. You can customize the scanner of AntiVir to use normal or higher scanning process which means it can finish fast but will use more memory or use lower memory but the scan will take longer to finish. This option is not available in MSE. AntiVir has the option to run a boot records scan.
This post is part of the series: Which is the Best Free AntiVirus? AntiVir Vs Microsoft Security Essentials
Which is the Best Free AntiVirus? AntiVir Vs Microsoft Security Essentials. Read this comparison of AntiVir vs Microsoft Security Essentials. Find out which performs better.